Measures Hong Kong Is Taking To Maintain A Zero-COVID Policy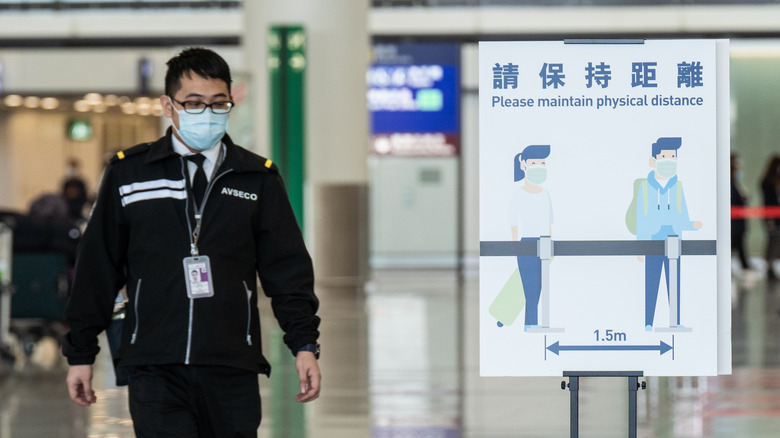 Bloomberg/Getty Images
Government officials in Hong Kong continue to implement mass "zero-COVID policy" safety measures against the spread of the COVID-19 Omicron variant amongst citizens. According to CNN, such measures include, but are not limited to, large-scale testing, as well as weeks of isolation for those in close proximity to individuals having tested positive for COVID-19. Even with such measures in place, Reuters daily COVID tracking data reveals that Hong Kong has seen a rise in cases, averaging 28 new cases daily. Tourists, citizens, and business owners alike have faced numerous challenges while navigating Hong Kong's zero-COVID policies.
One such individual is Darryl Chan. Having flown from London after accepting a new job, Chan tested positive for COVID-19 upon his arrival in Hong Kong (via CNN). Although his fully vaccinated and boosted arrival took place last month, Chan remains hospitalized in isolation despite being asymptomatic. Chan states, "I think the worst part is not knowing when I'll be able to get out."
But travelers are not the only ones facing obstacles in light of these policies. Hong Kong's zero-COVID measures are also posing new economic challenges.
Business closures and flight restrictions pose economic concerns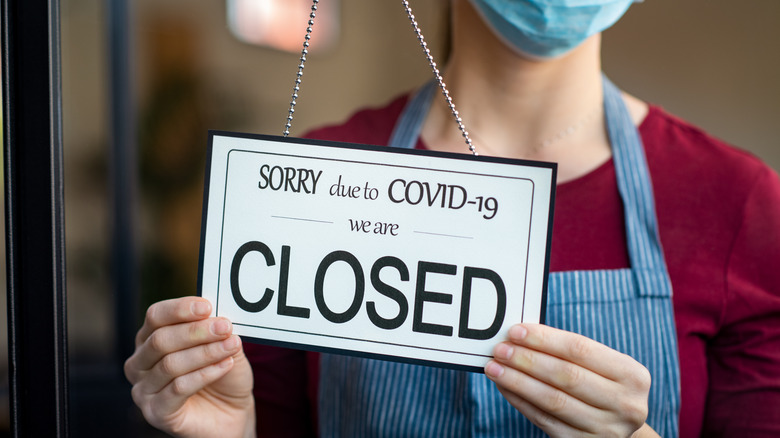 Rido/Shutterstock
In a briefing held on January 5, Hong Kong Chief Executive Carrie Lam outlined the newest policies being implemented in light of the Omicron variant, including the shutting down of local gyms and bars, as well as prohibiting in-person restaurant dining after 6 p.m. (via Bloomberg). Lam voices that time is of the essence, stating, "We have to grasp this very critical moment. We have to contain the pandemic to ensure that there won't be a major outbreak in the community again. In a sense, we are racing with omicron."
Additionally, inbound flights have been banned for the next two weeks from countries deemed high risk by government officials including the U.S., Canada, Australia, France, Pakistan, India, the Philippines, and the U.K. (via Bloomberg). Flight restrictions have not only been limited to passengers, however. In December, Hong Kong flag carrier Cathay Pacific banned all incoming long-haul freighter flights through January 6 (via Air Cargo News).
With the combination of flight restrictions as well as strict quarantine measures for flight crews, general manager of Cathay Pacific's corporate affairs division Andy Wong voiced concerns that any further quarantine measures could cause "dramatic disruptions to supply chains in the short-term" as well as jeopardize Hong Kong International Airport's status as a "leading cargo hub" (via CNN).