Medical Experts Reveal Why COVID-19 Safety Measures Are So Important Right Now
Yuganov Konstantin/Shutterstock
Due to the is highly transmissible Omicron variant, the Centers for Disease Control and Prevention has forecasted a COVID-19 spike in January 2022. The CDC is currently predicting that more than 84,000 people could die from COVID-19 from January 5 to January 29 (via CNN). However, that prediction doesn't fully account for Omicron or reporting changes over the holidays.
The surge in cases is causing staff shortages, cancellations, and closures throughout the United States. In early January, Forbes reported that thousands of flights were canceled due to airline staff shortages. Omicron surges have caused the closure of over 3,000 schools, per Bloomberg, and hospitals are filling up fast. More than 80% of ICU beds are occupied in the United States, as of this writing, according to the U.S. Department of Health and Human Services.
This means safety measures are especially crucial right now, medical experts told CNN. People with COVID-19 tend to pass it to others within the first two days after symptoms start, according to Dr. Emily Landon, an infectious disease expert at UChicago Medicine. However, about 20 to 40% will still pass it on to others after five days, she told NPR.
Get tested and stay safe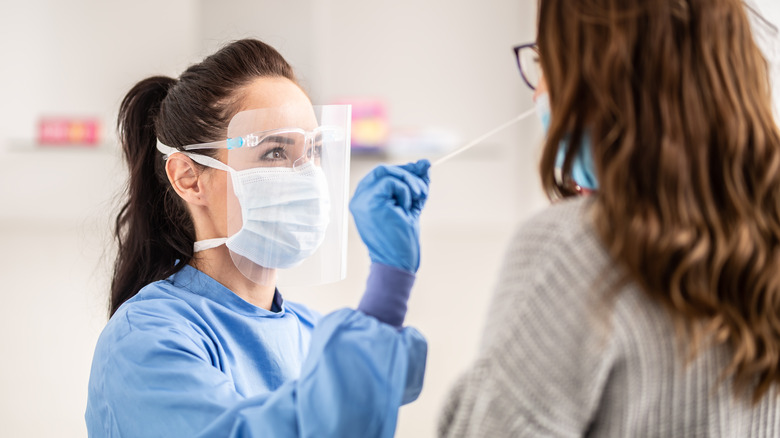 Marian Weyo/Shutterstock
A January 2022 preprint study awaiting peer review found it can take more than a day for people with Omicron to test positive with COVID-19. Epidemiologist Dr. Michael Mina advised, "The important thing is, when you feel symptoms, assume you're positive at this point, especially with Omicron being so prevalent" (via CNN). "Assume you're positive, assume you're infectious, and wait a day or two before taking that test, because it might be a day before the test turns positive. It might be two days."
As the World Health Organization advised, "Take all measures to prevent further spread of Omicron." This means in addition to getting tested for COVID-19 if experiencing symptoms, you should wear a mask, practice proper hand-washing, keep a safe physical distance from others, and get vaccinated. If you are already fully vaccinated against COVID-19, you should also get your booster shot at the appropriate time, according to the Centers for Disease Control and Prevention.