The CDC Reveals New Guidance On Kids And Boosters Amid Omicron Surge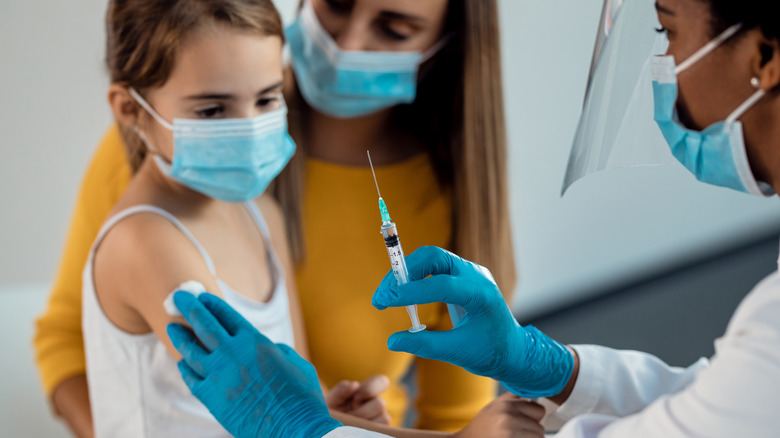 Drazen Zigic/Shutterstock
Following the initial authorization of the Pfizer vaccine in children ages 12 to 15 back in May 2021, this same age group has now been approved by the U.S. Food & Drug Administration (FDA) for use of the Pfizer COVID-19 booster shot once five months has passed after completion of their initial vaccination rounds (via CNN).
This decision comes in part due to the continued surge of the Omicron variant around the country. In their January 5 press release, CDC Director Dr. Rochelle Walensky spoke on the decision, saying, "It is critical that we protect our children and teens from COVID-19 infection and the complications of severe disease. ... We now recommend that all adolescents aged 12-17 years should receive a booster shot 5 months after their primary series. This booster dose will provide optimized protection against COVID-19 and the Omicron variant. I encourage all parents to keep their children up to date with CDC's COVID-19 vaccine recommendations."
Additional guideline amendments include the shortening of time between primary vaccination and booster shots, as well as updates to booster shot eligibility for 5- to 11-year-old children (via CNN).
Booster shot eligibility requirements for 5- to 11-year-olds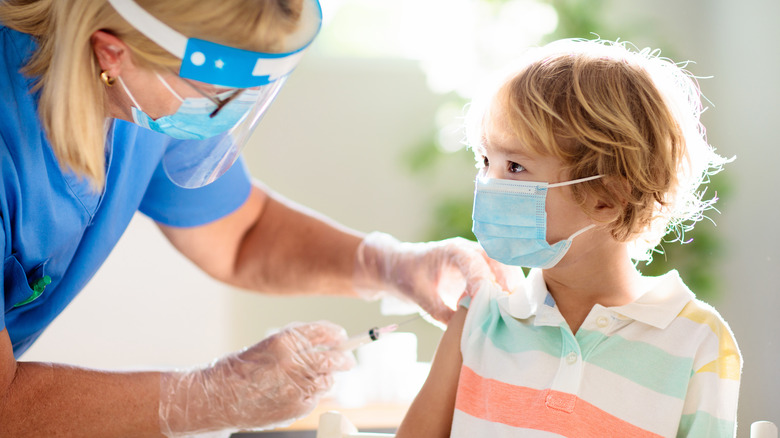 FamVeld/Shutterstock
Experts explain that issuing a third dose of the vaccine is crucial in the fight against severe complications related to the COVID-19 Omicron variant. Currently, the required wait time between completed Moderna vaccination rounds and the booster shot remains unchanged at six months (via CNN). But in shortening the timeframe between completed rounds of Pfizer vaccination and the booster shot, the FDA explains it is likely to increase protection rates against the variant. Director of the Scripps Research Translational Institute in La Jolla, California Dr. Eric Topol, said, "A good thing here is also the change on the timing of the booster to five months instead of six. That's a big step for this country" (via Reuters).
Changes to Pfizer booster guidelines for kids ages 5 to 11 have also been issued with emergency use being authorized for children within this age group who are immunocompromised (via CNN). The official recommendation for eligible children is to receive a third Pfizer dose of the vaccine 28 days after their completed second round of vaccination. For 5- to 11-year-old children in the general public, the approval of a booster shot will ultimately be determined based on continued data monitoring.