Should Everyone Get A COVID-19 Booster Shot?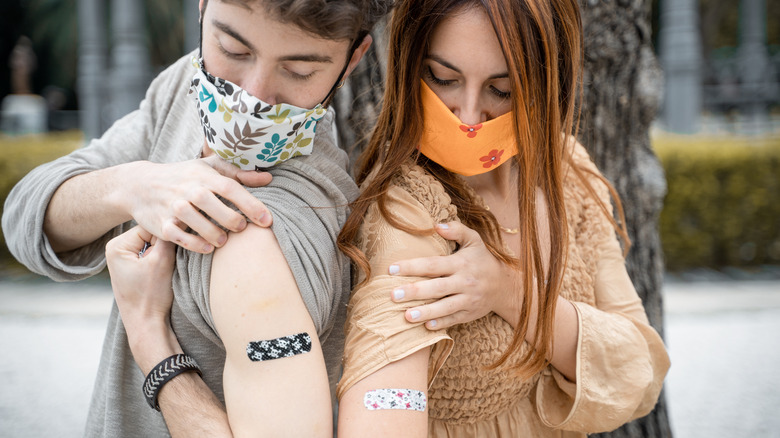 giuseppelombardo/Shutterstock
The Centers for Disease Control and Prevention Director Dr. Rochelle Walensky has announced her endorsement of booster shots for all Americans. This recommendation was expected and came on the heels of the unanimous recommendation of CDC advisors that all Americans who received Pfizer/BioNTech's and Moderna's Covid-19 vaccines should get a booster shot six months after receiving their second dose (via CNN).
"CDC continues to encourage the 47 million adults who are not yet vaccinated to get vaccinated as soon as possible to protect themselves, their families, loved ones and communities," the CDC said in a statement provided to CNN. The statement went on to say that the CDC strongly encourages all Americans who were not vaccinated to get vaccinated before visiting family over the Thanksgiving holiday, and those who were previously eligible for booster shots to get booster shots before traveling to visit family. These recommendations come in the wake of the latest weekly CDC COVID Data Tracker update, which reports an increase of over 16% new COVID-19 cases compared to the previous seven-day average.
Up until this announcement, the CDC had previously recommended booster shots only for members of the population who are 65 and over, adults with underlying medical conditions, and adults working or living in high-risk settings.
Get a booster shot to extend your protection from COVID-19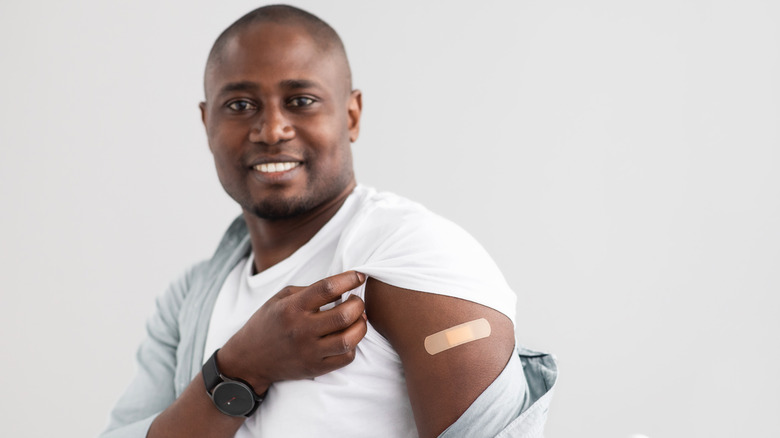 Prostock-studio/Shutterstock
According to health experts at University of Utah, available data indicates that COVID-19 vaccines become less effective over time, and that receiving a booster shot can help you defend yourself against the disease longer. They also cite a specific study out of Israel that followed 1.1 million people over the age of 60 who received a booster shot. Results of this study revealed that participants were roughly 20 times less likely to test positive for COVID-19. The experts at the University of Utah also point out that the use of booster shots is not a COVID-19-specific practice. There are vaccines for other diseases, such as tetanus and diphtheria, for which doctors have long recommended boosters.
COVID-19 boosters are essentially one more dose of the COVID-19 vaccine. "The concept is to prolong protective immunity, particularly if there is evidence that protection is waning after a period of time," Dr. Albert Shaw, a Yale Medicine infectious disease specialist, told Yale Medicine. He added that the support of booster shots does not mean that the vaccines are failures and that it is normal for vaccines to lose their potency over time.
Despite the fact that guidance has changed during the pandemic and that we are still learning about COVID-19 in real time, Dr. Shaw strongly advises that everyone get vaccinated and that people should know that scientists and public health experts continue to monitor the situation closely.