Why Is The Moderna COVID-19 Booster Only A Half-Dose?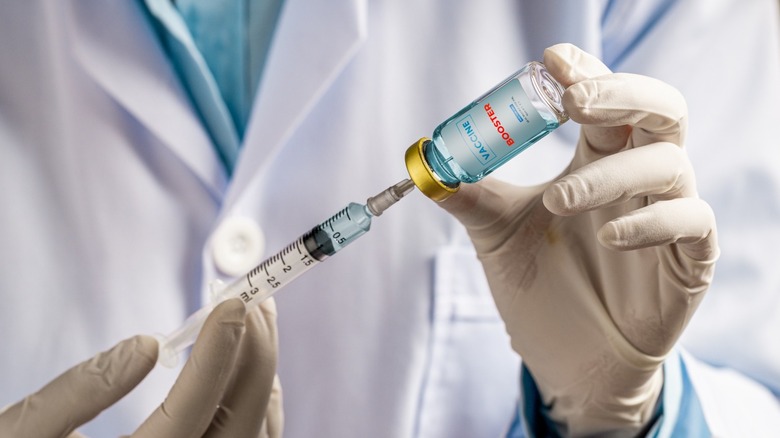 KT Stock photos/Shutterstock
Health advisers to the U.S. Food and Drug Administration (FDA) recommended that certain segments of the American population who received the Moderna COVID-19 vaccine at least six months ago get a half-dose of the Moderna booster shot as a way to support protection against the coronavirus. The panel of outside experts recommended the half-dose shots to seniors 65 years of age and over, as well as younger adults at a higher risk for contracting COVID-19 due to certain health issues, or who are frequently exposed as a result of employment or living situations (via AP News).
The FDA recently approved booster shots for the same groups of people who received the Pfizer-BioNTech vaccine at least six months ago. By comparison, the Pfizer-BioNTech booster is one full dose (via FDA). The FDA also recently approved a full dose of the Johnson & Johnson booster for people 18 years of age and over who received the single shot at least two months ago. The Centers for Disease Control (CDC) highly recommends that those who received the Johnson & Johnson vaccine get the booster since it has been determined that the Johnson & Johnson vaccine is less effective compared to the Moderna and Pfizer-BioNTech vaccines. Getting a booster shot remains a recommendation and is not legally required.
According to the AP, the Biden administration is hoping to open up boosters to the wider population, but the FDA is holding off pending further evidence. "I don't really see a need for a 'let it rip' campaign for everyone," Dr. Michael Kurilla of the National Institutes of Health told AP News.
Moderna elected to administer lower-dose boosters to reduce bad reactions to the shots and to have more supply available globally. 
COVID-19 vaccine side effects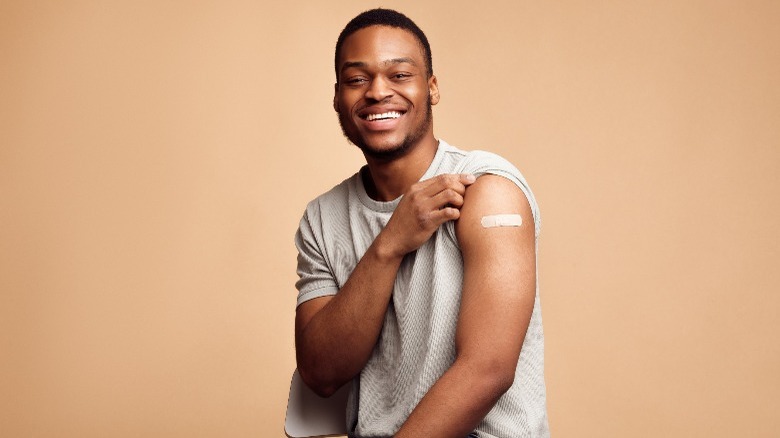 Prostock-studio/Shutterstock
The COVID-19 vaccines produced by Moderna, Pfizer-BioNTech and Johnson & Johnson are known to have potential side effects.
According to the CDC, common side effects can include pain and swelling at the injection site. Other possible side effects include discomforts such as headache, fatigue, chills, fever, and nausea, among others. Experiencing side effects following the second shot is more typical and considered a good sign that your body is building protection against the disease. Common side effects usually dissipate within a few days.
While rare, the New York Times reports that researchers have found that younger males — specifically between the ages of 16 and 29 — are at a higher than expected risk of myocarditis, inflammation of the heart, after receiving a full dose of either the Moderna or Pfizer-BioNTech vaccine. A recent study showed that 11 out of 100,000 males had heart inflammation within a few days of receiving the second dose.
Despite these higher-than-estimated results, the condition is rare and temporary, and health experts maintain that contracting COVID-19 puts you at a higher risk for heart problems and other serious issues compared to vaccination.