Could The COVID-19 Omicron Variant Be Less Severe Than The Delta Variant?
Tomas Ragina/Shutterstock
When South Africa first alerted the world in November about Omicron, the latest known COVID-19 variant, many became alarmed. This strain was emerging as the highly transmissible Delta variant was causing the majority of coronavirus infections. Additionally, scientists determined that the Omicron variant had a number of mutations that could feasibly escape the protections of the current vaccines. Based on the latest information coming out of South Africa, however, it appears likely that the Omicron variant is not as severe as the Delta variant.
"It's too early to be able to determine the precise severity of the disease, but inklings that we are getting — and we must remember these are still in the form of anecdotal, but hopefully in the next few weeks we'll get a much clearer picture — but it appears that with the cases that are seen we are not seeing a very severe profile of disease," White House Chief Medical Advisor Dr. Anthony Fauci said in a White House briefing (via the New York Post). Dr. Fauci cautioned, however, that people who have already had COVID-19 are at greater risk. "There's a study, again, from South Africa, which showed that there's an increased propensity for reinfection among people who were previously infected with Beta or Delta to get reinfected more readily with Omicron rather than with Beta or Delta," he added.
Will the current vaccines protect against Omicron?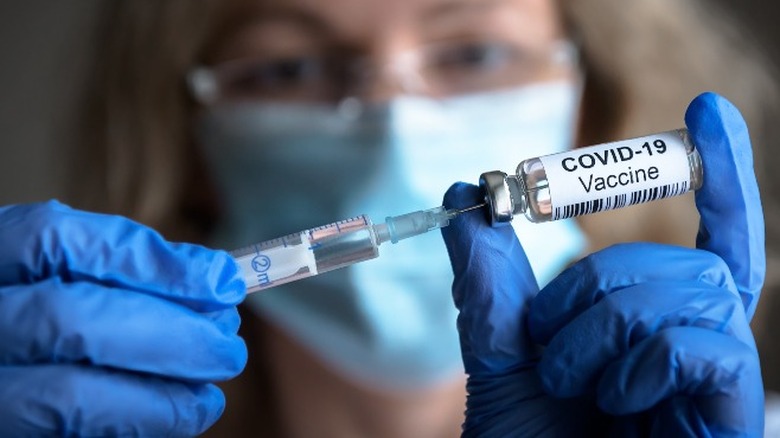 Viacheslav Lopatin/Shutterstock
According to the BBC, the World Health Organization (WHO) stated that the current vaccines should still protect people who contract the Omicron variant against severe illness. "We have highly effective vaccines that have proved effective against all the variants so far, in terms of severe disease and hospitalization, and there's no reason to expect that it wouldn't be so for Omicron," Dr. Mike Ryan, the WHO's emergencies director, told AFP news agency (via BBC).
The latest studies out of South Africa still require peer review, but suggest that the Pfizer/BioNTech vaccine may be less effective against Omicron compared to the original COVID-19 strain. Results from blood tests, however, were better than expected. There is not yet enough data to determine whether ​​the Moderna and Johnson & Johnson vaccines will protect against Omicron (via BBC).
Preliminary data from Pfizer indicates that a booster will help protect against Omicron. ​​"Although two doses of the vaccine may still offer protection against severe disease caused by the Omicron strain, it's clear from these preliminary data that protection is improved with a third dose of our vaccine," Pfizer CEO Albert Bourla said in a joint statement with BioNTech (via CNBC).
Real-world data is still needed, but Bourla told CNBC there is a good chance a fourth dose of the vaccine will be required to protect against Omicron. Scientists hope to have a greater understanding of Omicron by the end of the year.