Why Pfizer's COVID-19 Pill Is So Hard To Get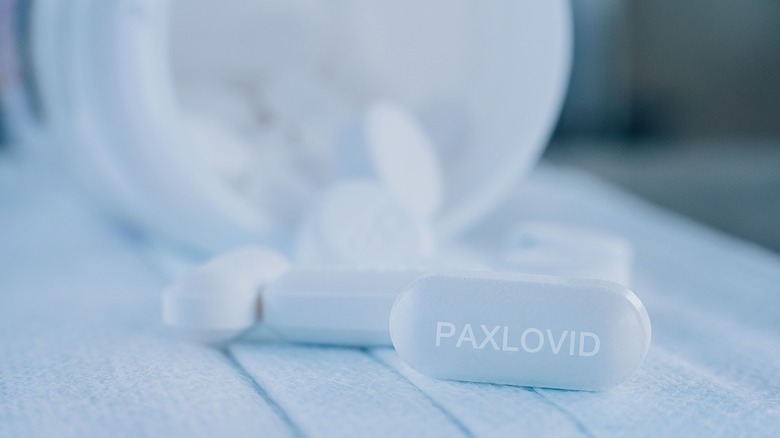 KSai23/Shutterstock
The omicron variant has caused a surge of infections worldwide. Omicron makes up over 98% of current COVID-19 cases as of January 8, according to the Centers for Disease Control and Prevention. Fortunately, there are two new pills authorized to treat COVID-19: Pfizer's Paxlovid and Merck's molnupiravir (via FDA).
The Food and Drug Administration issued emergency use authorization for both medications in late December. People with mild to moderate COVID-19 "and who are at high risk for progression to severe COVID-19, including hospitalization or death," are able to take Paxlovid, according to the FDA. Similarly, molnupiravir can be prescribed for people with mild to moderate COVID-19 who are at high risk for severe COVID-19, "and for whom alternative COVID-19 treatment options authorized by the FDA are not accessible or clinically appropriate." People must be 12 or older and weigh a minimum of 88 pounds in order to take Paxlovid, and 18 or older to take molnupiravir.
While molnupiravir was only found to be about 30% effective in preventing hospitalization and death from COVID-19, according to The New York Times, Paxlovid has been shown to reduce the risk of hospitalization and death by about 90% in clinical trials (via CNBC). However, Paxlovid is pretty hard to get right now.
Limited supply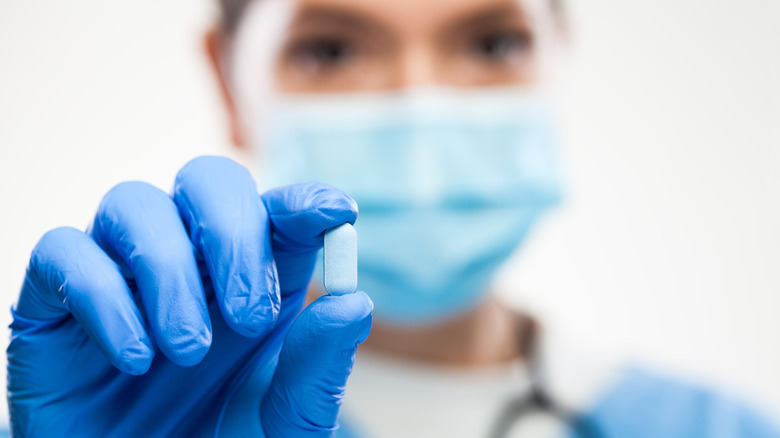 Cryptographer/Shutterstock
The U.S. Department of Health & Human Services initially allotted about 65,000 Paxlovid treatments to the United States and U.S. territories. "An additional 200,000 courses are expected in January, ramping up steadily in the months ahead," the department confirmed.
Dr. Sarah Doernberg of the University of California San Francisco Medical Center, told NPR, "I think people think that all of a sudden it's approved, so everyone will have it. And there's this whole process of the medication getting allocated and then getting sent to the hospitals. And then you have to link it to the electronic prescribing and these are new medications. There's all these safety issues that have to be checked." She continued, saying, "And so it's a complex process."
As of this writing, the supply is extremely limited. This means that even if you are prescribed the medication, it may be hard to find. "It's not going to be at every pharmacy by any stretch," Kurt Proctor, senior vice president of strategic initiatives at the National Community Pharmacists Association, told NPR.