What The FDA's Approval Of Pfizer's COVID-19 Pill Means For You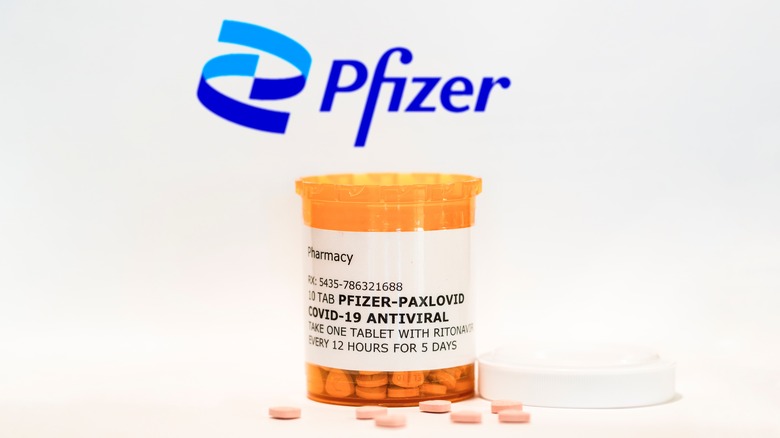 Urban Images/Shutterstock
The U.S. Food and Drug Administration (FDA) announced today that it has granted an emergency use authorization for Pfizer's antiviral medication — the first oral pill for this virus — to treat COVID-19. The medication is called Paxlovid, and anyone over age 12 weighing a minimum of approximately 88 pounds and has tested positive for COVID-19 is eligible to take it. Paxlovid is prescription only and for those who exhibit symptoms within five days of onset.
Last month, the Biden secured 10 million treatment courses of Paxlovid if an emergency use authorization was approved by the FDA, as announced by the U.S. Department of Health and Human Services (HHS). Agency Secretary Xavier Becerra said, "This promising treatment could help accelerate our path out of this pandemic by offering another life-saving tool for people who get sick with COVID-19." He also noted that getting a COVID-19 vaccination is still the best way people can protect themselves and others. Paxlovid may be especially critical in preventing hospitalizations due to severe COVID-19 illness.
At-home treatment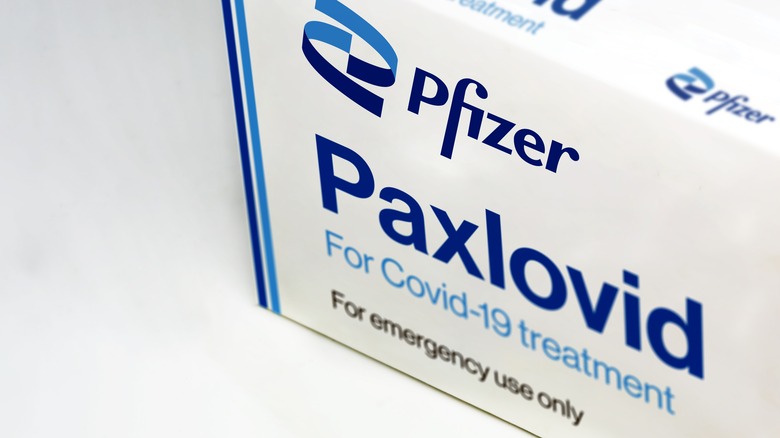 rarrarorro/Shutterstock
Paxlovid is not for the prevention of COVID-19 infection and isn't for use in place of vaccines, according to the FDA. One Paxlovid prescription contains 30 tablets. You need to take three tablets at the same time twice a day for five days. Paxlovid contains two tablets of nirmatrelvir to inhibit replication of the virus and one tablet of ritonavir to help the former stay in the body for a longer period of time at higher concentrations, per the FDA.
Pfizer's study shows that Paxlovid reduced the risk of hospitalization or death by 89% when started on the third day of symptoms in people with COVID-19 who were at a high risk of having severe symptoms. In the study, there were 10 deaths in patients who took the placebo and none in the group that took Paxlovid. However, as with any medication, there is the potential for side effects. 
Side effects of Paxlovid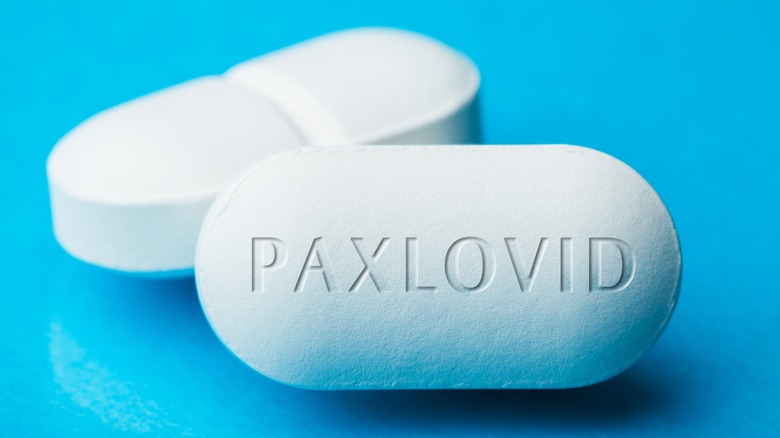 Cryptographer/Shutterstock
The FDA has reported some possible side effects of Paxlovid, including a change or reduced sense of taste, muscle aches, diarrhea, and increased blood pressure. It's crucial to tell your doctor about any and all medications you're taking, whether they're over-the-counter, prescribed, or supplements, because Paxlovid can interact with some medicines resulting in severe adverse reactions.
Some people who have taken ritonavir have experienced liver problems. If you have liver disease, hepatitis, liver enzyme abnormalities, other liver problems, or kidney problems, you'll need to discuss whether you should take Paxlovid with your healthcare provider. People with moderate kidney problems can be prescribed a different dose of Paxlovid, and people with severe kidney problems are advised against taking the oral drug (via FDA).
Ritonavir, the not-so-new drug, is prescribed to treat the human immunodeficiency virus (HIV). MedlinePlus notes side effects can include headache, gas, heartburn, lethargy, nausea, vomiting, and stomach pain. Another side effect may include a tingling or burning sensation or numbness in the feet, hands, or mouth area.