Everything We Know About Biden's Plan To Provide Free Masks To Americans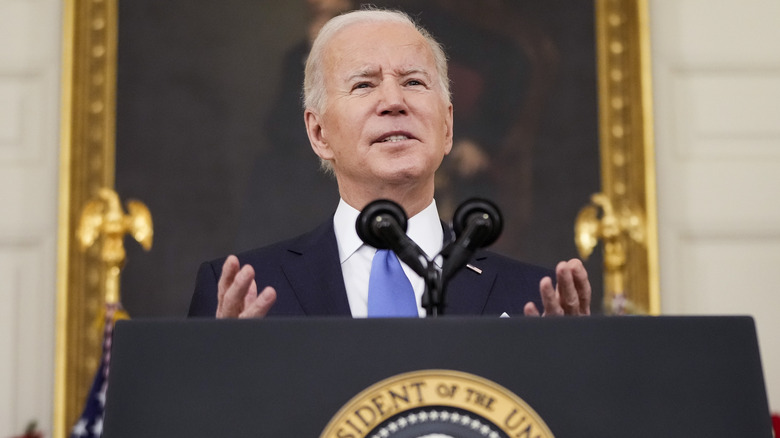 Drew Angerer/Getty Images
In an announcement on Thursday, January 13, 2022, President Biden revealed his plan to make "high-quality masks" more accessible to Americans through a free online ordering service (via CNN). Taking further preventative measures, the administration also issued plans to purchase 500 million at-home COVID-19 test kits (in addition to the 500 million tests he previously announced), which will also be available to order online free of charge. These actions come at a time when the U.S. continues to face rising infection rates and hospitalizations from the highly contagious Omicron variant.
In his announcement, President Biden addressed the frustration and exhaustion some Americans are experiencing over continued mask-wearing, stating, "I know we all wish could finally be done with wearing masks, I get it, but they are a really important tool to stop the spread, especially of the highly transmissible Omicron variant," according to CNN.
The administration plans to make a follow-up announcement about how and where Americans can access this new website within the next week (via WebMD).
What kinds of masks will be available?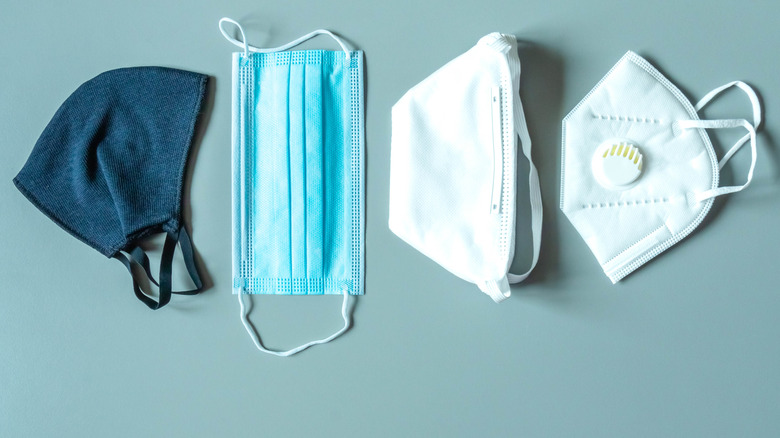 Bohemama/Shutterstock
For those intending to request masks through the administration's free online service, N95s will be included (via WebMD). According to the U.S. Centers for Disease Control and Prevention, N95 respirator masks significantly reduce one's risk of exposure to large and small airborne particles by filtering out 95% of contaminants. These well-fitted masks work as an adequate seal to prevent leakage around the sides, something surgical masks can lack.
Additionally, because of the highly transmissible nature of the Omicron variant, public health officials urge the public to skip cloth masks, which are more porous and can increase one's exposure to aerosolized droplets, and opt for N95 masks instead (via Chicago Sun-Times). When compared to cloth masks, N95s provide far more protection.
With an estimated one-third of Americans choosing not to wear masks at all, President Biden has hopes that these new mask distribution efforts will help increase those numbers, according to WebMD.