How Long After Exposure Should You Get Tested For COVID-19?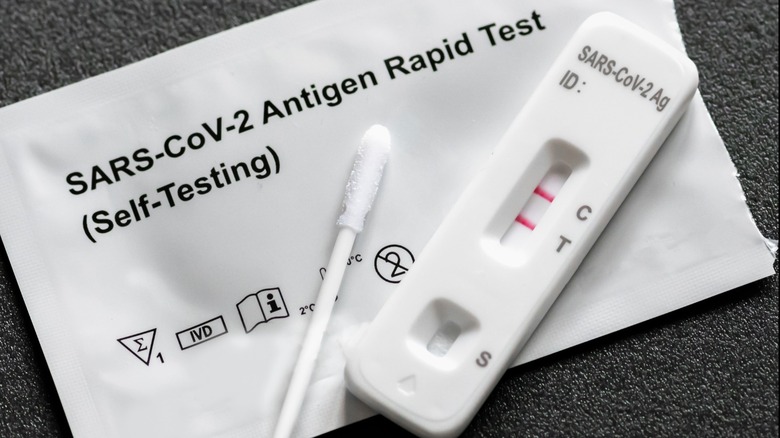 Michele Ursi/Shutterstock
As Omicron continues to surge and the White House prepares to make free COVID-19 testing kits available for all American households, you may have questions about when the best time is to test yourself for COVID-19 if you've been exposed to someone who has been infected.
Whether or not you are vaccinated, if you have been exposed to someone who is infected with COVID-19, the latest recommendation from the Centers for Disease Control and Prevention (CDC) is "if you don't develop symptoms, get tested at least 5 days after you last had close contact with someone with COVID-19." Those who are unvaccinated who have been exposed should also quarantine for five days. Those who are up-to-date on their vaccinations (fully vaccinated and boosted) do not need to quarantine. In both situations, however, the CDC recommends that you wear a mask around others, and watch for symptoms until 10 days after exposure. And if you begin to experience symptoms such as fever, fatigue, or body aches, among others, you should isolate and get tested again immediately.
The reason you should wait for five days after exposure before getting tested is that the virus may not yet be fully present and, therefore, detectable. "If you've been exposed, wait a few days because testing right away could be negative," Dr. Abraar Karan, an infectious disease physician at Stanford University, told NPR. After you wait for those five days, "then we'll be able to detect virus," he added.
Which test for COVID-19 test should you take after exposure?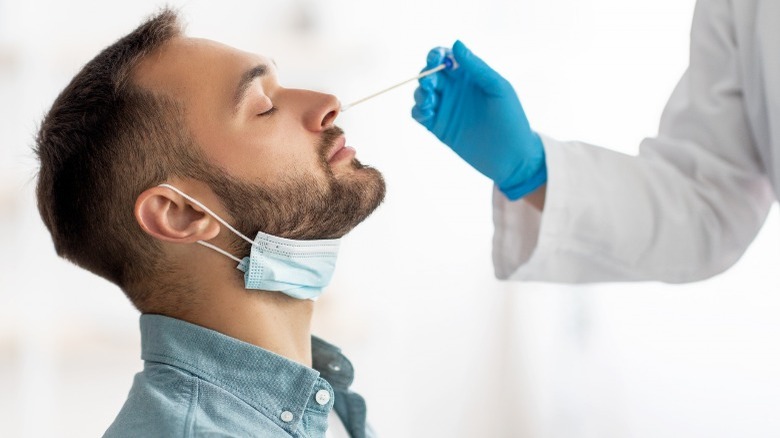 Prostock-studio/Shutterstock
According to Harvard Health Publishing, there are two types of tests approved in the United States that you can take if you've been exposed to COVID-19.
One of these is the antigen test, also known as the rapid diagnostic test. You can typically get results from this test in as little as 15 minutes and the results will show if you are positive for proteins associated with the surface of the coronavirus. The other test is the PCR test, which is typically analyzed in a laboratory. PCR stands for "polymerase chain reaction" and is a "molecular test that analyzes your upper respiratory specimen, looking for genetic material (ribonucleic acid or RNA) of SARS-CoV-2, the virus that causes COVID-19" (via Cleveland Clinic).
While PCR test results take longer to come back, experts generally consider the PCR test extremely accurate, assuming your sample was collected and timed properly. You may get a false negative if you take the PCR test too soon after you have been infected, which is why experts recommend waiting at least a few days before getting tested, unless you develop symptoms sooner (per Harvard Health Publishing).