How To Get A Free At-Home COVID-19 Test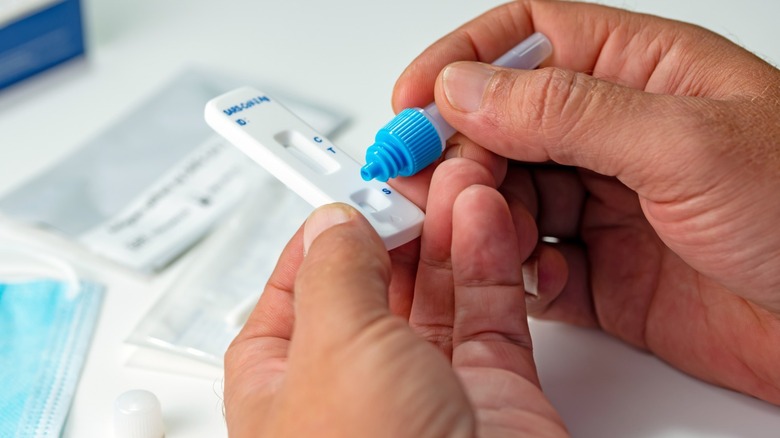 SrideeStudio/Shutterstock
As more and more people are becoming infected with the highly transmissible Omicron variant of the coronavirus, there is now an even greater urgency for testing. However, reports of long lines at locally authorized COVID-19 testing centers and rapid at-home tests selling out fast have made getting tested a challenge (via NBC News).
To make sure more Americans have easier access to testing, President Joe Biden announced this week that 500 million free rapid at-home test kits will soon be available. The federal government is setting up a website where Americans will be able to make requests for free kits. As of this reporting, it is not known how many kits can be ordered per household and how quickly these will be delivered, per NBC News. The kits will be available sometime in January 2022 (via BBC).
The White House's move to providing at-home kits is a reversal from its position just a few weeks ago when White House Press Secretary Jen Psaki pushed back on a reporter who criticized the president for not making at-home kits available to all citizens. "Should we just send one to every American? Then what happens if every American has one test? How much does that cost, and then what happens after that?" she said (via BBC).
How can I get an at-home test kit right now?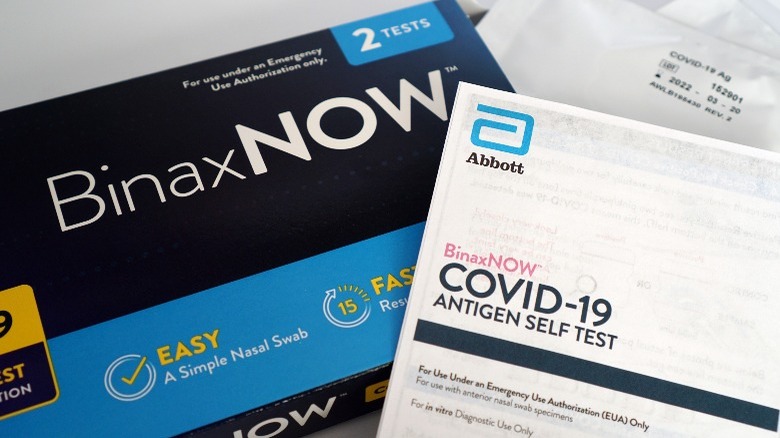 On The Run Photo/Shutterstock
If you are unable to wait until January for one of the 500 million free at-home COVID-19 test kits because you are traveling or simply want to stay on top of whether or not you have been infected, there are rapid at-home tests available that you can purchase right now. You should know, however, that they are 85% accurate on average and can't be used as an authorized test for travel. Also, they are selling out fast, so it may be difficult for you to get your hands on one at both brick-and-mortar and online pharmacies (via Variety).
Variety lists a number of brands to look for. The brand considered the most accurate of the bunch is the BinaxNOW COVID-19 Self-Test At-Home Kit. It has been approved by the FDA for emergency self-testing. No lab involvement is required. When in stock, Walgreens sells this product for $23.99. The iHealth Antigen Rapid Test is reportedly a top-seller on Amazon and is also FDA-authorized. The kit comes with two tests and access to the iHealth app providing instructions and a results tracker. This product is currently available for $17.98. If you're in a time-crunch, Quidel's QuickVue At-Home OTC COVID-19 Test kit may be the best kit for your situation. It provides results in 10 minutes (via Variety).
According to the Centers for Disease Control and Prevention (CDC), Omicron accounted for over 73% of COVID-19 infections in the week ending December 18. Just a week prior, Omicron made up only 12.6% of total COVID-19 infections.