Air Fryer Roasted Beets Recipe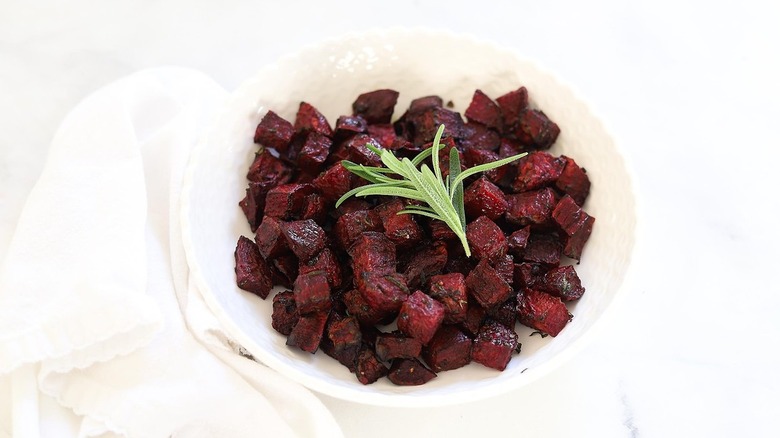 Kit Hondrum/Health Digest
Food trends are strange things. One day, something is super-popular, the next it's just sooo over. (Think: cronuts, ramen burgers, and unicorn frappuccinos.) Well, this can work in reverse, as well. It wasn't so long ago that if you asked anyone what they thought about Brussels sprouts, for example, they'd pull a face, stick out their tongue, and say, "Yuck!" Now, just like that, they're quite trendy, especially when you air fry them.
As it turns out, beets have gotten a similar treatment over the years. While many people have turned their noses up at beets before, they're pretty popular right now — and, for good reason! Beets have wonderful earthy flavor about them, and they are especially delicious when roasted. Recipe developer Kit Hondrum likes to "roast" hers in an air fryer instead. As she tells us, "The taste and texture of these beets is very similar to oven roasted beets, but it takes about half the time to cook and I think they can get crispier this way!" She calls it "a great side dish for a weeknight meal ... easy, yet impressive to serve."
Gather the ingredients to make air fryer roasted beets
Kit Hondrum/Health Digest
To make these air-fried beets, you really only need two things: beets and oil. Oh, and an air fryer, of course. For the beets, Hondrum says you can use three small ones or two large ones, though Bon Appetit notes that smaller beets will be more tender and have a sweeter flavor than large ones. For the frying, Hondrum uses extra-virgin olive oil, and she also likes to season her beets with rosemary because she says it "complements the beets perfectly." If rosemary's not your preferred herb, though, she says, "You can use thyme or sage for a different twist."
Prepare the beets and rosemary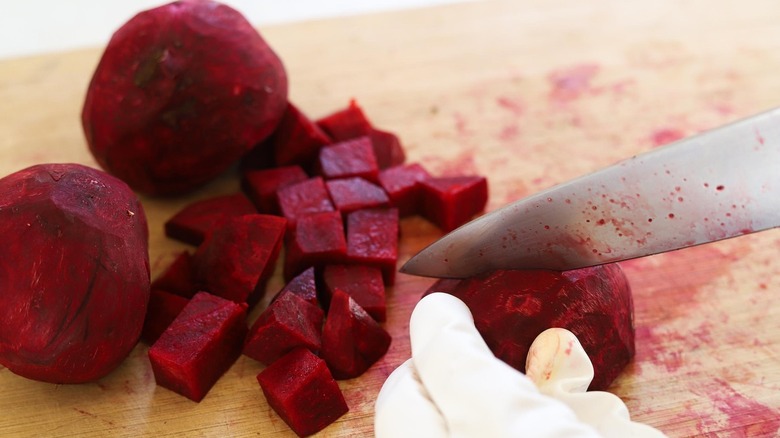 Kit Hondrum/Health Digest
If you buy your beets complete with greens, you'll need to cut these off first, but don't throw them out! Hondrum tells us, "You can use beet greens in a salad, green juice, or smoothie." Peel the beets, then cut them up into 1-inch chunks.
Once the beets are done, you'll need to prep the rosemary. Remove the leaves from the stems and mince them into tiny flecks — the leaves, that is, not the stems. These you can compost as they're not too tasty on their own. If you have no fresh rosemary, you can always substitute 1 tablespoon of the dried stuff, but of course it won't make for such a photogenic garnish.
Air fry the beets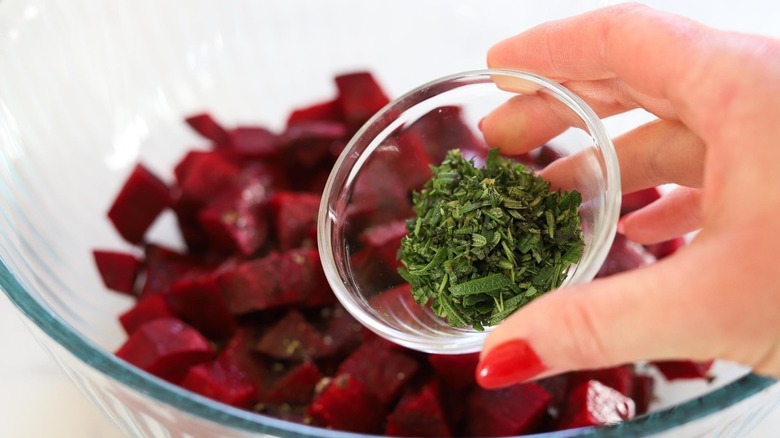 Kit Hondrum/Health Digest
Before you fry the beets, you'll be seasoning them, but while you do so, you might want to preheat the air fryer to 400 F. As it's doing its thing, toss the beets with the olive oil and rosemary. Throw in a little salt and pepper, as well — ¼ teaspoon salt and ½ teaspoon of pepper ought to do it. Make sure all of the beet chunks are thoroughly coated with the oil and seasonings.
Fill the air fryer basket or rack with the beets, then let them cook for 18 minutes. Hondrum says when they are done, they should be crispy outside and soft inside, and advises, "Pierce [them] with a fork to test for doneness."
Serve the air-fried beets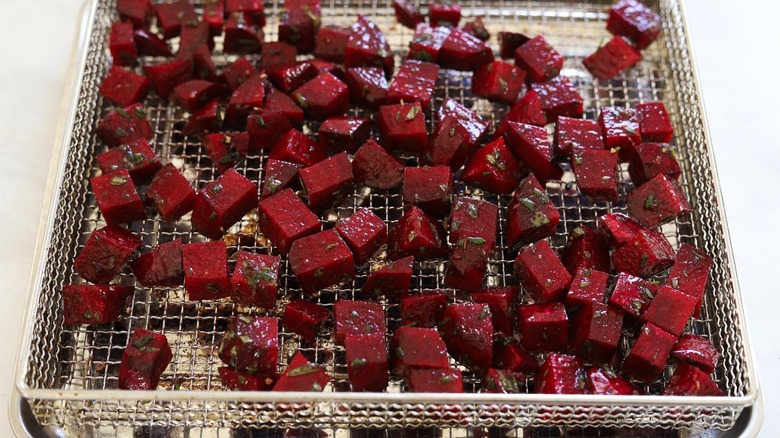 Kit Hondrum/Health Digest
Are your beets done cooking? Great, now it's time to serve them. You can optionally garnish the bowl of beets with a fresh sprig of rosemary, or you can simply dive right in. As to how to serve the beets, Hondrum calls them "the perfect side dish for steaks, roasted chicken, skillet chicken thighs, or even burgers," adding that they are also great "on salads or even for breakfast with eggs" and can be eaten cold, too. There's really no limit to how you can consume these tasty, air-fried beets!
Air Fryer Roasted Beets Recipe
These roasted beets are delicious and come together in a breeze, thanks to the air fryer.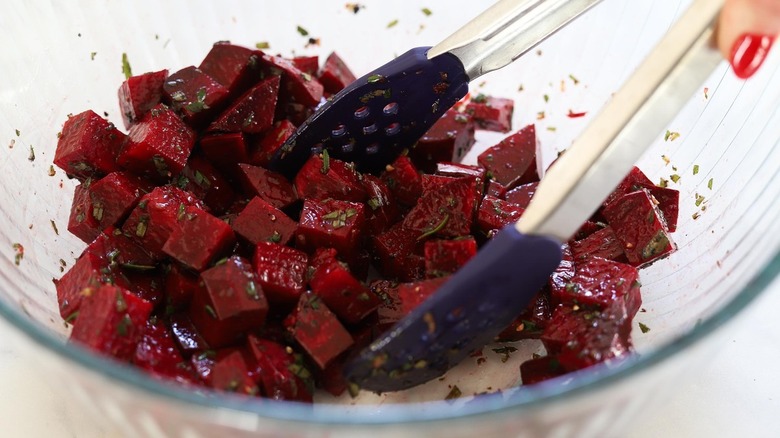 Ingredients
3 small beets
3 sprigs fresh rosemary
1 tablespoon extra virgin olive oil
¼ teaspoon fine sea salt or Himalayan salt
½ teaspoon freshly ground black pepper
Optional Ingredients
fresh rosemary as garnish
Directions
Peel the beets and chop them into 1-inch pieces.
Remove the rosemary leaves from the stems, and finely chop the leaves.
Toss the beets with olive oil, rosemary, ¼ teaspoon salt, and ½ teaspoon pepper to coat.
Place the beets in the air fryer rack or basket.
Air fry beets at 400 F for 18 minutes, or until they are crispy on the outside and soft on the inside.
Garnish the beets with additional rosemary before serving if desired.
Nutrition
| | |
| --- | --- |
| Calories per Serving | 55 |
| Total Fat | 3.7 g |
| Saturated Fat | 0.6 g |
| Trans Fat | 0.0 g |
| Cholesterol | 0.0 mg |
| | |
| --- | --- |
| Total Carbohydrates | 5.4 g |
| Dietary Fiber | 1.9 g |
| Total Sugars | 3.1 g |
| Sodium | 124.5 mg |
| Protein | 0.9 g |