What Happens To Your Body When You Eat Lettuce Every Day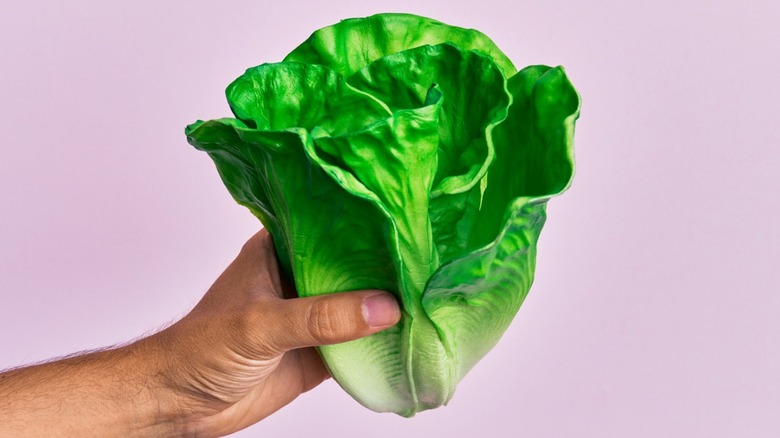 Krakenimages.com/Shutterstock
If you love lettuce, you're not alone. According to Statista, Americans ate over 14 pounds of romaine and leaf lettuce on average in 2020. And the Produce Market Guide reports that lettuce sales reached $8 billion in 2019, an increase of 5.3% compared to 2018.
One of the reasons for its popularity is likely due to the many varieties of lettuce and the versatile ways people can enjoy these plentiful options. According to WebMD, there are four main types of lettuce: head, leaf, romaine, and celtuce. Head lettuce has a round shape and includes iceberg and butterhead varieties; leaf lettuces have stems and can have dark green or reddish leaves; romaine is your typical, crunchy base for Caesar salads; and celtuce lettuce, also known as asparagus lettuce, has a stem and is largely consumed in China.
You may think iceberg lettuce is the most popular lettuce in the United States, but it turns out romaine is the top choice, according to Produce Market Guide. Iceberg comes in at a strong second. If you're one of the people who eat romaine or iceberg, though, are these the best types of lettuce varieties when it comes to nutrition? And is it okay to eat these and other kinds of lettuce every day?
Lettuce is packed with nutrients but stay balanced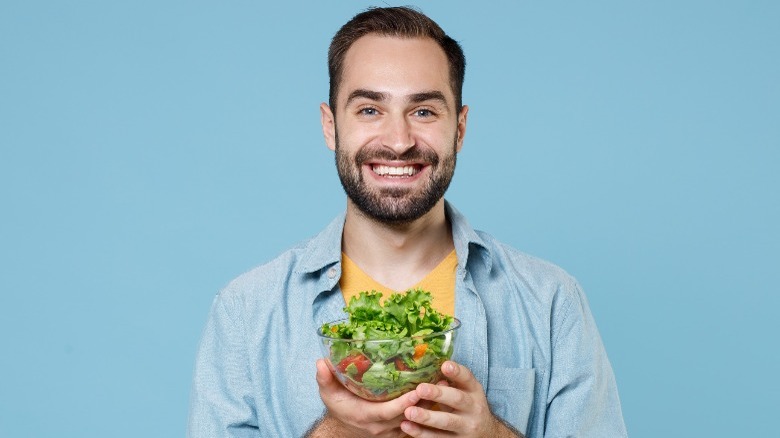 ViDI Studio/Shutterstock
All lettuce will have nutrients, but some will have a better nutritional profile than others. As far as the two most popular lettuce types, the experts at LIVESTRONG point out that, while iceberg and romaine have some of the same nutrients, romaine lettuce has higher quantities. For instance, when comparing the recommended daily value of an 85-90 gram serving of each, iceberg contains 9% of vitamin A, 27% of vitamin K, and 6% of folate. Romaine, on the other hand, contains 148% of vitamin A, 109% of vitamin K, and 29% of folate. Romaine also contains a high amount of vitamin C, as well as iron and potassium. The experts at WebMD point out that eating almost any type of lettuce will support bone strength, help maintain hydration, and improve vision and sleep.
Lettuce indeed has plenty of benefits but eating it every day could have its downsides if it becomes your primary source of nutrition, in lieu of other food sources. For instance, lettuce has few calories and carbohydrates, which makes it great for weight loss but miserable for maintaining energy. And while lettuce contains nutrients, it does not contain all the vitamins your body needs (via SFGate). So enjoy some daily iceberg, romaine, or other lettuce of choice, but make sure you include enough quantities of other food sources that will provide you with the daily nutrition you need to maintain a healthy diet.