Should You Take A Second COVID-19 Test If You Are Positive?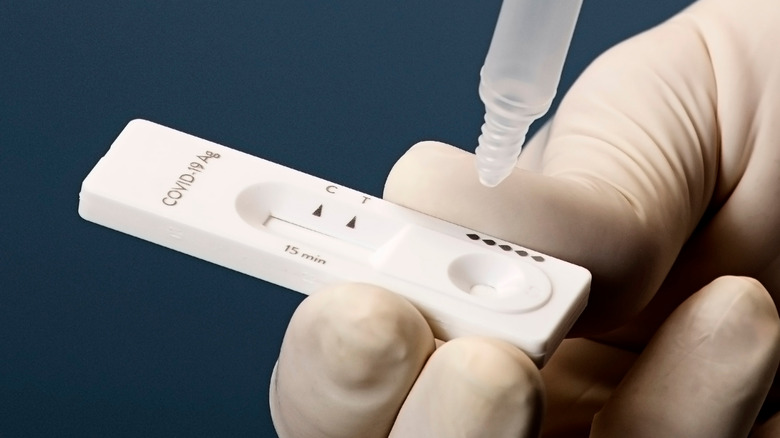 Nao Novoa/Shutterstock
COVID-19 at-home tests have been hard to find lately. It seemed like everyone wanted to stock up around the holidays so they could see their friends and family safely. Now that the holidays are behind us, tests may become more widely available. That is really good news as Omicron moves through the population and new variants continue to pop up.
Even with the new variants, the safety recommendations from the U.S. Centers for Disease Control and Prevention (CDC) largely remain the same. Experts suggest staying 6 feet away from other people whenever possible and avoiding small or poorly ventilated spaces. Masks are still advised whenever you leave the house, and the vaccine is still the CDC's most-recommended safeguard. Washing your hands, disinfecting surfaces, and monitoring your health are also advisable, though these suggestions are useful outside of COVID-19-related procedures as well.
One of the newest guidelines, however, comes back to the at-home tests. Most people are used to the idea of wearing a mask or keeping 6 feet apart from others. However, the idea of testing themselves for COVID-19 is fairly new. The CDC recommends testing yourself to protect others and, in the event of a positive test, to self-isolate and inform your close contacts — but what happens at the end of the isolation period? Should you self-test again?
Use an antigen test you re-test for COVID-19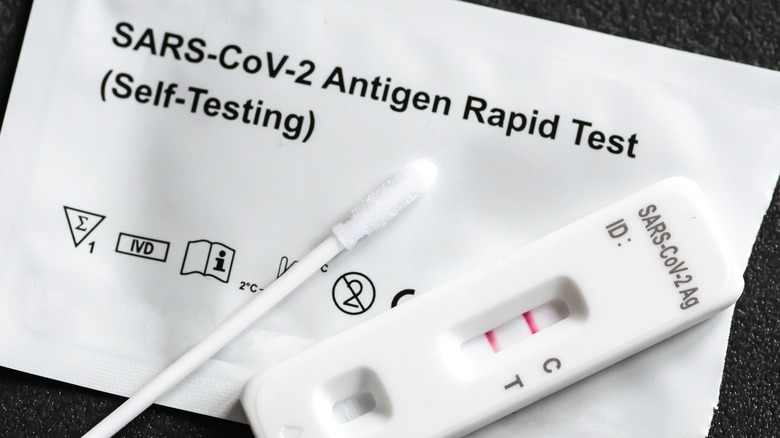 Michele Ursi/Shutterstock
After more than a year of isolation, most people are prepared to self-isolate if and when they receive a positive COVID-19 test. It's the preferred alternative to spreading the disease to others. When it comes to ending quarantine, however, those same tests can become more of a minefield than a milestone. The CDC has several guidelines on when and how to test, including specific guidelines on testing again after receiving a positive result.
The CDC explains that people should isolate for 5 days after receiving a positive test, with the day of exposure being Day 0. An antigen test can be taken at the end of Day 5, but only if the person has been fever-free for 24 hours or more without the help of any fever-reducing medications. Such medications can include acetaminophen (Tylenol), aspirin, and ibuprofen (Advil), according to the Mayo Clinic.
If the test is positive, the person must remain in isolation for another 5 days. A negative test ends isolation, but the tester should still wear a mask around others for an additional 5 days, including in their own home.