Should You Be Using Exfoliating Gloves?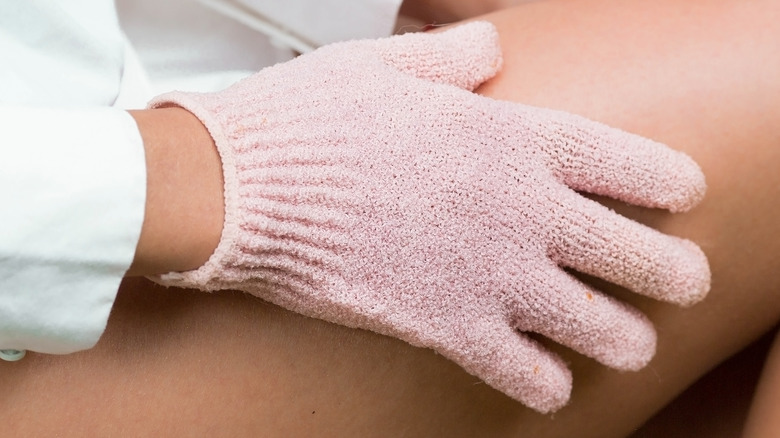 PhotoJuli86/Shutterstock
During those long winter months, skin can become cracked and flakey from frigid outdoor temperatures or the dry air in heated homes. To do away with the accumulation of dead skin, exfoliation can be a great way to keep skin soft and luminous. Exfoliation can be achieved through the use of scrubs, chemical exfoliant products, or items such as a long handle back brush, according to Everyday Health. As of late, exfoliating gloves have become another popular shower tool. With so many products available for purchase, how can you tell if exfoliating gloves are right for you?
Exfoliating gloves come in different styles, but they generally all have the texture of a loofah or dry brush (via Grove). "Exfoliating gloves are made from fabrics that are designed to remove dead skin cells with gentle mechanical abrasion," director of aesthetic dermatology at Yale Medicine Dr. Kathleen C. Suozzi told Everyday Health. Not only that, but the use of exfoliating gloves can help brighten skin, obtain a better shave, and boost circulation.
If you're considering making the switch from a loofah to exfoliating gloves, you'll first want to know which areas of the body they are best for and when you may want to avoid using one.
Exfoliating gloves can aggravate certain skin conditions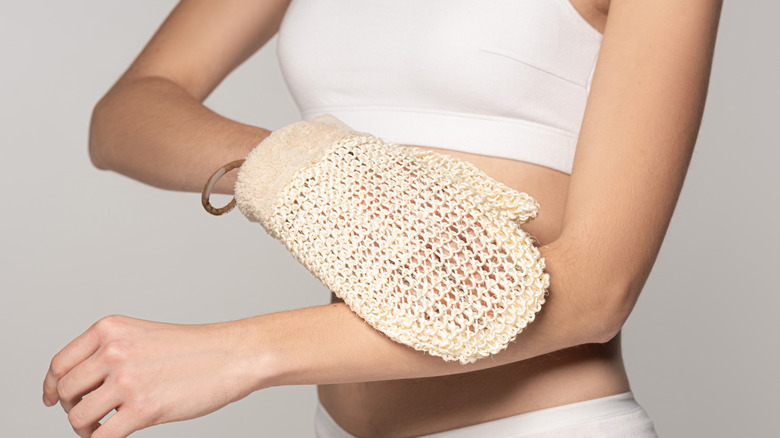 LightField Studios/Shutterstock
Exfoliating gloves may not be the best choice for those with sensitive skin or acne (via Everyday Health). The rough texture of the gloves may cause skin irritation or worsen certain skin conditions. "In patients with sensitive skin, repetitive mechanical exfoliation could cause irritation, could flare acne or eczema, and in extreme circumstances could lead to skin superinfection," Dr. Suozzi told Everyday Health.
Grove explains that bacterial infections can occur if the gloves are not adequately cared for. Therefore, you'll want to make sure you are replacing and discarding your old pair roughly every month or two. In the meantime, be sure to rinse them thoroughly after use while in the shower, especially if you notice skin buildup forming on the gloves. Next, ring out the gloves and hang them to dry. You can also give the gloves a weekly cold-wash run through the laundry.
Lastly, you'll want to be mindful of where on your body you're using your exfoliating gloves. Since they're intended for thicker skin areas, such as the feet, some gloves may irritate more delicate areas of the body such as the face or inner thighs (via Grove). Be sure to wash gently in these areas, and consider exfoliating products that are specifically designed for the face.