Healthy Shamrock Shake Recipe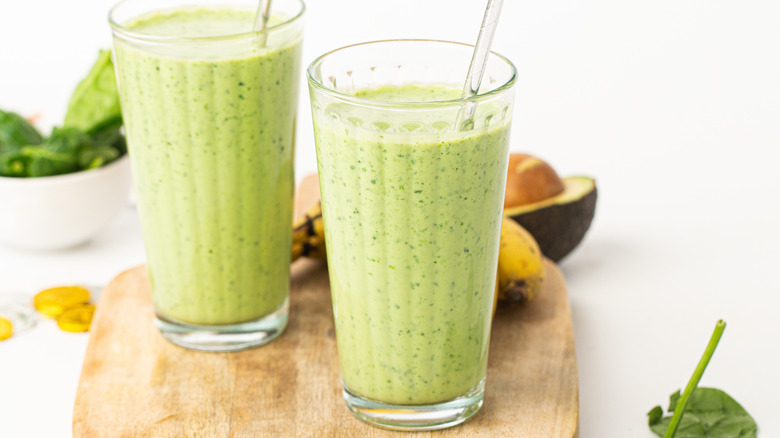 Susan Olayinka/Health Digest
When St. Patrick's Day rolls around, there are at least a few things that come to mind, including the color green and, of course, the Shamrock Shake. If you've ever ordered a Shamrock Shake from McDonald's, then you know what we're talking about. It's one of the most popular drinks out there. But what if we told you that we could replicate the shake while making it a lot healthier for you? That way, you can enjoy a few a week and feel good about the ingredients you're drinking up. This treat still has the same great, minty flavor, but instead of being full of ice cream, it's filled with fruits, veggies, and Greek yogurt. There's a lot to love about that! 
Recipe developer Susan Olayinka of The Flexible Fridge came up with this wonderful blended drink that we know you'll love. "I love anything green and healthy!" Olayinka raves. "So this recipe is definitely one for me." We have to agree that a healthy recipe is a happy one.
Keep reading to find out how to make this fantastic shake.
Gather the ingredients for your shamrock shakes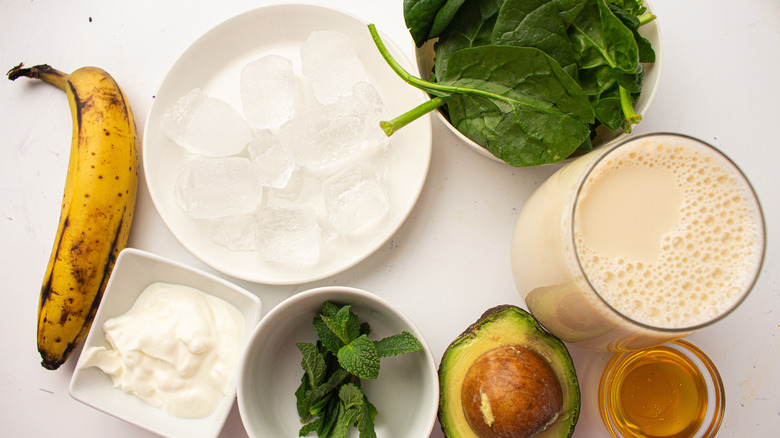 Susan Olayinka/Health Digest
When you're ready to begin, you'll need to make a list and head to the grocery store. For starters, head to the produce section and grab a banana and an avocado. To add some green to this delicious smoothie, you'll need spinach and some mint leaves. Then, be sure to pick up some non-dairy milk. It's up to you which kind you'd like to use.
The last items you'll need to grab from the store are honey and Greek yogurt. The recipe also calls for ice, but it's fairly safe to assume that you already have that at home. (But if not, grab a bag at the checkout counter.) 
Prep your banana and avocado for blending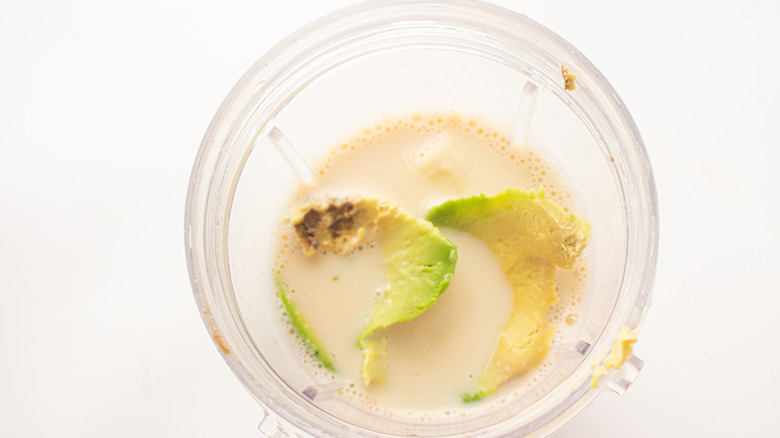 Susan Olayinka/Health Digest
As we mentioned before, this recipe is full of ingredients that are wonderful for you. Two of the best ingredients in this smoothie are the banana and avocado. Olayinka shares why she loves these additions to the smoothie. "Banana is high in fiber and potassium and avocados are wonderful for healthy fats," she says. You obviously won't find these healthy ingredients in the original Shamrock shake, which is all the more reason to try this one instead. 
Once you have all of the ingredients in front of you, it's time to get started. Luckily, this recipe takes just 5 minutes from start to finish and it's really simple. Grab your banana and avocado, a cutting board, and a sharp knife. Peel the fruits and place them on the cutting board to slice. "Slicing makes the items break down easier when you blend them," says Olayinka. But you don't have to worry about slicing them neatly. Since they're going in the blender, just chop them up into smaller pieces. 
Place the ingredients in a blender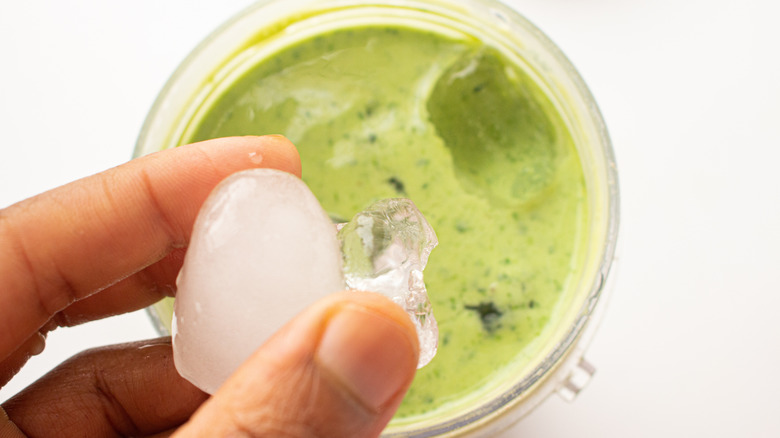 Susan Olayinka/Health Digest
For most smoothie or shake recipes, you'll need the help of a blender. This one is no exception, so grab your blender and set it up. Add the milk and then the banana slices. Next, you can toss in the sliced avocado and the spinach. To get that signature mint flavor to mimic the classic version, throw in your mint leaves. You'll also need to add honey, Greek yogurt, and ice.
Blend and enjoy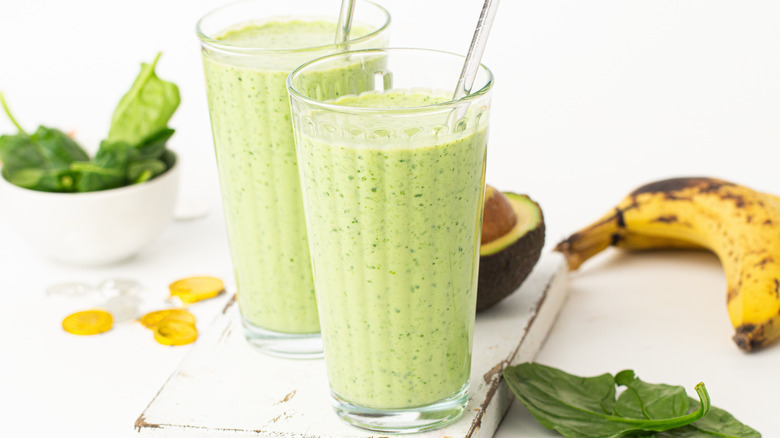 Susan Olayinka/Health Digest
Crank up the blender speed to high and blend the smoothie for about 10 seconds. Once the 10 seconds are up, grab two glasses and distribute the smoothie evenly. "Serve by itself for breakfast or [a] snack," Olayinka says of serving suggestions. If you want to add a little treat on top, you could put a dollop of whipped cream and some festive green sprinkles. How good does that sound? 
As for leftovers? "I would have it fresh — [it] tastes better," Olayinka notes. We hope you loved this fun and festive shake to serve for St. Paddy's day or any other occasion you'd like! 
Healthy Shamrock Shake Recipe
To enjoy a healthier version of the classic McDonald's Shamrock Shake, you need to whip up this easy, 5 minute recipe that's as good for you as it tastes.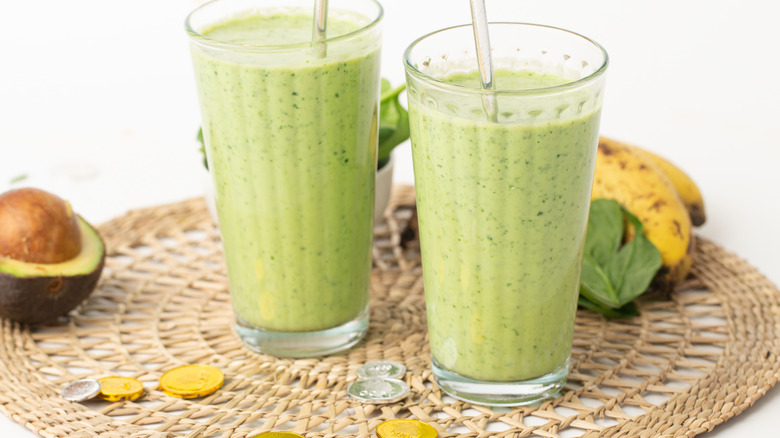 Ingredients
1 banana
½ avocado
2 cups non-dairy milk
1 cup spinach
10 mint leaves
2 tablespoons honey
¼ cup Greek yogurt
½ cup of ice
Directions
Peel and chop the banana and avocado.
Place the milk into the blender followed by the banana, avocado, spinach, mint leaves, honey, greek yogurt, and ice.
Blend the contents on high for 10 seconds.
After 10 seconds, or once everything is blended smoothly, pour the smoothie into 2 serving glasses, and enjoy.
Nutrition
| | |
| --- | --- |
| Calories per Serving | 362 |
| Total Fat | 13.8 g |
| Saturated Fat | 2.8 g |
| Trans Fat | 0.0 g |
| Cholesterol | 4.8 mg |
| | |
| --- | --- |
| Total Carbohydrates | 51.9 g |
| Dietary Fiber | 6.8 g |
| Total Sugars | 35.6 g |
| Sodium | 160.1 mg |
| Protein | 12.7 g |