Peloton Instructor Emma Lovewell Talks Adding Plant-Based Foods To Her Diet – Exclusive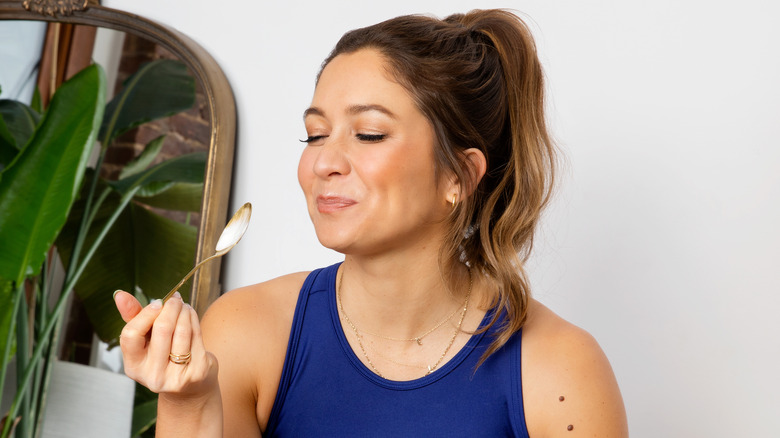 Courtesy of Kite Hill
As a Peloton instructor and an overall fitness professional, Emma Lovewell has always been aware of how foods make her body feel and how they impact her athletic performance. This awareness led her to the decision to incorporate more plant-based foods into her diet. Now, she loves to swap plant-based foods into her daily meals and snacks whenever she can.
Lovewell also loves to cook and experiment with new recipes. On her blog, Live Learn Lovewell, Lovewell shares new and interesting recipes she's tried or developed herself. She focuses on easy, delicious recipes that fuel and nourish the body to make it easy for people to eat in a way that makes their bodies feel good.
Lovewell knows that any changes in the way we eat can feel overwhelming. So, in an exclusive interview with Health Digest, she revealed how she's successfully added more plant-based foods into her own diet.
'Start small'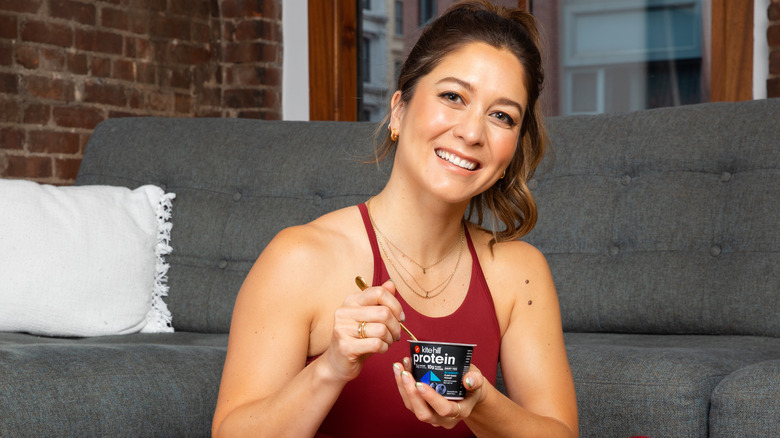 Courtesy of Kite Hill
Emma Lovewell emphasized that adding more plant-based foods into your diet doesn't have to be hard, but she does advise newbies to "start small." You can simply start by swapping out one or two foods with a plant-based substitute. Lovewell, who is partnering with plant-based food brand Kite Hill to create new recipes, told us, "Kite Hill Yogurt is a really easy swap for regular yogurt. It tastes great — still has that really great, creamy texture. It has live cultures in it so it tastes very similar."
She continued, saying, "I love a smoothie in the morning with a banana, frozen berries, some Kite Hill yogurt, almond milk, some spinach and [blended] all together. It's a great way to get in your vegetables and your plant-based foods and you wouldn't even know." Lovewell also adds some convenience items to her menu. "I suggest the Kite Hill Ravioli because they taste amazing, and you would never know that they're dairy-free," she said.
Keep an open mind and don't go it alone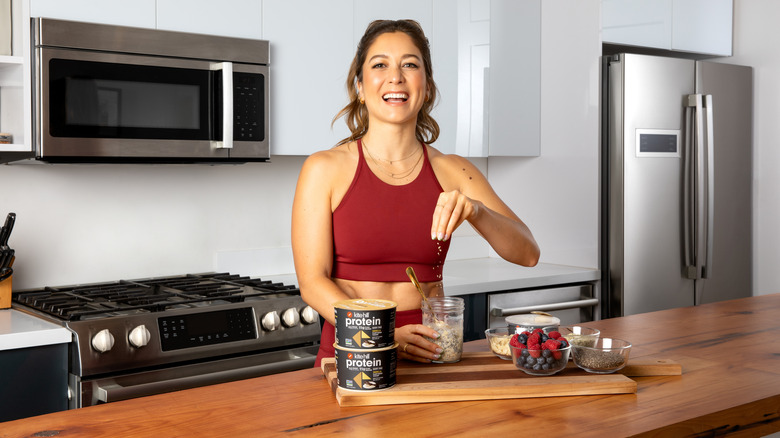 Courtesy of Kite Hill
Perspective is important when adding any new foods into your diet, especially plant-based foods, according to Emma Lovewell. "I think it's just being open-minded to trying new things and trying new foods," she told Health Digest.
"We are so lucky that we live in an age where we have so many options. ... If you fill your fridge with delicious things that you feel good about eating, then you will reach for it when you open the fridge. I love having Kite Hill yogurts as a good snack in the fridge, and their spreadable cheeses, those are great options, and so easy to eat as a snack." Lovewell has also enjoyed coming up with new and exciting recipes with plant-based ingredients for Kite Hill, including an overnight oats recipe and a savory yogurt grain bowl recipe.
In addition to experimenting with new plant-based foods and recipes, Lovewell suggests recruiting a friend so you can share the experience and support each other — because making changes is always easier with a friend along for the ride.
For the next month, keep an eye out on Kite Hill's website and social media channels for details on their #GatewayToGood giveaway, delicious plant-based recipes, and tips from Emma Lovewell on how to inspire your friends and loved ones to open their Gateway to Good this year!