Why Anxiety And Depression Have Soared For Disabled Americans During The Pandemic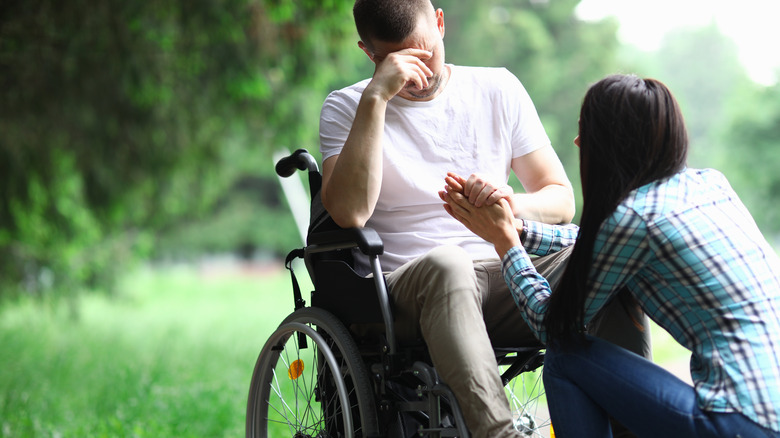 H_Ko/Shutterstock
Many of us are no strangers to anxiety and depression, especially in the midst of the ongoing COVID-19 pandemic. Living with mental health difficulties is challenging on any day, and the pandemic has only intensified them. But for Americans who have disabilities, the prevalence of anxiety and depression has skyrocketed since 2020.
According to a 2021 study published in ​​The Lancet Regional Health – Americas, 8.5% of Americans experienced depressive symptoms before the pandemic began. That percentage jumped to 27.8 at the start of the pandemic and rose again to 32.8 in 2021 (via Boston University School of Public Health). While depression is a common response to traumatic events, the pandemic presents a unique situation. "Typically, we would expect depression to peak following the traumatic event and then lower over time," said Sandro Galea, senior author of the study. "Instead, we found that 12 months into the pandemic, levels of depression remained high."
And the pandemic's effects on mental health have been unequal, too. Those who are low-income and those who experience multiple stressors — such as those who are elderly, experience job loss, lack childcare, or are disabled — have been disproportionately impacted (via BU School of Public Health).
How disabled Americans have suffered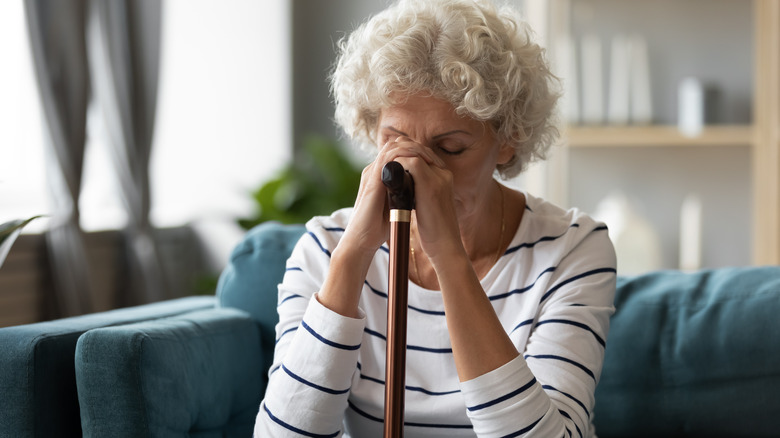 fizkes/Shutterstock
A new study conducted by the American Psychological Association found that Americans with disabilities are more likely to experience depression and anxiety during the pandemic than those who are able-bodied (via U.S. News & World Report). Loneliness, social isolation, and worry about becoming sick with COVID-19 have all contributed to the stress on mental health.
Before 2020, people with disabilities had a 22% likelihood of being diagnosed with depression over their lifetime. This survey of 441 adults who self-reported as disabled showed that 61% showed signs of major depressive disorder and 50% had probable anxiety disorder. People with disabilities often have health conditions that make them more likely to contract COVID-19, and since they weren't prioritized when medical care and supplies were being rationed, they experienced extra isolation and loneliness.
Additionally, since non-essential healthcare was often put on pause due to medical providers being focused on caring for those with COVID-19, disabled Americans often lacked access to routine care. "For some people with disabilities, simply being able to go into physical therapy once every few weeks or to get an infusion, say that they may need once a month, to have those disrupted can severely impact their daily function, their pain, and all of those things," said Kathleen Bogart, a co-author of the study (via U.S. News & World Report). According to study peer reviewer, Rhoda Olkin, more research should be done on this population, especially since rates of depression may vary depending on particular disabilities.