Is It Safe To Dye Your Hair During Pregnancy?
Irine and Andrew/Shutterstock
Along with a positive pregnancy test comes the realization that your daily routine may require quite a bit of restructuring. Maybe you will need to cut down on or cut out your daily caffeine fix. Your post-work Old Fashioned or glass of wine is going to get put on the backburner for about nine months or so and, if your lifestyle keeps your cortisol levels as high as Ariana Grande's ponytail, perhaps you will decide to implement a meditation practice. Like these changes and so many more, mothers make countless sacrifices to keep their unborn babies safe. 
You've probably also heard that pregnancy means you're going to have to hold off on coloring your hair. Many moms-to-be may be wondering if hair dye can expose Baby to harmful chemicals and toxins. Try not to worry, mama, we've got all the information to help you make the right decision for you and yours.
Hair dye is not thought to be 'highly toxic'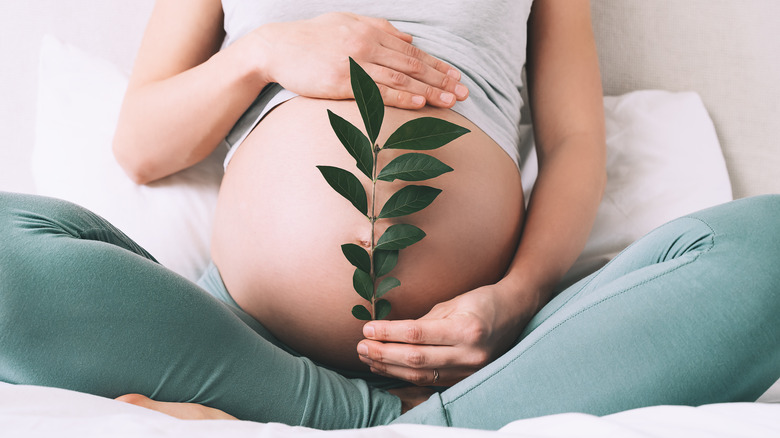 Natalia Deriabina/Shutterstock
You can breathe a sigh of relief and, if you'd like, go ahead and schedule that appointment! "Although fairly limited," the American Pregnancy Association explains, "most research indicates the chemicals found in both semi-permanent and permanent dyes are not highly toxic and are safe to use during pregnancy."
While hair dye does contain chemicals, the amount you are able to absorb appears to be inconsequential to you and your unborn baby. The hair beyond your follicle is dead and has no access to your bloodstream, and because the amount of dye that can be absorbed by your scalp is so small, Dr. Temeka Zore, reproductive endocrinologist, confirmed to Verywell Family, "The risk of the chemicals reaching the fetus seems extremely limited."
While dying your hair during pregnancy is generally considered safe, it's certainly not a bad idea to take extra precautions — even just for peace of mind.
Safety precautions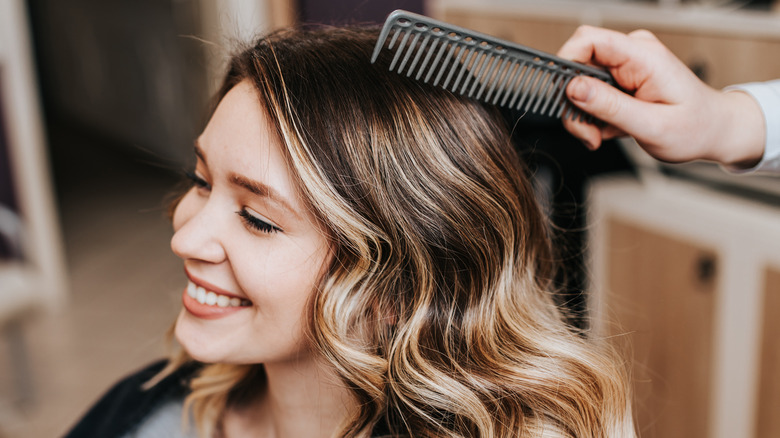 hedgehog94/Shutterstock
While dying your hair during pregnancy is generally considered safe, you may wish to wait until your second trimester (via American Pregnancy Association). "Many doctors recommend holding off on hair color until week 13 of your pregnancy, just to be safe," Dr. Salena Zanotti, an OB-GYN, told the Cleveland Clinic. This is because much of a fetus' fundamental development takes place during the first 12 weeks.
When dying your hair, you can also limit your exposure by wearing gloves, remaining in a well-ventilated space, and not leaving color on any longer than necessary (via Cleveland Clinic). If you're still a little nervous, try changing it up with some highlights or balayage as these processes don't have to touch your skin at all, according to the American Pregnancy Association.
During pregnancy, you may also want to avoid dyes that contain ammonia and bleach, advised What to Expect. Or, if your pregnancy path has inspired you to go au naturel, consider a plant-based dye instead.
A lot of things change with pregnancy, but your hair color doesn't have to be one of them. Go on with your glamorous self!