Researchers Bust The Myth That Vaping Helps You Quit Smoking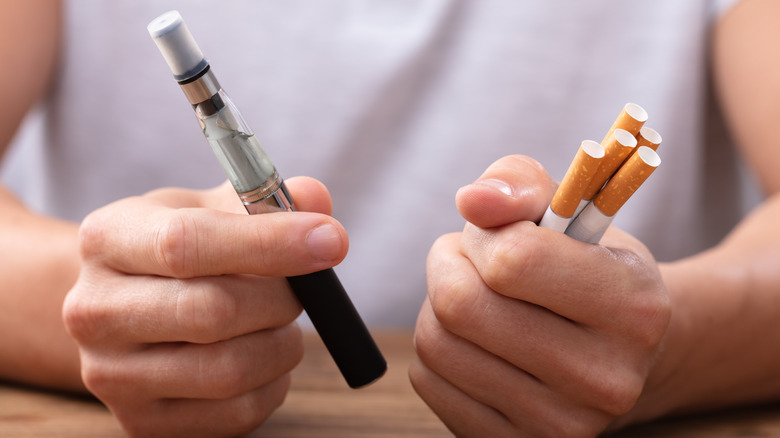 Andrey_Popov/Shutterstock
If you remember being offered a tobacco cigarette during those tumultuous, transitional years of high school, it appears that times have somewhat changed. A 2018 Gallup Poll indicates that while the traditional smoking of cigarettes among young adults is on the decline, a new method of smoking has taken its place in the form of e-cigarettes. In 2018, 20% of those aged 18 to 29 reported vaping either regularly or on occasion, compared to only 9% of those between the ages of 30 and 49, and 7% of those 50 to 64 years of age. Additionally, only 22% of young adults felt that vaping was "very harmful," indicating a trust in e-cigarettes over traditional cigarettes when it comes to health and safety.
Not only is there a widespread belief among the public that e-cigarettes are less harmful than standard cigarettes, but some studies have indicated that vaping can serve as an effective means to quit smoking altogether (via The Conversation). However this alternate research has been limited, and now, a study published February 7 in Tobacco Control seems to have disproved this research altogether, demonstrating that e-cigarettes are no help when it comes to quitting smoking.
Vaping is a poor way to quit smoking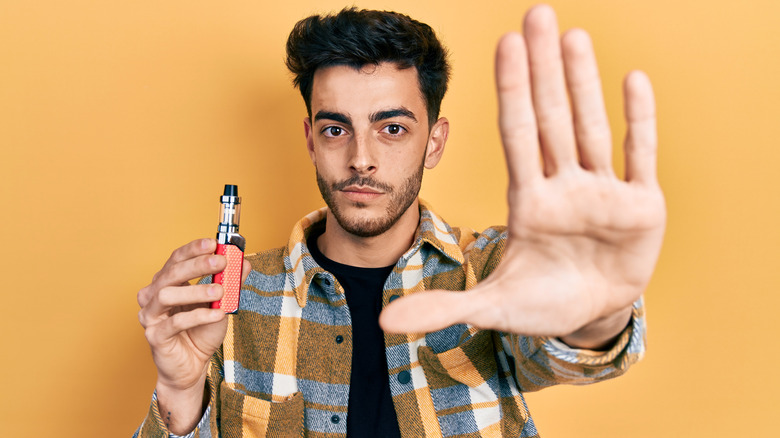 Krakenimages.com/Shutterstock
In the Tobacco Control study, 3,578 participants having made a recent attempt to quit smoking were examined, along with 1,323 former smokers, all of which were studied over the course of a year or more between 2017 and 2019. When researchers examined the types of products used by participants having recently attempted to quit, it was found that those who solely used e-cigarettes as a smoking cessation tool prior to 2017 were found to have only a 10% success rate of quitting by 2019, compared to those who used no aid whatsoever having nearly double the success rate (via HealthDay).
E-cigarette users weren't less likely to relapse in tobacco cigarette smoking compared to those who didn't vape, as reported by HealthDay. In fact, roughly 60% of former e-cigarette smokers attempting to quit and who vaped on a daily basis were found to have relapsed in the smoking of traditional cigarettes within the following two years.
Medical spokesman for the American Lung Association Dr. David Hill, who was unassociated with the study, commented on the outcomes via HealthDay, stating, "The data for e-cigarettes as a smoking cessation tool has never been very strong. So this study confirms that they're not a great tool for people to stop smoking." Dr. Hill went on to encourage those who are looking to stop smoking to consult with a medical professional who can provide support and aid in developing a treatment plan.
If you or anyone you know is struggling with addiction issues, help is available. Visit the Substance Abuse and Mental Health Services Administration website or contact SAMHSA's National Helpline at 1-800-662-HELP (4357).