You Might Not Want To Ditch Your Mask Even If Others Aren't Wearing Them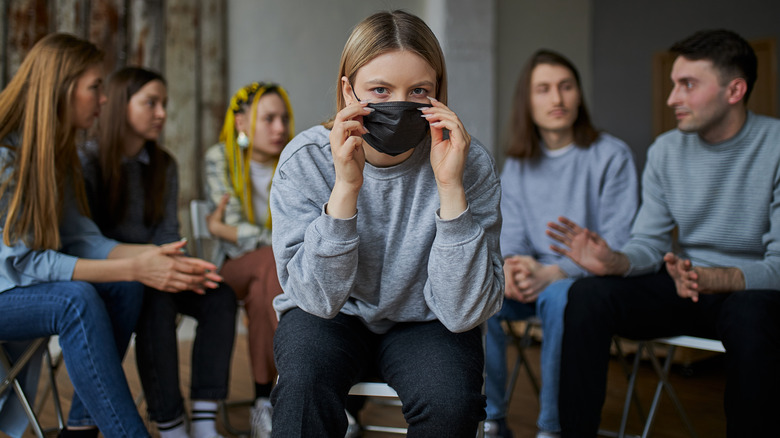 Roman Chazov/Shutterstock
Toward the end of 2021, more Americans opted to forgo mask wearing in public spaces. As reported by Newsweek, according to a poll issued by the Associated Press and the NORC Center for Public Affairs Research, of 1,089 adults, the number of Americans who reported "always" wearing masks when out in public dropped from 82% in February and March of 2021, to 57%, as reported in early December.
Connecticut Governor Ned Lamont announced that the decision to lift school mask mandates in his state comes at a time when vaccines and boosters are now readily available as an alternate means of protection (via NPR). Echoing similar thoughts, New Jersey Governor Phil Murphy voiced via Twitter on February 7, "Balancing public health with getting back to some semblance of normalcy is not easy. But we can responsibly take this step due to declining COVID numbers and growth in vaccinations."
Compounded with the lifting of mask mandates for in-person learning in states such as Connecticut, Delaware, New Jersey, California, and Oregon (via NBC News), it leaves many asking: Do face masks still provide protection if others around us aren't also wearing them?
Masking is effective even when you're among the unmasked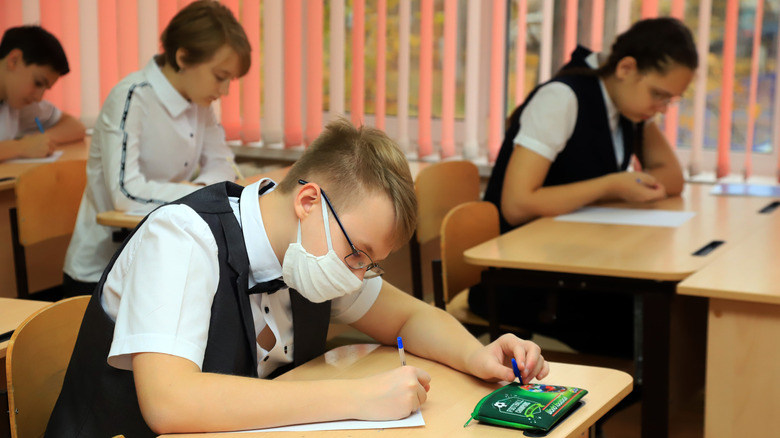 KATTY ELIZAROVA/Shutterstock
As mask wearing in more public spaces continues to become optional, health experts encourage continued masking even if those around you are not (via NBC News). Director of the World Health Organization Collaborating Center on National and Global Health Law Lawrence Gostin said at a recent White House COVID-19 briefing, "You're certainly much better protected than you would be if you're not wearing a mask at all."
While universal masking provides increased protection for all, epidemiologist at the Harvard T.H. Chan School of Public Health Bill Hanage explains at the briefing that even if you're the only one masked in a public setting, as long as the mask is being worn correctly, it still provides some degree of protection from viral transmission.
Experts also stress that in addition to properly worn masks, the type of mask worn, such as N95 and KN95 masks, is also going to increase protection from COVID-19. Epidemic response specialist at Harvard Medical School Ranu Dhillon explains via NBC News that this remains true no matter what setting one may find themselves in. Dhillon states that an N95-caliber mask "provide[s] you with as optimal protection as possible irrespective of what those around you are doing."
Knowing this, individuals with concerns over their children returning to mask-optional schools may take comfort in knowing that their child is still offered protection while wearing a high-quality mask, even among children without one.