Why The CDC Is Debating Adjusting The Length Of Time Between COVID-19 Vaccines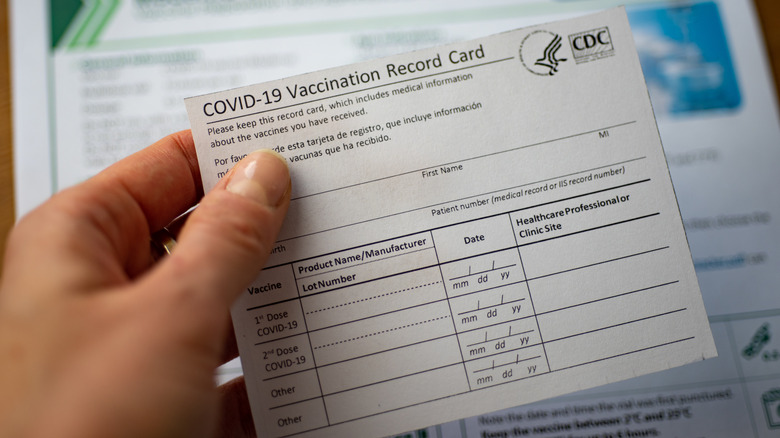 Evgenia Parajanian/Shutterstock
While current CDC guidelines for mRNA vaccines include a waiting period of 28 days for Moderna recipients and 21 days for Pfizer recipients between their first and second dose, health experts are now evaluating as to whether prolonging the wait time between doses will provide increased immunity for vaccinated Americans (via Healthline). Research reveals that by extending the amount of time between one's first and second dose of the mRNA vaccines, the likelihood of infection, development of severe COVID-19 symptoms, and hospitalization may be further decreased.
The U.S. Centers for Disease Control and Prevention (CDC) is currently debating increasing the waiting time between doses to eight weeks (via Healthline). Among the many factors influencing the CDC's potential decision is evidence that extending the length of time between mRNA vaccine doses may decrease the risk for a rare side effect known as myocarditis (via NBC News).
What is myocarditis?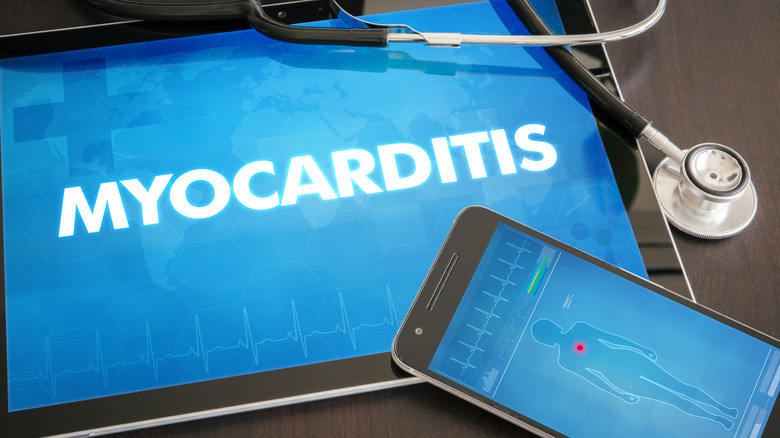 ibreakstock/Shutterstock
Myocarditis, or inflammation of the heart, can occur as an immune system response to a viral infection in the body, which can result in an accelerated heartbeat (via Johns Hopkins Medicine). While considered a rare side effect of the COVID-19 mRNA vaccines, instances of myocarditis have been higher amongst men ages 18 to 29 who received the Moderna vaccine, according to NBC News.
In examining research from Canada and the United Kingdom during a time when vaccines were in short supply, experts found reduced rates of myocarditis among recipients who had no choice but to wait eight weeks or more for their second dose (via Healthline). Infectious disease specialist and epidemiologist with Case Western Reserve University, Dr. Mark Cameron, discussed these findings with Healthline, stating, "when 8 weeks had passed between mRNA shots, you could find increased antibody responses with decreased infection and hospitalization risk, as well as a reduction in numbers of the already rare cases of myocarditis in young adult males post-vaccination."
A potential decreased risk of myocarditis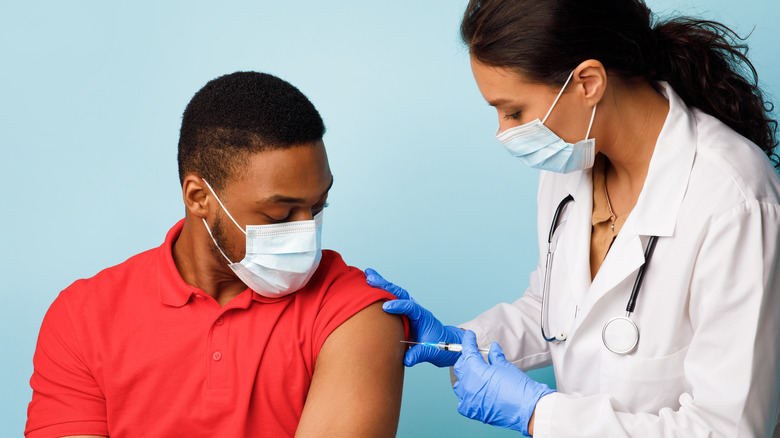 Prostock-studio/Shutterstock
Dr. Amesh Adalja, a senior scholar at the Johns Hopkins University Center for Health Security, explained to Healthline how the current three to four-week dosing timelines affect the body, stating, "By giving the vaccines in close proximity, the immune response from the first vaccine hasn't completely evaded — and then you've now hit it with the second vaccine, which revs it up even more." Therefore, prolonging the time between doses would provide the body more time to recover from the initial vaccine immune response, thus reducing the risk for myocarditis.
As of now, no final decision regarding changes to vaccine dosage timing has been made (via Healthline). Nevertheless, some health officials have begun to voice their public support for the potential change. As reported by NBC News, professor of medicine at Vanderbilt University, Dr. Helen Keipp Talbot, stated during a recent CDC advisory committee meeting, "I think it's a win-win for both safety and immunogenicity spread out."