Everything We Know So Far About The Olympic Figure Skating Doping Scandal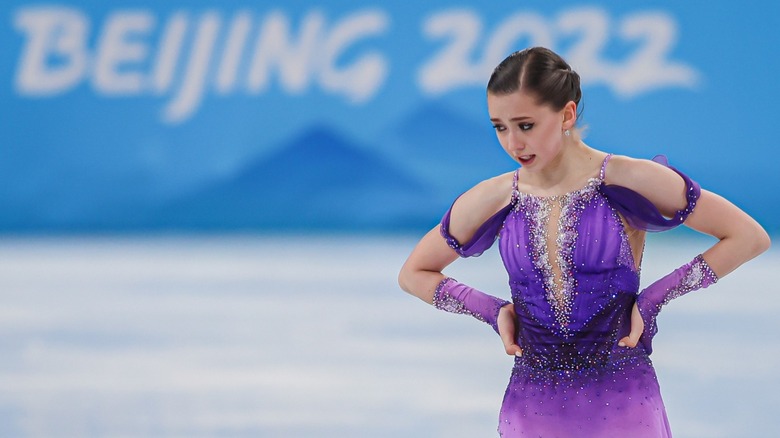 Annice Lyn/Getty
Kamila Valieva, the Russian teenager who became the first female figure skater to complete a four spin jump, also known as a quad, remains at the center of a doping controversy that continues to cast a shadow over the Beijing Olympic games and her reputation. 
Valieva submitted a sample for a routine doping test in December. However, the sample results took six weeks to come back, after the 15-year-old's performance had already helped elevate her Russian team to first place in the contest for figure skating gold. Those results, which came from a Swedish lab, revealed the twirling wunderkind tested positive for a banned substance (via New York Times).
At the heart of the scandal is a heart medication called trimetazidine, a drug that is prohibited under the World Anti-Doping Code. Despite testing positive and conceivably having an advantage as a result of having the drug in her system, The Court of Arbitration for Sport (CAS) ruled that Valieva could continue to compete following a brief suspension. Citing Valieva's youth, CAS director general Matthieu Reeb, described the case as sensitive. "Preventing the athlete to compete at the Olympic Games would cause her irreparable harm in these circumstances," Reeb said at a press conference (per NPR).
What is Trimetazidine?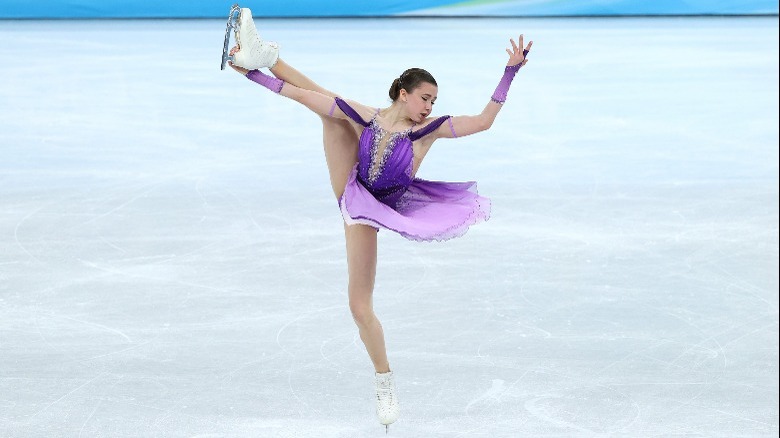 Jean Catuffe/Getty
Trimetazidine is a heart medication that is banned in the United States. According to the experts at Healthline, the drug is designed to treat angina, a condition in which the heart is unable to get enough oxygen. Someone suffering from angina takes a daily regimen of two to three trimetazidine pills to reduce the recurrence of angina. Since the drug improves heart function, this can also lead to boosting an athlete's energy and endurance.
This is not the first time that the Russian Olympic team has been caught up in a doping scandal. Due to sanctions by the World Anti-Doping Agency (WADA) and the International Olympic Committee (IOC), Russian Olympians can't participate and compete as "Russia" due to anti-doping violations that occurred at the 2014 Sochi Olympics. However, Russian competitors sidestepped this roadblock by entering the Toyko and Beijing games as "neutrals" under the moniker Russian Olympic Committee (ROC), as reported by CNN.
The situation for Valieva is further complicated by the fact that athletes 16 and under are not held responsible for taking banned substances under anti-doping rules. So, it is likely that investigators will focus on her coaches and doctors. Despite the fact that Valieva is being allowed to skate, the fate of her current gold medal is still to be determined (via PBS).