Easy Vegan Burrito Bowls Recipe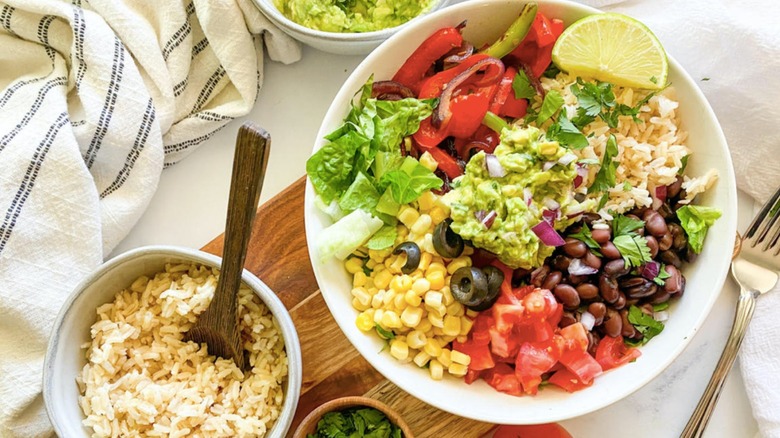 Miriam Hahn/Health Digest
Who loves Chipotle burrito bowls? It's pretty hard not to love them, but have you ever tried recreating them at home? Well, now you can! Recipe developer and health coach, Miriam Hahn, brings us this vegan version of burrito bowls that can be thrown together in a matter of minutes. Not vegan? No worries, omnivores and vegans alike love these bowls. But if you feel you need a little extra protein, you can easily add some meat and cheese. Along the same lines, if you prefer a burrito instead of a burrito bowl, these can easily be rolled up into large flour tortillas.
Hahn notes that because these come together in less than 30 minutes, these vegan burrito bowls make for a great quick weeknight meal. This recipe serves three people, but you can easily make more or less for your desired party size. Follow this step by step guide below to see how Hahn makes these vegan burrito bowls.
Gather your ingredients for vegan burrito bowls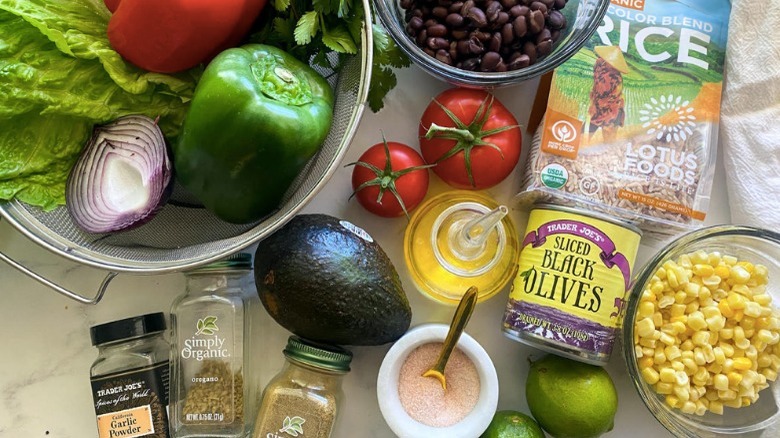 Miriam Hahn/Health Digest
To make these colorful vegan burrito bowls, we will need to start by gathering our ingredients. We will need avocado or olive oil, one red bell pepper, one green bell pepper, half of a red onion, lime, cilantro, cumin, salt, garlic powder, lettuce, tomato, black beans, cooked rice, corn, and olives. We like cooking our rice beforehand to speed up the assembly of these bowls. Be sure to rinse your rice before cooking it.
In terms of ingredients, this dish is very versatile. You can make many substitutions if you desire. Hahn notes that "pinto or refried beans work well" instead of black beans. Additionally, she tells us that "you can sauté in poblano peppers with the peppers or even a serrano pepper if you like it hotter." Instead of simply topping these bowls with guacamole, you can "add dairy free sour cream... and you can add red or green salsa."
Sauté the peppers and onions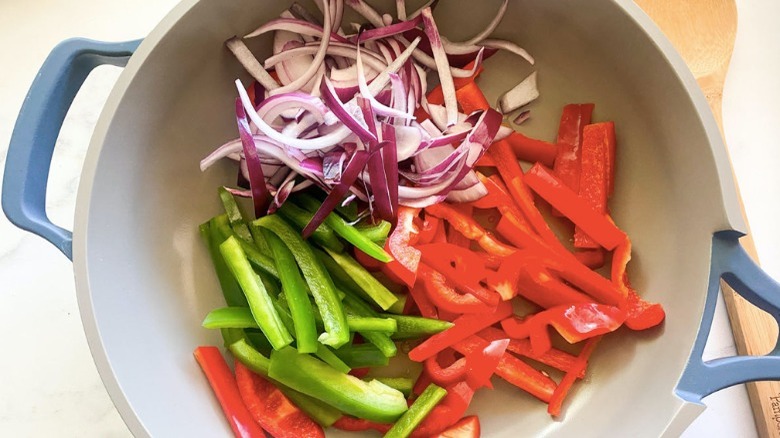 Miriam Hahn/Mashed
First up, we need to saute our peppers and onions. In a medium skillet over medium high heat, add the oil. Once the oil is hot, add the red bell peppers, the green bell peppers, and the sliced red onion. Cook the peppers and onions for about 15 minutes, stirring occasionally. You will know they are done when they become a bit more tender in texture and their skins become a bit charred.
Make guacamole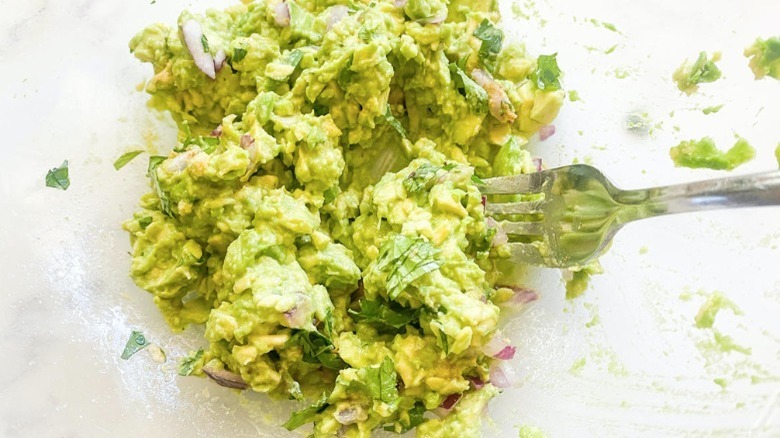 Miriam Hahn/Health Digest
While the peppers are sautéing, we can get started on our guacamole. To make this speedy guacamole, add the avocado to a bowl. Mash this well with a fork. Then add the lime juice, cilantro, cumin, salt, and garlic powder to the avocado. Combine this mixture by stirring well. Once the guacamole is made, set it aside. Alternatively, you could use store bought guacamole if you want to save a step. Hahn notes you could also "just use chopped avocado" if you desire.
Assemble the bowls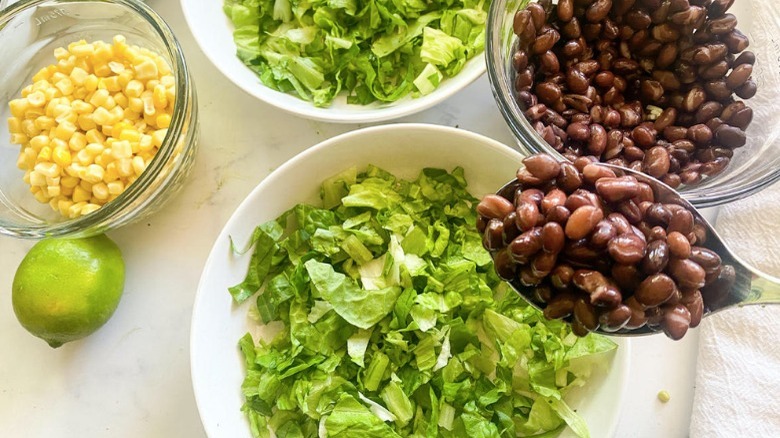 Miriam Hahn/Health Digest
To assemble the vegan burrito bowls, you will want to have all ingredients at the ready. Picture your set-up like a homemade Chipotle restaurant. Start by adding the shredded lettuce to the bottom of the bowls. Then add sautéed peppers, diced tomatoes, black beans, cooked rice, corn, and olives on top of the lettuce. Then top this mixture with a dollop of guacamole. Hahn notes that this meal is fun to set up like a burrito bowl bar "for guests and have them build their own."
Storing leftovers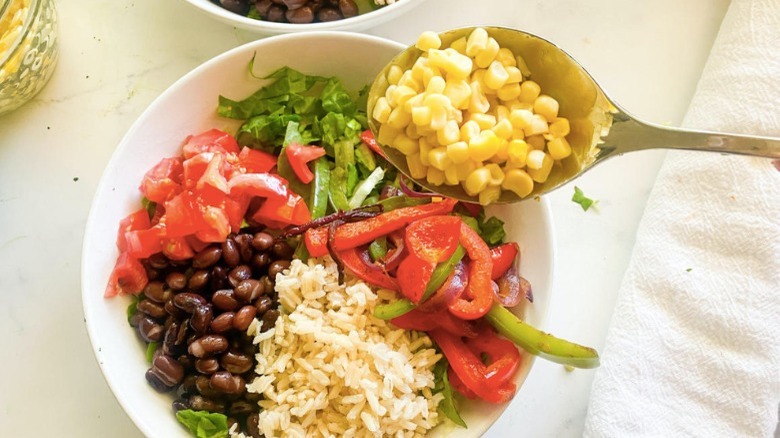 Miriam Hahn/Health Digest
We highly doubt you will have leftovers, but if you do make sure to store properly. Hahn notes that "it is best to store all the components separately and then just assemble when you are ready to eat." By storing these components separately, you can make sure these ingredients stay fresh and do not get soggy or mushy. She also notes that "it is best not to cut the tomato ahead of time as it is best freshly cut." If you wanted to, you could prepare each ingredient separately, store them in the fridge, and serve these bowls when you're ready — we always love the option to meal prep!
Easy Vegan Burrito Bowls Recipe
These vegan burrito bowls are packed with color, flavor, and plant-based protein, making them perfect for a healthy but fulfilling meal.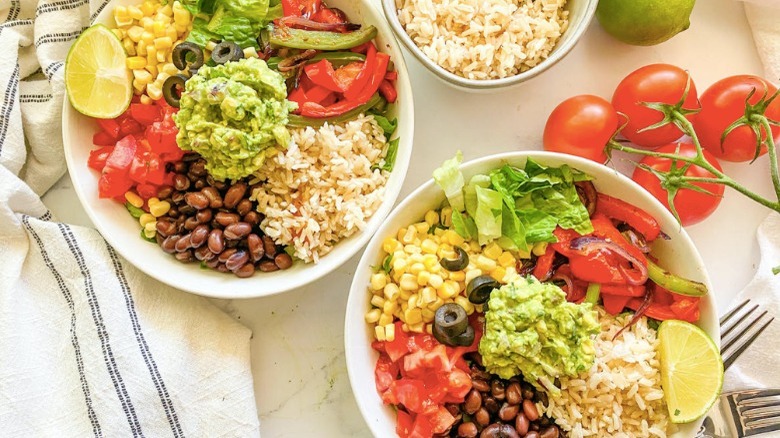 Ingredients
1 tablespoon avocado or olive oil
1 red pepper, sliced
1 green pepper, sliced
½ red onion, sliced, divided
1 large avocado
1 lime, juiced + slices for garnish
1 tablespoon cilantro
¼ teaspoon cumin
½ teaspoon salt
¼ teaspoon garlic powder
2 cups lettuce, slivered
1 tomato, diced
1 can black beans, rinsed and drained
1 ½ cups cooked rice
1 cup corn
2 tablespoons olives
Directions
Add the oil to a frying pan over medium-high heat. Put the red peppers, green peppers, and all but 1 tablespoon of sliced red onion in the pan. Cook for 15 minutes, stirring occasionally.
While that is cooking, mash up the avocado in a small bowl. Add the reserved tablespoon of chopped red onion, lime juice, cilantro, cumin, salt, and garlic powder. Mix well and set aside.
Assemble the burrito bowls by add the slivered lettuce to the bottom of 3 shallow bowls. Add a third of the sautéed peppers, diced tomato, black beans, cooked rice, corn and olives. Put a dollop of the guacamole in the center, and you're ready to serve.
Nutrition
| | |
| --- | --- |
| Calories per Serving | 507 |
| Total Fat | 19.1 g |
| Saturated Fat | 2.9 g |
| Trans Fat | 0.0 g |
| Cholesterol | 0.0 mg |
| | |
| --- | --- |
| Total Carbohydrates | 74.2 g |
| Dietary Fiber | 20.6 g |
| Total Sugars | 9.2 g |
| Sodium | 653.6 mg |
| Protein | 16.3 g |