How To Tell If Your Infant's Formula Has Been Recalled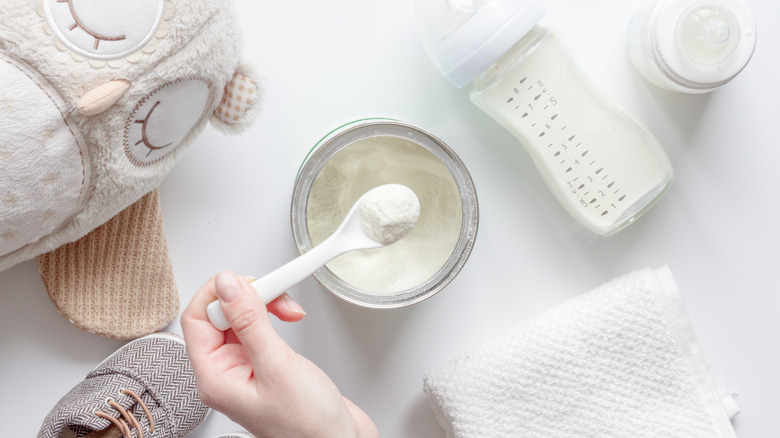 279photo Studio/Shutterstock
Food and product recalls happen occasionally when a previously unknown issue begins affecting consumers. As a parent, it can be stressful to hear about a baby formula recall. If you do hear about one, you'll want to check your formula supply right away to ensure that it's safe. But it can sometimes be tricky to tell whether you should throw away your entire supply or if the products you own are safe.
Recently, the company Abbott voluntarily recalled multiple baby formula products after it was reported that four infants had gotten sick after consuming them (via CBS News). The recall includes the brands ​​Similac, Alimentum, and EleCare. You can tell if your formula was affected by the 7- to 9-digit code and expiration date on the bottom of the package (via Healthline). If the first two digits of the code are 22 through 37, the code contains K8, SH, or Z2, or the expiration date is listed as "4-1-2022," the product has been recalled and you should not use it. If you are unable to tell if your product has been recalled, you can visit SimilacRecall.com for verification.
Why were these formulas recalled?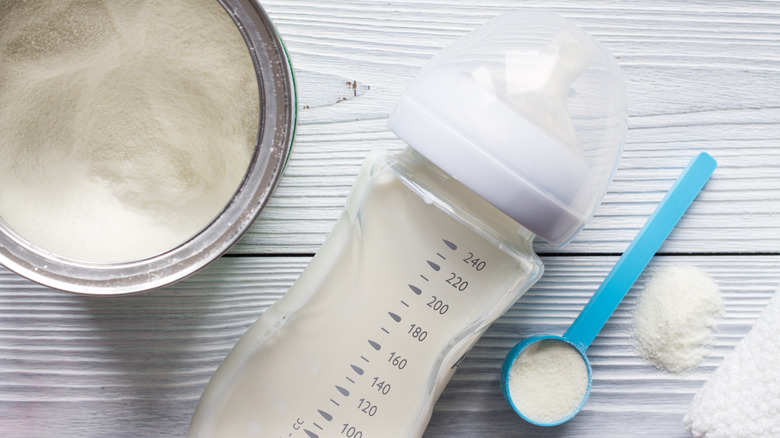 279photo Studio/Shutterstock
According to the Abbott company via Healthline, during a testing process, they "found evidence of Cronobacter sakazakii in the plant in non-product contact areas. We found no evidence of Salmonella Newport. Importantly, no distributed product has tested positive for the presence of either of these bacteria, and we continue to test."
Cronobacter sakazakii bacteria are naturally found in our environment but should not be ingested. While an infection in adults is usually mild, it can be deadly in infants who do not have a developed immune system. "These germs can get into the bloodstream of a baby, causing an overwhelming bodily infection known as sepsis," said Dr. Kecia Gaither, double board-certified in OB-GYN and maternal fetal medicine. The bacteria can also cause meningitis. Babies who have been exposed to this bacteria will usually exhibit poor feeding, lethargy, and fever. If your infant ever has these symptoms, they should be taken to a doctor right away.