Kale Pesto Recipe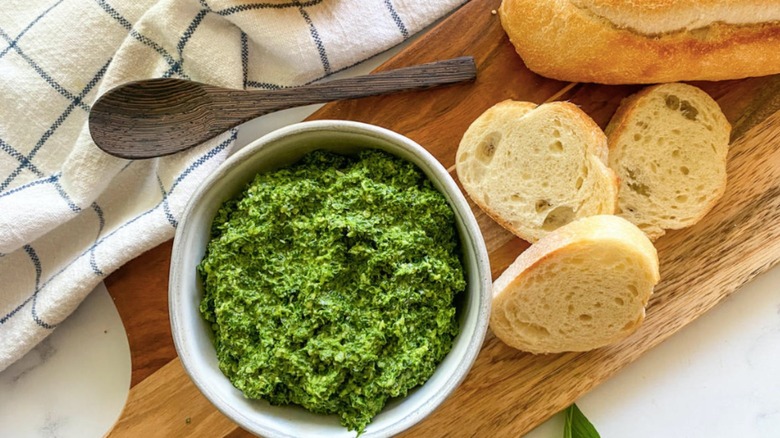 Miriam Hahn/Health Digest
Pesto sauces are sauces made from nuts, cheese, oil, and typically a leafy green. We love pestos in any way, shape, or form. While a traditional pesto is made from basil, pine nuts, olive oil, and parmesan cheese, there are many creative renditions of pesto that are quite delicious. Including this kale pesto brought to us by recipe developer and health coach, Miriam Hahn.
Eating pesto like this is a great way to pack those leafy greens into your diet to reap the health benefits. According to Healthline, kale is one of the most nutritious foods on the planet and is loaded with plenty of antioxidants. All the more reason to eat this pesto, right?
Follow this step-by-step guide on how to make this delicious kale pesto. We love this recipe and we know you will, too. We have a feeling you won't be disappointed.
Gather your ingredients for kale pesto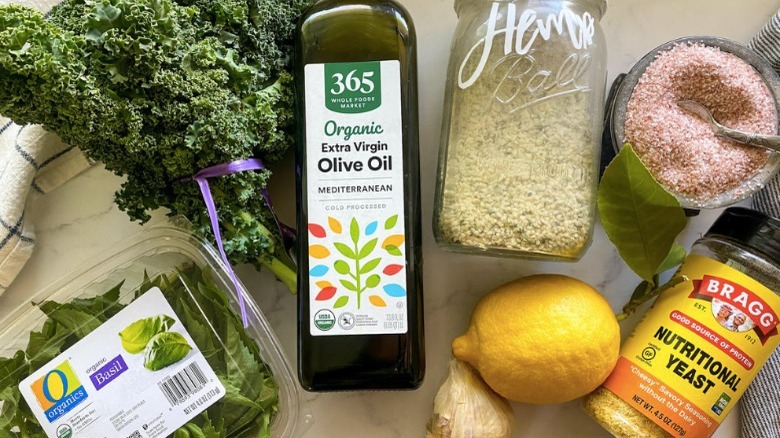 Miriam Hahn/Health Digest
To make this kale pesto, we need to start by gathering our ingredients. For this recipe, we need kale, basil, garlic cloves, hemp seeds, nutritional yeast, olive oil, lemon juice, and salt. This pesto is completely vegan. We use nutritional yeast instead of Parmesan cheese to provide the cheesy flavor in a vegan-friendly way. If you want to use grated Parmesan cheese, feel free to sub it in for the nutritional yeast in this recipe.
And Hahn says you can make other ingredient substitutions, too. "You can substitute another green for the kale — arugula works well. You can also substitute the hemp seeds for pine nuts, sunflower seeds, walnuts or really any nut or seed," she says. We love this idea since many pestos call for nuts like pine nuts or walnuts. If you're allergic to nuts, this recipe is great because it uses hemp seeds instead of nuts.
Remove kale from stems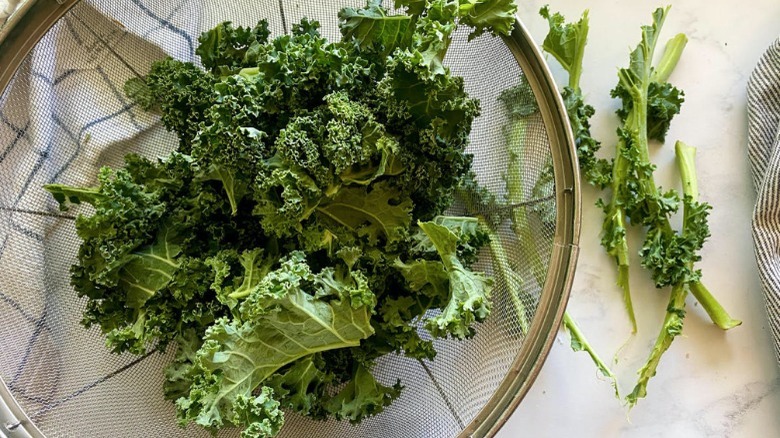 Miriam Hahn/Health Digest
First up, we need to prepare our kale. To do this, we can strip the kale leaves from the stems. We do not want to use the stems as they are a bit too tough to blend in our pesto. 
Once the leaves have been stripped from the stems, wash the leaves to remove any excess dirt. Then, you can roughly chop these kale leaves so they fit into your food processor better.
Add all ingredients to food processor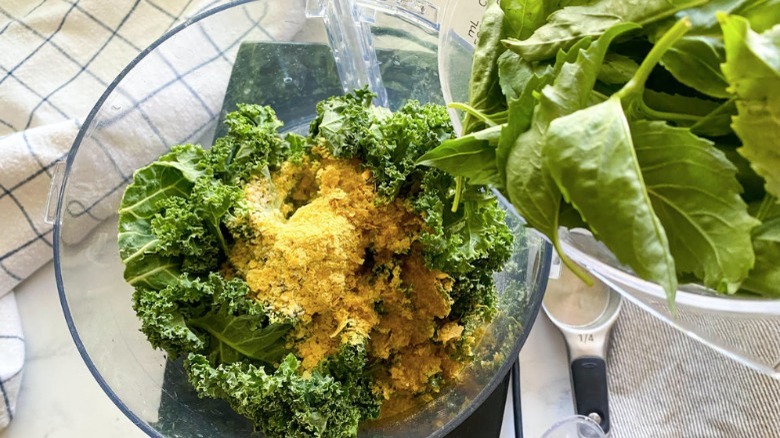 Miriam Hahn/Health Digest
When your kale is prepped, you can add it and all the other ingredients to a large food processor. This means you should add the kale leaves, basil, minced garlic, hemp seeds, nutritional yeast, olive oil, lemon juice, and salt. Close the lid and turn the food processor on to blend the mixture until smooth. Remove the lid and taste the pesto with a spoon. If you want a thinner pesto consistency, you can add a bit more olive oil.
Ideas for serving kale pesto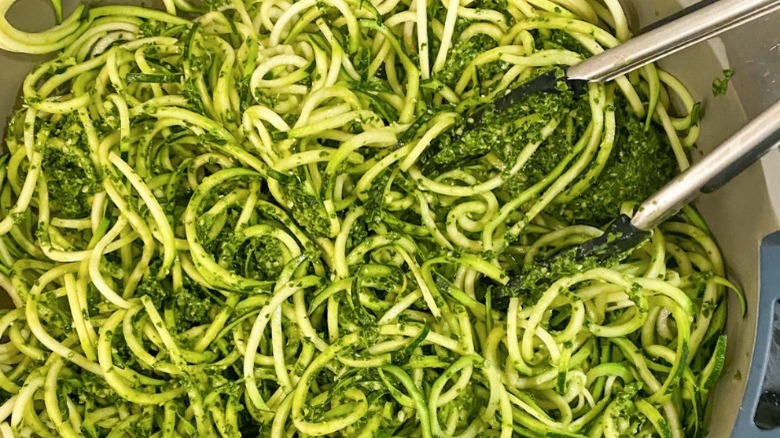 Miriam Hahn/Health Digest
Once your pesto is made, you need to figure out what to eat it with. Hahn loves spreading the pesto on slices of baguette bread as an appetizer, with the option to serve it with tomatoes, olives, or mushrooms. "I also love this over pasta or zucchini noodles or on a sandwich with roasted vegetables," she says. We love that there are so many uses for this pesto. Our personal favorite is mixing it with a bit of mayo to make a delicious dip for raw veggies.
If you have any leftovers of this kale pesto recipe, be sure to store it as Hahn recommends "in a sealed container in the fridge for up to 5 days." We find that a small mason jar is usually the perfect solution for storing homemade dips, dressings, and sauces. You can continue to use up the leftovers throughout the rest of the week in various dishes. We assure you it will not disappoint.
Kale Pesto Recipe
Pesto is a classic sauce to use with a wide variety of meals and appetizers. This vegan kale pesto version is easy to make and is packed with nutrition.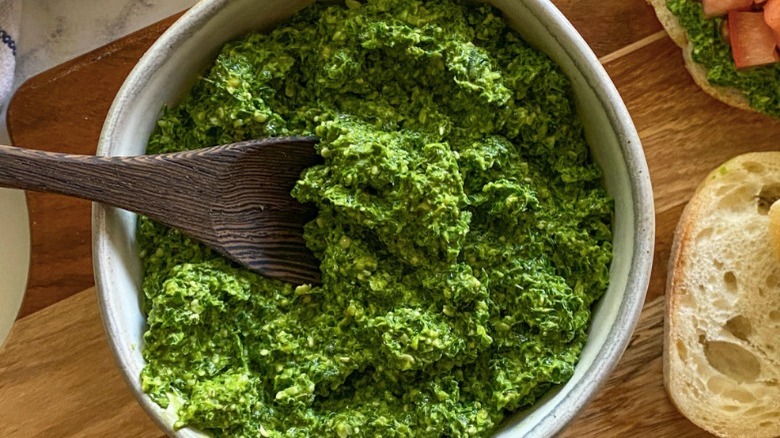 Ingredients
2 cups kale, packed
2 cups basil, packed
2 garlic cloves, minced
¼ cup hemp seeds
¼ cup nutritional yeast
3 tablespoons olive oil + more if you want the pesto thinner
Juice from one large lemon
½ teaspoon salt
Directions
Remove the stems from the kale and wash the greens.
Add the kale, basil, garlic, hemp seeds, nutritional yeast, olive oil, lemon juice, and salt to a food processor.
Blend until smooth and serve.
Nutrition
| | |
| --- | --- |
| Calories per Serving | 467 |
| Total Fat | 32.3 g |
| Saturated Fat | 3.8 g |
| Trans Fat | 0.0 g |
| Cholesterol | 0.0 mg |
| | |
| --- | --- |
| Total Carbohydrates | 24.6 g |
| Dietary Fiber | 18.3 g |
| Total Sugars | 3.6 g |
| Sodium | 375.6 mg |
| Protein | 25.5 g |