Think Twice Before Getting Filler In This Part Of Your Face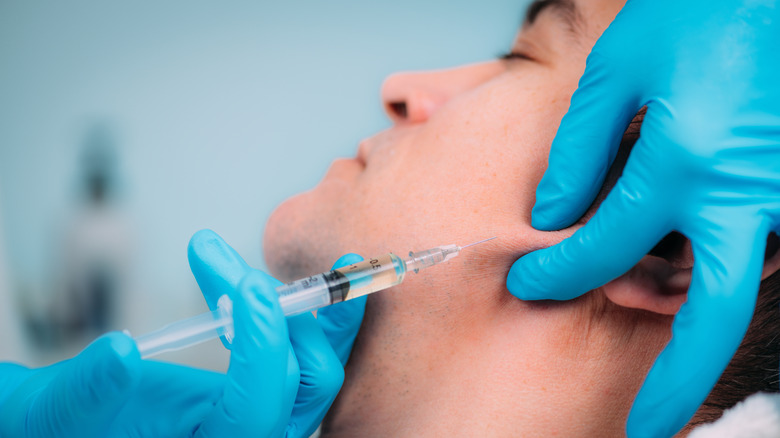 Microgen/Shutterstock
Dermal fillers are substances injected under the skin to help restore volume and smooth out fine lines and wrinkles. Unlike Botox, which uses Botulinum toxin to freeze the muscles in the face, dermal fillers use hyaluronic acid, calcium hydroxylapatite, polymethylmethacrylate, or poly-L-lactic acid to fill in and plump up the skin. According to Self, hyaluronic is the most common filler, because it helps the skin retain moisture and appear more plump and hydrated. However, the type of filler used for a procedure is determined by your medical practitioner based on the area of injection.
Dermal fillers are popular because the results are almost instantaneous and can last anywhere from six months to two years, depending on the type of filler. Getting this treatment is a medical procedure, so it's important to make sure the person performing your injections is a board-certified dermatologist or plastic surgeon. This assurance can help minimize the risk of unpleasant and unintended side effects.
Dermal fillers may cause blindness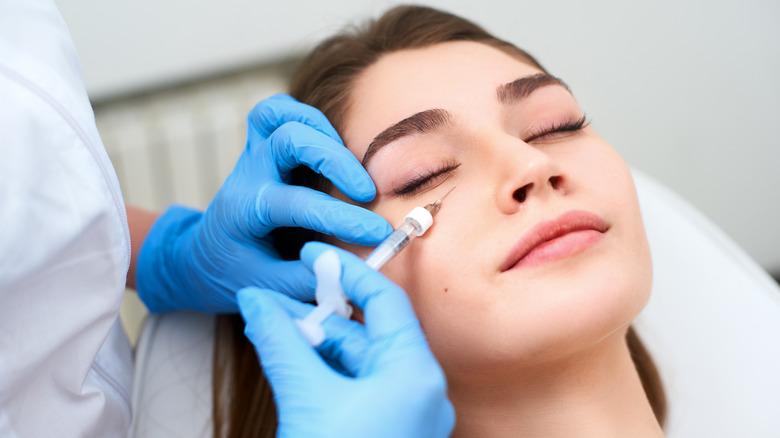 Artie Medvedev/Shutterstock
Improper use of dermal fillers can lead to serious complications. While rare, injecting filler into the forehead and eye area can lead to permanent blindness. That's because the filler can create a blockage in the blood vessels near your eyes (via Best Life). This is known as a vascular occlusion, which can reduce or stop blood flow to the eyes and result in a complete loss of vision.
Blindness is a rare side effect and is unlikely to occur under the care of an accredited physician. But if you're concerned about the risk, it might be best not to get filler in your forehead at all. The most common areas people get filler are in the cheeks, lips, chin, and jaw. If you're determined to get rid of the lines and wrinkles in your forehead, you can opt for Botox or less invasive treatments, like topical serums and chemical peels.