What We Know About Congress Dropping The Mask Mandate Before Biden's State Of The Union Address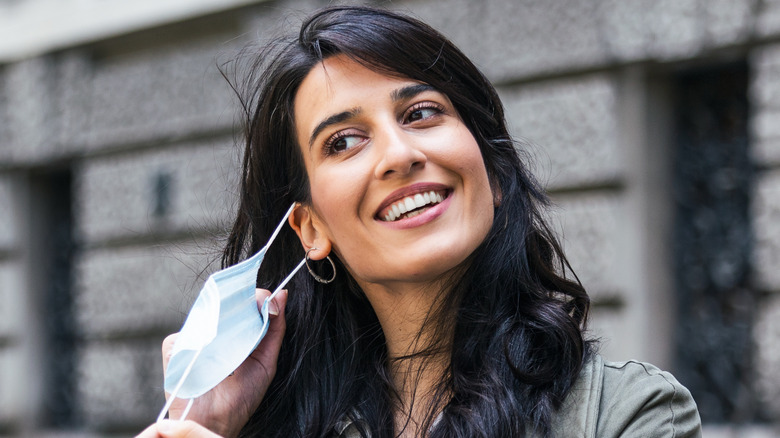 Photoroyalty/Shutterstock
In a surprising announcement just 2 days before President Joe Biden's scheduled State of the Union address, Capitol physician Brian Monahan stated in a memo that face masks will no longer be required on Capitol grounds or in the House Chamber, after nearly 2 years of being mandated (via ABC News).
Less than 2 weeks earlier, the House sergeant-at-arms had announced that not only would masks be required for attendance, but threatened that "failure to follow guidelines or removal of the mask in the House Chamber will result in the attendee's removal from the event and/or fines" (via ABC News).
The White House attributes the dramatic change in the controversial policy to the D.C. area recently being reclassified as a "low risk" region. This was due in part to changes in metrics made by the U.S. Centers for Disease Control and Prevention (CDC) last week, which shifted the focus from positive case numbers to hospitalizations (via AP News). The new metrics greatly reshape the look of the COVID-19 landscape, placing the majority of Americans in counties that are now considered to be at a low-to-medium threat from the disease.
Is dropping the mask mandate an attempt to project 'normalcy?'
Oatawa/Shutterstock
While dropping the mask mandate ahead of President Biden's speech will likely minimize the potential for tense confrontations, all attendees will still be required to take a COVID-19 test prior to entering the House chamber, a controversial requirement that will keep some away. GOP Sen. Marco Rubio told reporters, "I don't have time to go take a COVID test today. I only take a test if I'm sick," and his sentiment was echoed by other representatives as well (via ABC News).
The House Chamber at last year's State of the Union address only had around 200 attendees — about 20% capacity — due to strict COVID-19 restrictions. This change seems to reflect a push by the Biden administration to project an image of normalcy to the American people during the nationally televised address. "I think you're going to see it look much more like a normal state of the union than the president's joint address," said White House Chief of Staff Ron Klain (via AP News). "It's going to look like the most normal thing people have seen in Washington in a long time."