What We Know About Biden's New 'Test To Treat' COVID Strategy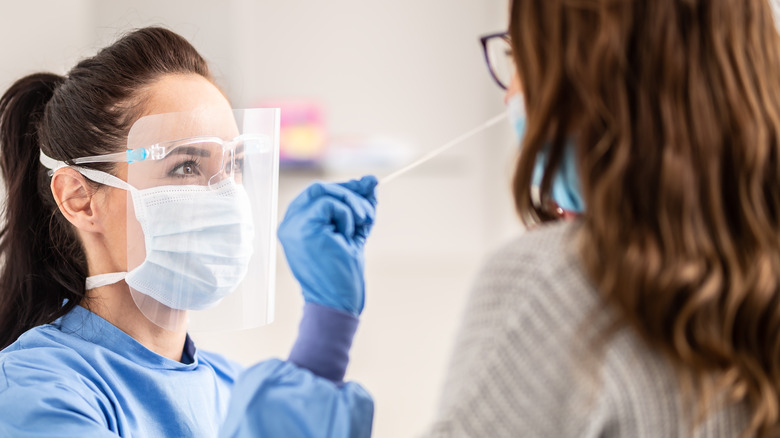 Marian Weyo/Shutterstock
The Biden administration announced a brand new strategy designed to curb COVID-19 hospitalizations and deaths in the future during the president's State of the Union address (via the New York Times). The "test to treat" strategy combines enhanced testing capabilities with anti-viral treatments. The goal is for patients to get tested as soon as they show symptoms and receive treatment immediately upon testing positive. 
"Because of the progress we've made, because of your resilience and the tools that we have been provided by this Congress, tonight I can say we are moving forward safely, back to more normal routines," President Biden told the nation (via New York Times). He explained that as caseloads go down, the "new normal" that the country is now entering will also be defined by a strategy aimed at nipping infections in the bud. The focus is shifting to early treatment with Pfizer's new antiviral COVID-19 medication.
How the 'Test to Treat' strategy will work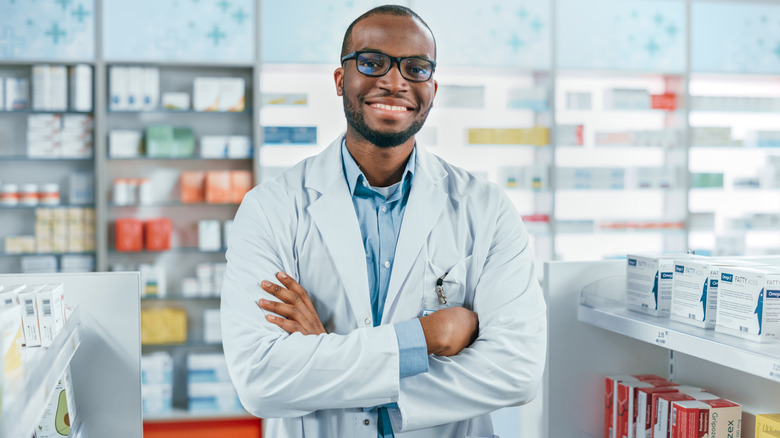 Gorodenkoff/Shutterstock
According to HealthDay News, Americans will be able to get a COVID-19 test at any time, free of charge, at any pharmacy across the nation. People who test positive will also be able to receive Pfizer's antiviral medication — which up until now has had a relatively slow rollout — free of charge right away. The hope is that by stepping up both testing and treatment initiatives, any future waves of COVID-19 will be blunted enough to greatly reduce severity and mortality rates. This may prevent hospital overflows that the country saw earlier in the pandemic.
The president also introduced plans for the development of vaccines that target new variants. Infrastructure strategies that aim to improve ventilation in public buildings and investments in the public health system were also detailed, but the "Test to Treat" strategy was the primary focus. President Biden also stated that Pfizer is working hard on getting the administration 1 million pills by the end of March. While masks and other measures may still be part of future pandemic response efforts, treatment protocols are going to be central to dealing with infections in the immediate future.
About the Pfizer antiviral pill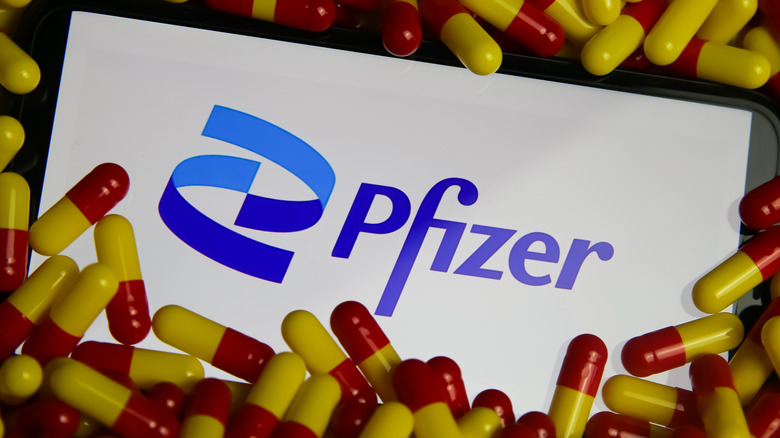 Ralf Liebhold/Shutterstock
The Biden administration's announcement comes right after the release of data by New York officials. It suggested that the Pfizer vaccine performs more poorly than anticipated against COVID-19 in 5-11-year-olds (via the New York Times). The pivot to a treatment-based approach also follows announcements by several countries around the world — including heavily vaccinated nations like Iceland and Israel — stating that they will be dropping all vaccine passes and other COVID-related restrictions.
Pfizer's antiviral pill was created in 2021 based on protein-blocking technology originally developed back in 2003 during a SARS outbreak (via MIT Technology Review). A test done by Pfizer showed that it cut the risk of serious illness in volunteers by nearly 90% (via Reuters). The U.S. Food and Drug Administration approved Pfizer's antiviral pill in December 2021, making it the first approved oral treatment for COVID-19 (via CNBC). Biden's new "Test to Treat" strategy will now aim to purchase enough of these pills to ensure they're available to all Americans as soon as they are needed, free of charge.