These Healthy Swaps Can Replace Your French Fries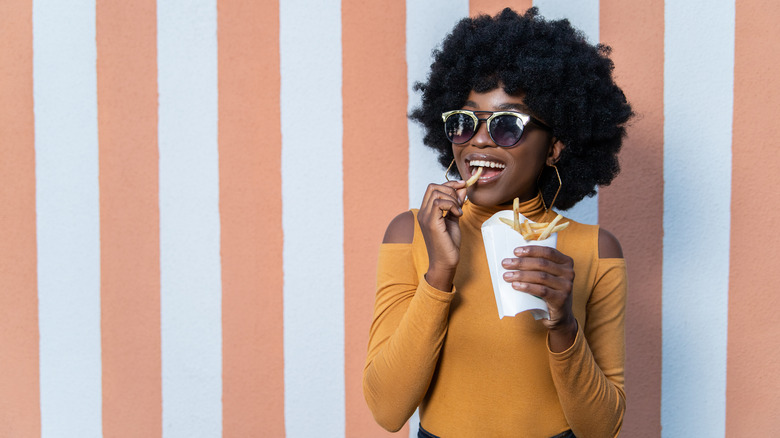 AVstock team/Shutterstock
French fries... just the mere mention of them is enough to put a smile on your face. Because they have the perfect combination of salt, fat, carbs, chewy inside, and crunchy outside, it's enough to turn anyone's frown upside-down. It doesn't matter if you're having a cheap burger or an expensive steak, French fries are the go-to side for almost any meal — unless you're trying to eat a bit healthier, that is. Lucky for the french fry lover, there are some alternatives to this American favorite that pack just as much flavor and offer even more health benefits. But that's not to say french fries are all that bad.
According to Verywell Fit, half a cup of homemade french fries offers 1.6 grams of fiber and 1.9 grams of protein. They're also rich in vitamin C (9.7 milligrams), vitamin K (16.3 micrograms), and have a bit of vitamin B6 (0.265 milligrams). If that's not enough to convince you that french fries are healthy, consider these swaps instead.
Delicious French fry alternatives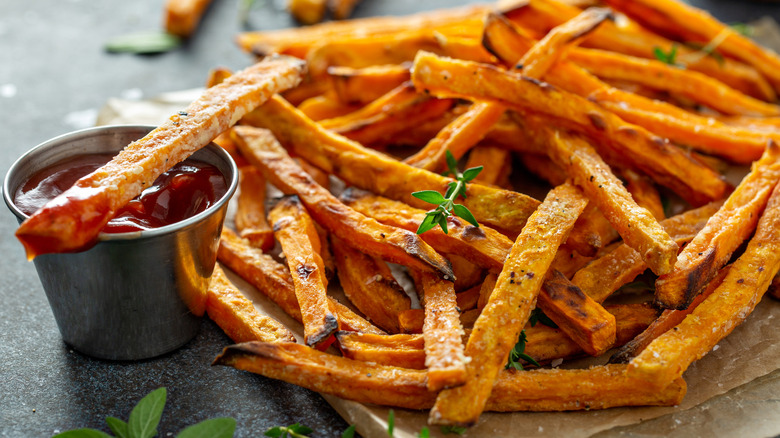 Elena Veselova/Shutterstock
Zucchini is low in calories, fat, and sugar and happens to make a great fry alternative. According to WebMD, zucchini helps thwart cancer and diabetes and supports eye health. To make fries, slice the zucchini and toss into whisked eggs, Italian seasoning, garlic powder, salt, onion powder, and plain panko bread crumbs, then bake at 425 Fahrenheit for 10 to 12 minutes (per Our Best Bites).
Beets are another great alternative to regular fries. The List says the whole vegetable is edible and high in vitamins A, B6, and C. Further, they can decrease the risk of liver and heart disease. Your next beet fry recipe could be as simple as slicing them into 1/2-inch strips, tossing them with olive oil, salt, and pepper, and baking at 425 Fahrenheit for 20 to 30 minutes (via Taste of Home).
Sweet potato fries are another great substitute. According to Healthline, sweet potatoes with the skin offer a variety of benefits, such as supporting gut-health, vision, brain functioning, and your immune system. You can even spice them up with cajun seasoning before tossing them into the oven for an extra kick (per Mashed).
While trying these recipes can be fun and should be enjoyed, remember that a healthy diet doesn't consist of just French fries — no matter what they're made of. It's important to get a variety of fruits, vegetables, and whole grains to ensure you're getting the vitamins and minerals you need to sustain good health.