Are Two Doses Of The COVID-19 Vaccine Enough To Protect Against Omicron?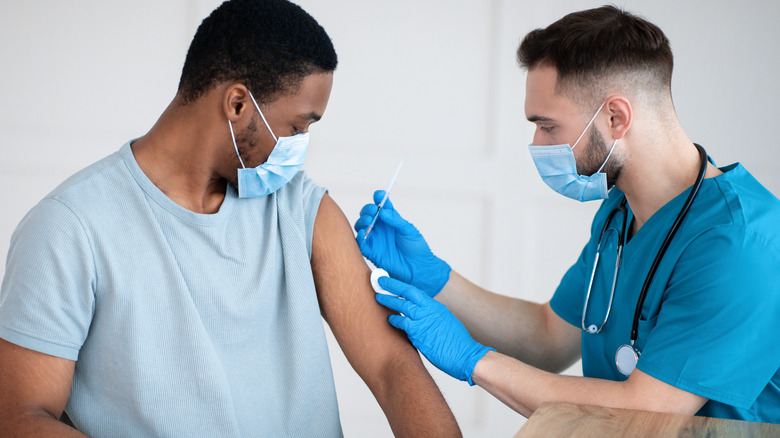 Prostock-studio/Shutterstock
At the height of the Omicron wave following the end-of-the-year holiday season, new COVID-19 cases averaged over 800,000 per day (via Healthline). Health officials have cautioned that the Omicron variant has shown to evade some level of vaccine protection (via Forbes). For this reason, infectious disease experts continue to highlight the importance of booster shots to safeguard against severe COVID-19-related illness and hospitalizations. Now, new studies reveal the differences in protection between two doses of the vaccine versus three doses.
One study, published in late January 2022, examined over 70,000 tests from COVID-19 symptomatic adults. Among those with varying levels of vaccination — the unvaccinated, those who had received two doses of an mRNA vaccine, and those who had received three rounds of vaccination — those who had received three doses were shown to have the highest rates of protection against both the Omicron and Delta variant.
Similarly, an alternate study published March 2 and conducted by the U.K. Health Security Agency found that two doses of the AstraZeneca or Pfizer vaccine provided little protection against symptomatic infection of the Omicron variant. When exploring the effectiveness of a third shot against Omicron, researchers of the U.K. study discovered Moderna to be most effective after initial vaccination with either Pfizer or AstraZeneca (via University of Minnesota).
Three vaccine doses offers greater protection against hospitalization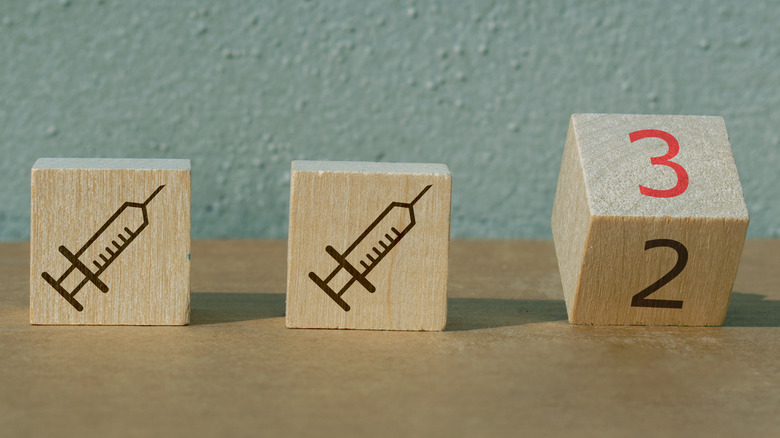 No-Mad/Shutterstock
In a more recent observational study published March 9 in the British Medical Journal (BMJ), researchers determined booster shots to be "critical for protecting populations against COVID-19-associated morbidity and mortality" (via Healthline). By examining over 11,000 hospitalized patients over the age of 18 — 5,728 with COVID-19, and 5,962 without between March 2021 and January 2022 — researchers determined a 21% difference in rates of protection against hospitalization between those who had received three doses of the vaccine and those who had received two doses. Specifically, those who had received two doses of an mRNA vaccine were found to have a 65% chance of not requiring hospitalization due to the Omicron variant, while those who had received three rounds of vaccination had an 86% chance of not being hospitalized from Omicron (via BMJ).
When it comes to the best chances of protection against severe cases of Omicron, family medicine physician Dr. David M. Cutler believes a booster shot can make a significant difference, telling Healthline, "This word [booster] suggests extra or unnecessary, when in fact it is quite essential to preventing illness, hospitalization, and death."