Does An Orange A Day Really Give You Enough Vitamin C?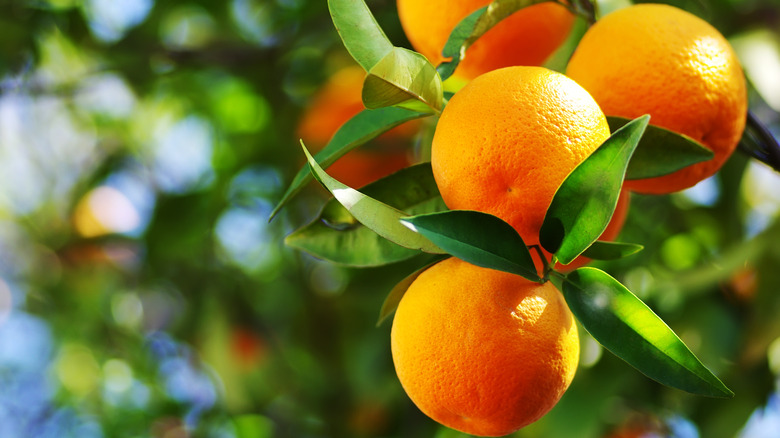 inacio pires/Shutterstock
Oranges might be the first thing you think about when you think of vitamin C, and because of that, they might be the fruit you reach for when you feel a cold coming on. While you probably know that vitamin C helps your body's immune system fight off sickness, experts at Health report that your body needs this vitamin to help fight the damage done to your cells by free radicals. Vitamin C also assists your body in producing serotonin, the happiness hormone.
These bright fruits are also a source of fiber, with one medium-sized orange giving you about 12% of the daily recommended fiber intake (via Health). Fiber is good for gut health, and it helps reduce cholesterol levels. Oranges contain potassium, which helps your heart muscles function. They also provide folate, a nutrient that supports your brain function and nervous system. Oranges certainly have a lot going for them, but does eating one a day give you all of the vitamin C you need?
Large oranges meet the RDI of vitamin C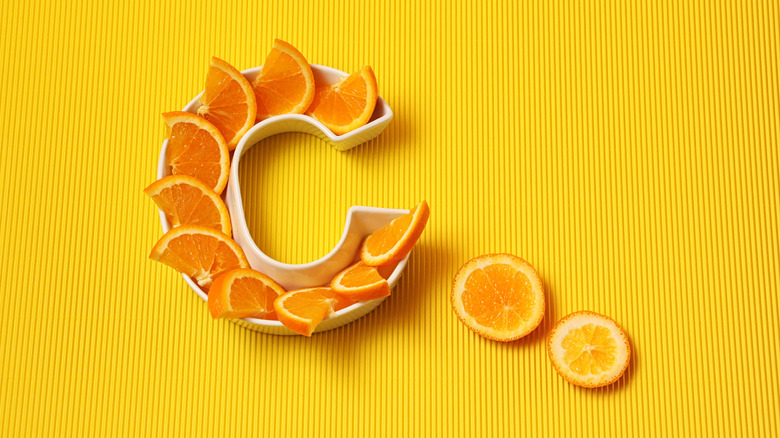 Gargonia/Shutterstock
How much vitamin C you will get from a particular orange depends on its size. According to SFGate, a medium orange (about 2.5 inches in diameter) contains about 70 milligrams of vitamin C, and a large orange (about 3 inches in diameter) contains about 100 milligrams. According to the National Institutes of Health (NIH) the recommended daily intake or RDI of vitamin C for men is 90 milligrams, while women need 75 milligrams. Pregnant women need a little more at 85 milligrams, and women who are breastfeeding need 120 milligrams.
While oranges will most likely give you the amount of vitamin C you need per day, they don't top the list when it comes to vitamin C content. Red bell peppers take the lead, offering 95 milligrams per half-cup. Other foods that contain decent amounts of vitamin C include kiwis, broccoli, strawberries, and Brussels sprouts, per the NIH.