Are Spinach Wraps Actually Good For You?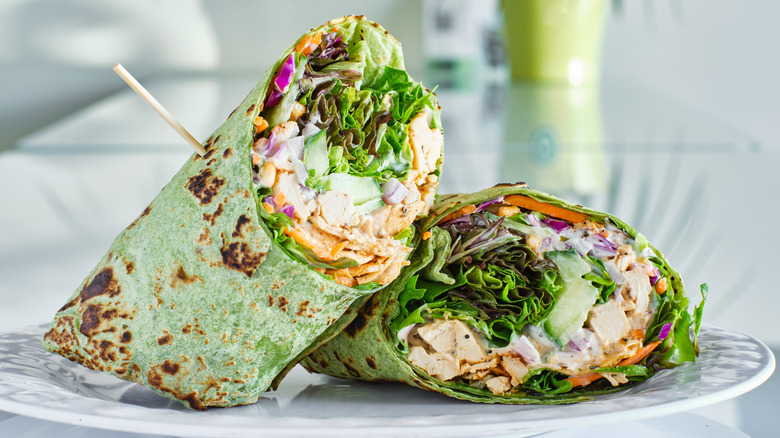 Joshua Resnick/Shutterstock
There's little doubt that spinach is a healthy addition to your meals. According to Health, this leafy green vegetable has few calories yet contains plenty of nutrients including vitamins A, C, and K. Because of these vitamins, spinach supports your immune system, as well as the health of your skin and bones. Nitrates in spinach might help improve your blood pressure, and its antioxidant qualities could help your body fight against heart disease, certain cancers, and diabetes. All you need to beef up the nutritional value of pasta dishes, smoothies, sandwiches, salads, and pesto is to add some spinach (via Cooking Light).  
The benefits of spinach might make you think that a spinach wrap is a better choice when it comes to tortillas. You might even think that the green hue of spinach wraps represents a different level of "healthy" from other kinds of wraps, but the truth is a different story.
Spinach wraps look healthier than they are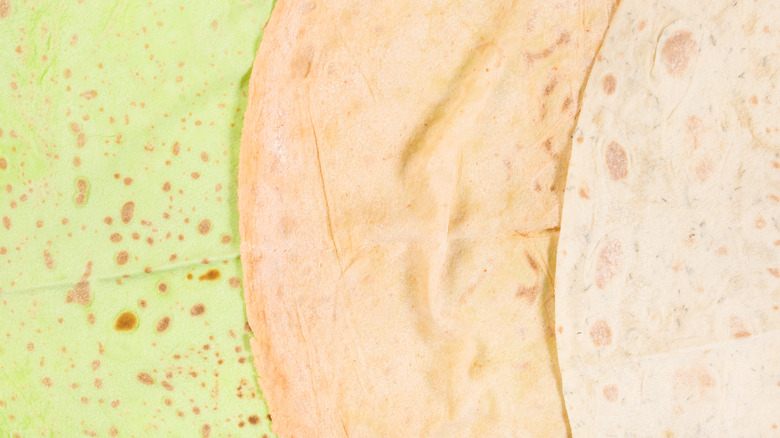 Sergiy Akhundov/Shutterstock
Let's face it: spinach wraps look and sound healthy, but that's about all. A closer inspection of nutrition labels on most spinach wraps might reveal that some are not much different from flour tortillas. According to The Daily Meal, a spinach wrap is a "tortilla in disguise," pointing out that the top ingredients are enriched flour, water, and vegetable shortening.
According to Verywell Fit, spinach wraps don't provide your body with any more nutrients than most other wraps. And that green color? It may be the result of spinach powder, of which very little is added. Moreover, the green color might come from food coloring. The only way to know if food coloring is used is to check the label for Yellow 5 and Blue 1. While you're checking the label, look for hydrogenated oils and trans fats, which should also be avoided.
For healthier tortilla options, SFGate recommends using butterhead lettuce, focaccia flatbread, baked taco shells, or whole-wheat pitas.