FDA Reveals Startling Reasons Why This Infant Formula Was Recalled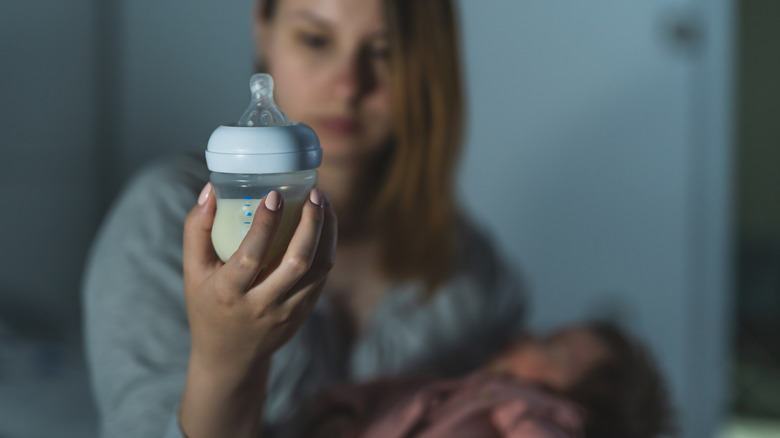 Miljan Zivkovic/Shutterstock
If you are the parent or caregiver of a baby, one of the many decisions you've had to make is how to feed your little one. While the American Academy of Pediatrics (AAP) recommends breastfeeding your infant, there are many reasons why this option may not be available to you. Fortunately, infant formula is an excellent alternative to breast milk and will give your baby the vitamins and nutrients they need to grow and thrive (via AAP).
Fortunately, there are many different baby formula options to choose from (via Mayo Clinic). Some are made from cow's milk, while others are made from soy-based formulas. Soy formulas can be beneficial for babies who have difficulty tolerating lactose or dairy-based products.
While infant formula is an excellent way for your baby to get the nutrients they need, it turns out this route is not entirely risk-free. Unfortunately, product recalls are not uncommon, even in the baby formula industry. In fact, the Food and Drug Administration (FDA) has recently recalled a popular brand of baby formula products for reasons that may be incredibly alarming for parents and caregivers.
The reason behind the Abbott baby formula recall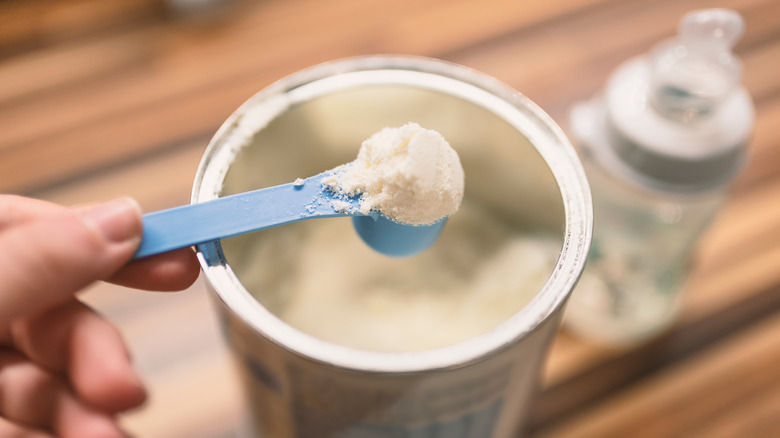 Dragana Gordic/Shutterstock
Hearing about a recall on a product you use is always concerning, but even more so when it's a product intended for your baby. Popular infant formula maker, Abbott, who is behind the Similac infant formula brand had to recall multiple products after a number of babies contracted severe bacterial infections, with two cases resulting in death (via NBC).
Contaminated surfaces and a lack of sanitary conditions were to blame for spreading the bacteria, known as cronobacter (per NBC). According to the Centers for Disease Control and Prevention (CDC), the cronobacter bacteria can cause sepsis, meningitis, seizures, and death in babies who are 2 months or younger.
While the FDA was able to point to a lack of cleanliness that led to the contamination, they still are not able to pinpoint how such a grave oversight could have occurred. Sarah Sorscher of the Center for Science in the Public Interest told NBC, "This sheds a little more light on what went wrong, but we still don't have all the answers. Abbott and the FDA really need to do more work to get to the bottom of what happened so we can prevent the next outbreak."