Will Moderna Pull Ahead Of Pfizer In Releasing A COVID-19 Vaccine For Young Children?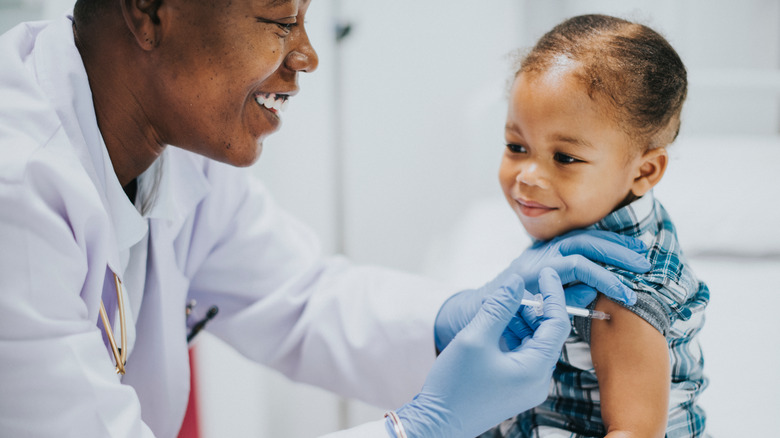 Rawpixel.com/Shutterstock
In a statement released by biotechnology company Moderna, representatives announced today that they are moving forward with an authorization request for their mRNA COVID-19 vaccine designed for children between 6 months and under 6 years old. The global regulators from whom the company is seeking approval "in the coming weeks," include the U.S. Food & Drug Administration (FDA) and the European Medicines Agencies (EMA), among others.
Deemed the KidCOVE study, this "randomized, observer-blind, placebo-controlled study" tested 2,500 children between 6 months and under 2 years of age, as well as 4,200 children between 2 years and under 6 years old from the U.S. and Canada. The vaccine was administered as two separate 25 microgram doses given 28 days apart — marking a 15 microgram increase from Pfizer's initial clinical trial of two 10-microgram doses for children in a similar age group which had proved ineffective (via ABC News).
In the statement, Chief Executive Officer of Moderna, Stéphane Bancel, announced that the results are in, stating, "We now have clinical data on the performance of our vaccine from infants six months of age through older adults."
Child vaccine doses provided similar protection to those 18 to 25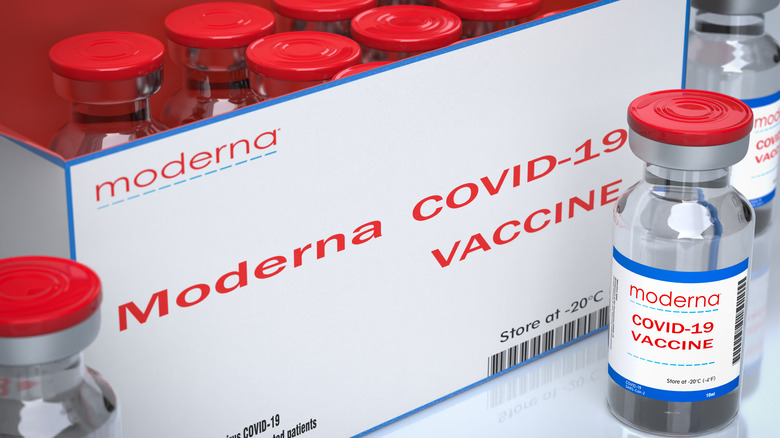 Giovanni Cancemi/Shutterstock
Clinical data showed the two 25-microgram doses provided the same degree of protection similar to that of the two 100-microgram doses administered to adults between the ages of 18 and 25 (via Moderna). As reported by NPR, rates of protection for children 6 months of age to 2 years old stood at 43.7% and 37.5% in those ages 2 to under 6 years old.
Moderna reports there were no cases of death, hospitalization, myocarditis, or multisystem inflammatory syndrome in children (MIS-C). Of the mild to moderate side effects noted, most were similar to that of other age groups with instances of fever found to be "consistent with other commonly used and recommended pediatric vaccines," as stated by Moderna.
While Pfizer has also begun its FDA-authorization process for their vaccine for children 6 months of age to under 5 years old, the company is waiting on clinical data expected in the coming weeks regarding the efficacy of a booster dose, reports ABC News. Moderna is also currently assessing the use of a third vaccine dose in children. At this time, both companies have plans to move forward "in the weeks ahead." To date, the Pfizer vaccine has been the first to gain FDA approval for alternate age groups, but in the event that Moderna receives approval prior to Pfizer, its vaccine would be the first authorized for infants, toddlers, and children.