The Benefits Of Fruit Infused Water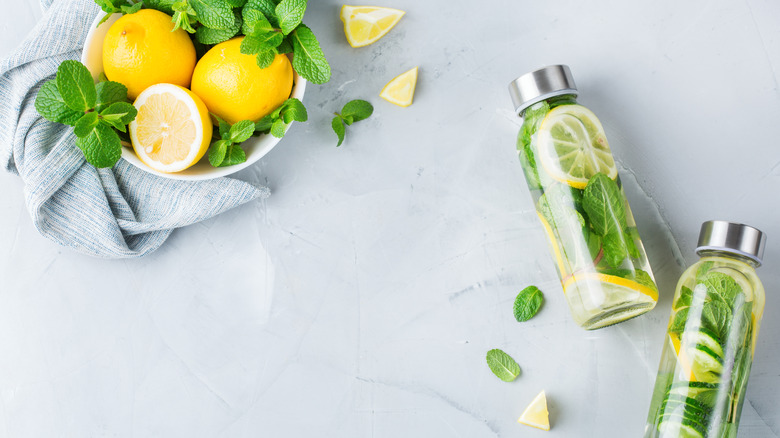 Antonina Vlasova/Shutterstock
We're all aware that hydration is important for bodily functions, but drinking a plain glass of water gets boring quickly. Somehow, the recommended amount of water seems to get smaller with every sip. Luckily, there's a new health trend around fruit-infused waters, that while may seem new, is actually making a comeback. According to WebMD, infusing water with a variety of fruits may date back to the Renaissance era. Fruit wasn't as common then, so flowers were used instead to flavor waters, producing aromatic tastes and health benefits.
Warding off sugary cravings while staving off dehydration is a key superpower of fruit-infused waters, according to David Brendan, registered dietitian nutritionist, marketing director, and chief designer of Start Rowing (via Eat This, Not That!). Adding fruit encourages a fresh take on drinking a glass of water, which in turn helps rehydrate the body and offers the added bonus of cell-protecting antioxidants from the fruit. Registered dietitian Trista Best, MPH, LD, told Eat This, Not That!, "For one, [fruit-infused water] can help reduce cravings because fruit contains natural sugar that can help to meet the need for something sweet without taking in added sugars." Medical News Today shares that the benefits of adding lime, for example, to water include improving digestion, aiding in weight loss, increasing immunity.
Tips on making your homemade fruit-infused waters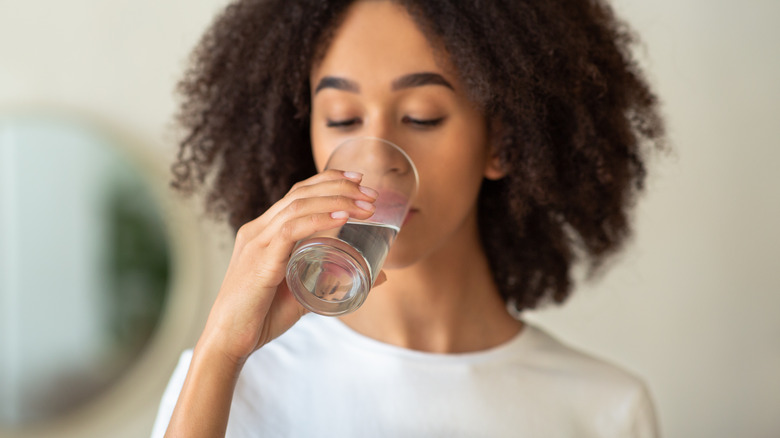 Prostock-studio/Shutterstock
Nowadays, water infused with fruit can be found almost anywhere including grocery stores, spas, or restaurants, or they can be made at home. Store-bought waters offer the convenience factor but tend to have hidden calories stemming from carbs (i.e., sugar) that often get added in (via WebMD). A one-cup serving of homemade fruit-infused water, on the other hand, may typically have 0 calories and 0 artificial sugars.
Some of the most popular homemade waters are lime-infused and lemon-infused waters. However, there's an abundance of other ways to spice up your water: add fresh basil, sage, or mint. Toss in some strawberries, oranges, or parsley to give your water a boost of vitamin C. Just keep in mind, citrus fruits are highly acidic and can erode tooth enamel if drunk frequently, according to WebMD, so try occasionally tossing in a cool alkaline ingredient like cucumber to create a refreshing and hydrating water elixir.