Why Are COVID-19 Mortality Rates Higher Among Indigenous People In The US?
Ruslana Iurchenko/Shutterstock
Native Americans and Alaskan Natives in the U.S. have higher COVID-19 hospitalization and morality rates than Black and white Americans, according to a new cross-sectional study published in JAMA Open Network. Researchers analyzed discharge data from more than 18,000 patients hospitalized with COVID-19 in Mississippi in 2020 and found that Indigenous populations were more likely to die from COVID-19 than patients of other races, despite having lower comorbidity risk scores (via WebMD).
According to the study's findings, Black patients hospitalized with COVID-19 in Mississippi were 75% less likely to die from the virus than Indigenous patients, while white patients were 77% less likely to die. Previous research from the Centers for Disease Control and Prevention (CDC) found a similar disparity on a national level with Native American and Alaska Native populations being 3.3 times more likely to be hospitalized and 2.2 times more likely to die than white, non-Hispanic populations.
What's causing this disparity?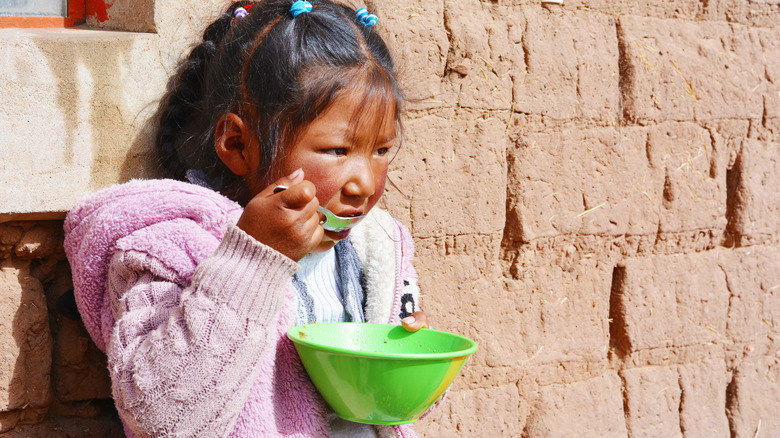 Ruslana Iurchenko/Shutterstock
According to the study's authors, this disparity in COVID-19 mortality rates is most likely due to a number of societal and environmental factors, including discrimination, marginalization, and underfunding for health care services on Native land. These are all widely acknowledged barriers to health care for many Indigenous people living on reservations (via U.S. News & World Report). However, there are other conditions and variables at play that can contribute to this gap in mortality rates between Indigenous Americans and Americans of other races.
For instance, food insecurity, higher rates of poverty, and a lack of access to running water can all impact health outcomes. Dr. Loretta Christensen, the chief medical officer for the Indian Health Service, told U.S. News that the pandemic has had a profound effect on the health of their population. It's the most essential things they're missing, like running water, that have made it hard to do important preventative things like washing hands.
Christensen also cited a lack of broadband internet access as another important factor in some areas of Indian Country. While many states and communities pivoted to telehealth services for some time during the pandemic, those without internet access were unable to attend virtual medical appointments via the computer.