Why The FDA Is Warning Against Purchasing Adderall Online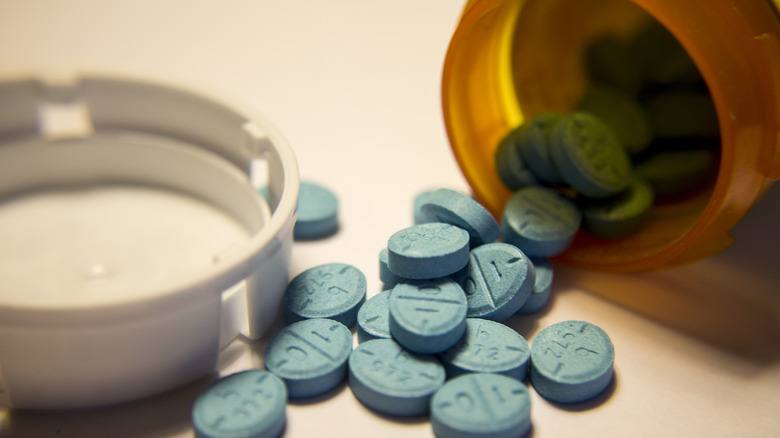 Johnnyamoeba87/Shutterstock
Affecting over 6 million children across the United States (via SingleCare), the National Institute of Mental Health states that "Attention-deficit/hyperactivity disorder (ADHD) is marked by an ongoing pattern of inattention and/or hyperactivity-impulsivity that interferes with functioning or development." While most often diagnosed in childhood, ADHD can affect people of all ages including adolescents and middle-aged adults. To treat the condition, physicians may prescribe Adderall — a stimulant medication shown to boost focus and attentiveness as well as reduce impulsivity in those diagnosed with ADHD (per Medical News Today).
However, long-term use of the drug can result in dependency. For this reason, the U.S. Food and Drug Administration (FDA) has placed a box warning label on Adderall to make users aware of the potentially harmful side effects, according to Medical News Today. To ensure that patients are receiving a legitimate product, the FDA requires an Adderall prescription to be issued by an accredited medical professional, dispensed by a licensed pharmacy, and that any online pharmacies selling controlled substances must be formally registered with the U.S. Drug Enforcement Administration (DEA).
On Tuesday, the FDA put out a public statement declaring that they had issued warning letters to two online pharmacies, Kubapharm.com and Premiumlightssupplier.com, for illegally selling misbranded Adderall without a required prescription.
Unaccredited websites could be selling potentially harmful medications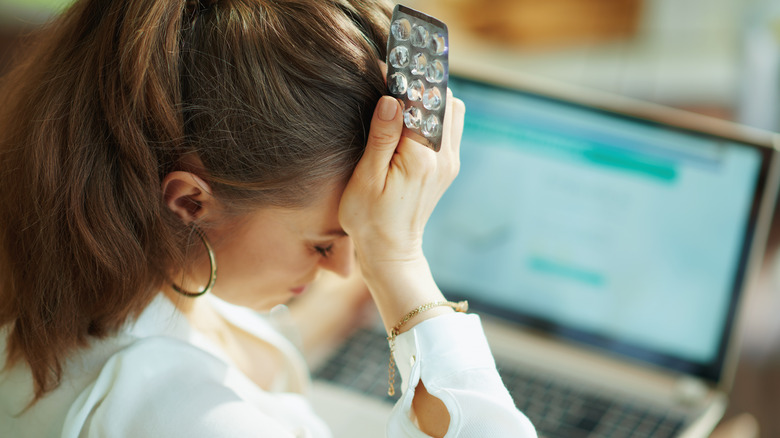 Alliance Images/Shutterstock
According to the FDA, representatives from either pharmacies have yet to reply but have been given 15 days to do so with proposed plans to rectify their violations. The FDA also advised any consumers who purchased medications from either of these websites to discard them, as neither company had registered their online pharmacy with the DEA as required. DEA Administrator Anne Milgram contributed to the public statement, saying, "Consumers cannot trust the safety or legitimacy of pills sold on unaccredited sites." Without accreditation, companies may be selling products that have been tampered with, contaminated, counterfeited, or expired. 
FDA Commissioner Dr. Robert M. Califf reinforced in their public statement that the FDA will continue to address these situations moving forward, stating, "The illegal sale of prescription drug stimulants online puts Americans at risk and contributes to potential abuse, misuse and overdose." He continued by stating that unregistered online pharmacies like these also impede the FDA's efforts to ensure consumer safety. The FDA is committed to their continued partnership with the DEA to protect consumers and ensure continued access for those who need it.
If you or anyone you know is struggling with addiction issues, help is available. Visit the Substance Abuse and Mental Health Services Administration website or contact SAMHSA's National Helpline at 1-800-662-HELP (4357).