Simple Kale Caesar Salad Recipe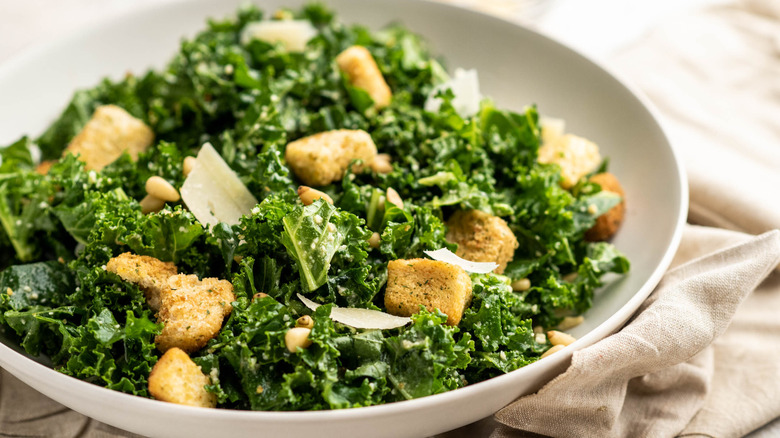 Michelle McGlinn/Health Digest
The classic Caesar salad recipe is a staple at most Italian restaurants, so it's easy to assume that the salad's history is rooted in Italy. However, it was actually invented by Caesar Cardini, an Italian chef who lived in San Diego in the 1920s before opening a restaurant in Tijuana, Mexico, so he could sell alcohol during Prohibition (via Food & Wine). While some of the details around the salad's origination are contested, what's clear is that the (shockingly simple) salad ended up taking Mexico, the United States, and restaurants all over the world by storm.
If you're tired of the same old romaine lettuce-based Caesar, don't be shy about switching things up, as recipe developer Michelle McGlinn did when creating this kale Caesar salad recipe. "It's a nice alternative when serving hearty dishes that pair better with winter greens like kale," McGlinn says of why she loves the variation, "I find romaine to be well-suited for summer because it is a very refreshing, light-tasting green. Kale is almost more savory, so it offers a nice option for colder months." 
Gather your ingredients for kale Caesar salad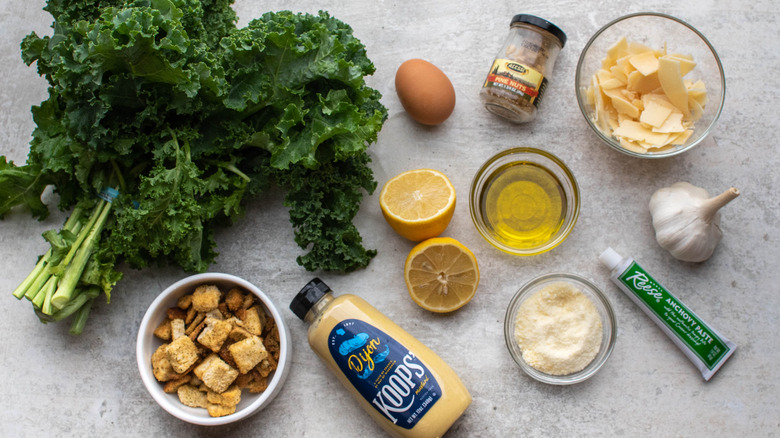 Michelle McGlinn/Health Digest
The main ingredient in this salad is right there in the title: kale. But aside from the kale, you're going to need the ingredients to make a homemade Caesar dressing. For the dressing, you'll need anchovy paste, garlic, Dijon mustard, an egg yolk, half a lemon (you'll just need the juice), olive oil, freshly grated Parmesan, and salt. In addition to the dressing ingredients, you'll want a few toppers to make the salad sing. Make sure you have croutons, fresh-shaved Parmesan, and pine nuts, as well. 
Make the homemade Caesar salad dressing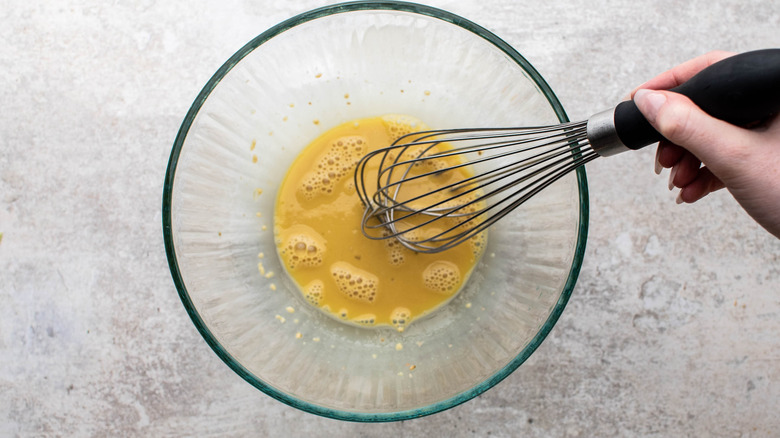 Michelle McGlinn/Health Digest
The hardest part about making this salad is whipping up the dressing — and trust us, this part isn't very hard. You do have two options, though: you can whisk it by hand, or you can prepare it in a food processor. If whisking by hand, simply add the anchovy paste, garlic, mustard, salt, egg yolk, and lemon juice to a bowl. Whisk these together until they're well combined, then slowly pour in the olive oil as you continue whisking the dressing. You'll want to keep stirring until the dressing is slightly thickened and creamy. 
If you elect to use a food processor, simply add all the ingredients but the olive oil to the processor and turn it on. While the ingredients are blending, slowly pour in the olive oil through the opening in the top, and let the dressing continue to mix until it's creamy. Either way, once the dressing is creamy, mix in the grated Parmesan cheese. 
If you're hesitant about using a raw egg yolk in the dressing, that's understandable. "Raw egg is a hotly debated topic," concedes McGlinn. "There is always some risk, but a very low one, and to avoid risk completely you can buy pasteurized eggs, which have been treated to remove the bacteria that causes salmonella sickness." But if you're dead set on avoiding raw egg in your diet, McGlinn offers a solution, saying that "you could substitute a tablespoon of mayonnaise instead." 
Chop up the kale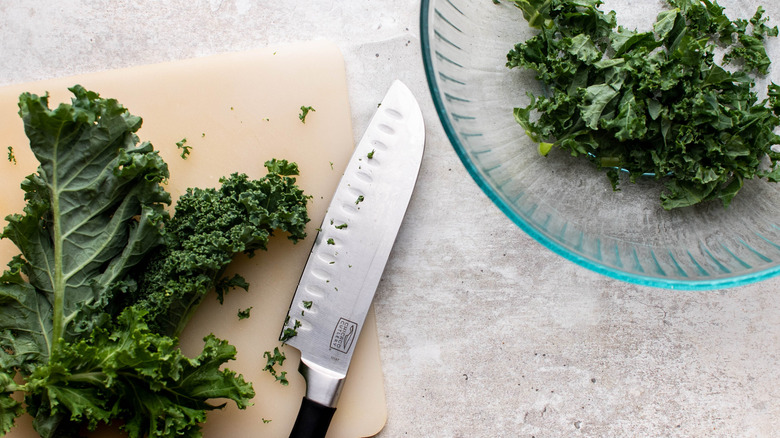 Michelle McGlinn/Health Digest
With the dressing ready to go, the only other prep work is to roughly chop your kale and add it to a large bowl. Of course, kale is a tougher green than romaine, so you may want to consider massaging it, first. "Kale is massaged in raw preparations like salads to eliminate the bitter taste and tough texture," explains McGlinn. "The most common technique is to massage with oil, lemon, and salt, which all happen to be in this dressing and are tossed with the kale before adding toppings." So if you don't feel like actively massaging your kale as a part of the prep work, simply give it a little massage as you're tossing it with the dressing. That said, you may want to spend some extra time massaging the greens before tossing them. "You can massage the kale with a little bit of oil prior to chopping it, too, which I especially recommend if you aren't as keen on the taste of kale," suggests McGlinn. 
Toss and serve the kale Caesar salad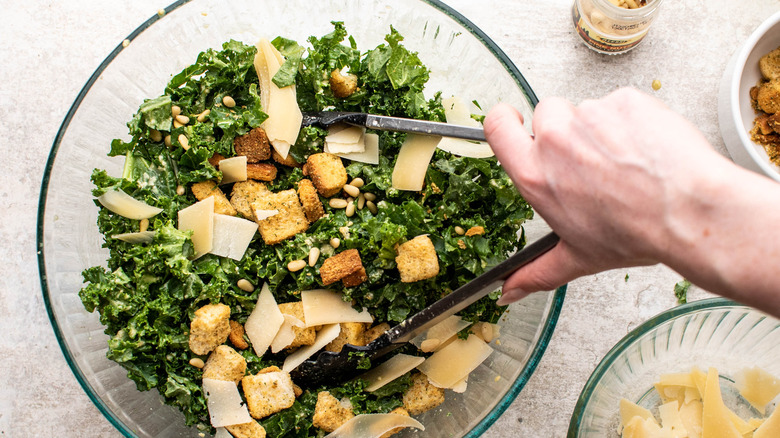 Michelle McGlinn/Health Digest
When your kale is chopped and (possibly) massaged, go ahead and pour in the salad dressing and toss the salad to coat the greens well. McGlinn notes that the recipe makes about ½ cup of dressing, which will lightly coat a large bunch of kale. If you prefer a more "saucy salad," McGlinn suggests doubling the dressing ingredients. 
Once the greens are nicely dressed, all that's left to do is add the toppings and serve. Pour on your favorite croutons, and sprinkle the pine nuts and shave Parmesan on top. Just like that, it's ready to serve as a delicious side salad, or if you want to turn it into a main course, McGlinn suggests tossing in a classic protein like chicken. "I also like to add chickpeas, almonds, scallops, or bacon pieces, too," she shares. And as far as drink pairings go, wine is always a good choice. "I like kale salads with white wines like sauvignon blanc, but it can also be paired with a light, herbal cabernet sauvignon as well," McGlinn says. 
Simple Kale Caesar Salad Recipe
This Caesar swaps out romaine lettuce for kale, and the results are perfectly fresh and delicious.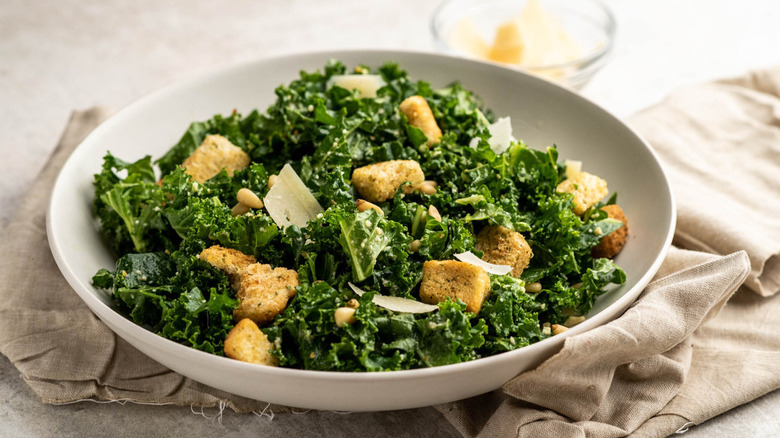 Ingredients
1 teaspoon anchovy paste
1 clove garlic, minced
1 teaspoon dijon mustard
¼ teaspoon salt, more to taste
1 egg yolk
½ lemon, juiced (about 1 ounce)
¼ cup olive oil
¼ cup freshly grated parmesan
1 large bunch of kale
1 cup croutons
½ cup shaved parmesan
¼ cup pine nuts
Directions
Begin by preparing the dressing. Whisk together the anchovy paste, garlic, mustard, salt, egg yolk, and lemon juice until well-combined.
Add the olive oil slowly, whisking as you drizzle the oil into the mixture. Whisk until the dressing has thickened slightly and is creamy.
Add in the Parmesan. The dressing will be creamy and pale yellow.
Roughly chop the kale and add it to a large bowl.
Toss with the dressing until it's well-coated.
Add the croutons, shaved Parmesan, and pine nuts, and toss with the kale.
Nutrition
| | |
| --- | --- |
| Calories per Serving | 725 |
| Total Fat | 57.2 g |
| Saturated Fat | 14.7 g |
| Trans Fat | 0.0 g |
| Cholesterol | 112.7 mg |
| | |
| --- | --- |
| Total Carbohydrates | 27.6 g |
| Dietary Fiber | 6.3 g |
| Total Sugars | 4.2 g |
| Sodium | 1,025.2 mg |
| Protein | 31.3 g |