Healthy Banana Bread Recipe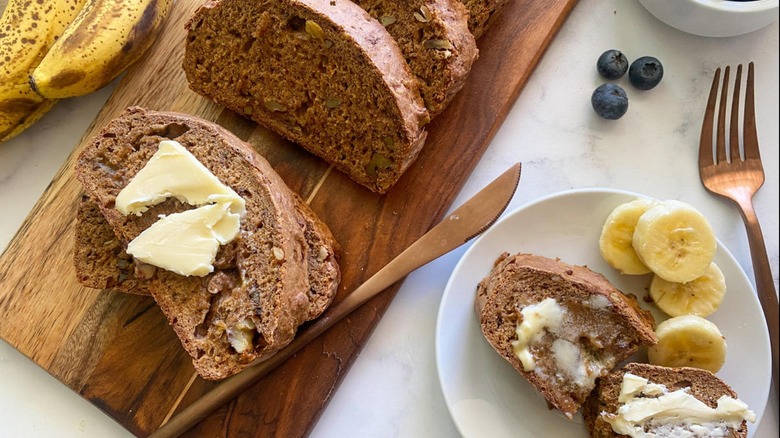 Miriam Hahn/Health Digest
Remember when everyone and their mother was whipping up batch after batch of banana bread and posting every step of the process on social media? Luckily that fad soon passed, although banana bread is still around, as it was for many years before it became briefly trendy and probably will be for many years to come. After all, how else are you going to use up the bananas that have gotten too mushy to slice into your cereal?
While most banana bread recipes really aren't all that good for you, recipe developer Miriam Hahn has created a healthier version of the dish. As she explains, the applesauce and soy milk she uses here both "offer value without the added fat" that comes with using eggs and oil. She also notes that the coconut sugar she uses as a sweetener "is less processed than typical can[e] sugar." As for the flavor, Hahn thinks that the loaf she baked "tasted just like regular banana bread," although she does warn that the batter can be dry, so you have to be careful not to over-bake this bread. All of these adjustments result in a bread that's pretty darn tasty, and also considerably healthy, so we definitely consider that a baking win-win!
Gather the healthy ingredients for this banana bread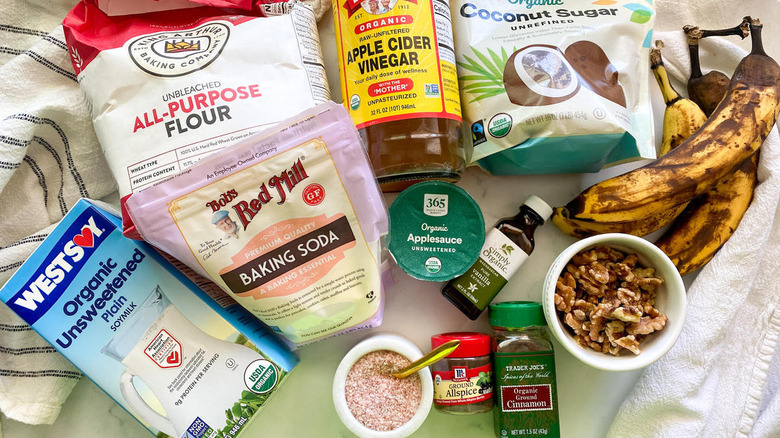 Miriam Hahn/Health Digest
To make this vegan banana bread, Hahn uses either almond or soy milk, although you may use any milk you wish. She also uses apple cider vinegar, but says "you can use white vinegar or lemon juice to get the same effect." Other ingredients include bananas, of course, along with coconut sugar, unsweetened applesauce, vanilla, flour, cinnamon, baking soda, salt, allspice, and chopped walnuts, although you may omit the nuts if that is your preference. You could also sub in some chocolate chips if you're willing to lose a few healthiness points.
Do a little advance prep work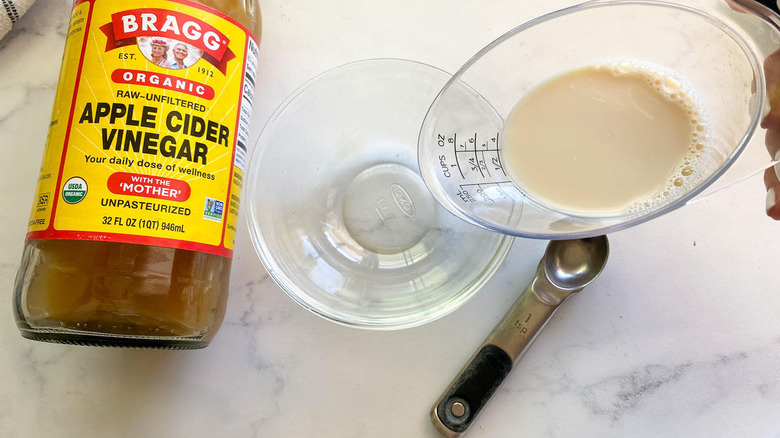 Miriam Hahn/Health Digest
Before you begin baking, preheat your oven to the standard 350 F. As it heats, prepare your loaf pan by greasing it, spraying it with cooking spray, or lining it with parchment paper. You should also mix the milk with the vinegar (or lemon juice) and allow this mixture to sit for five minutes. The reason for adding vinegar to the milk is, as Hahn says, to "help [the bread] rise" and to give it a "lighter texture."
Make the batter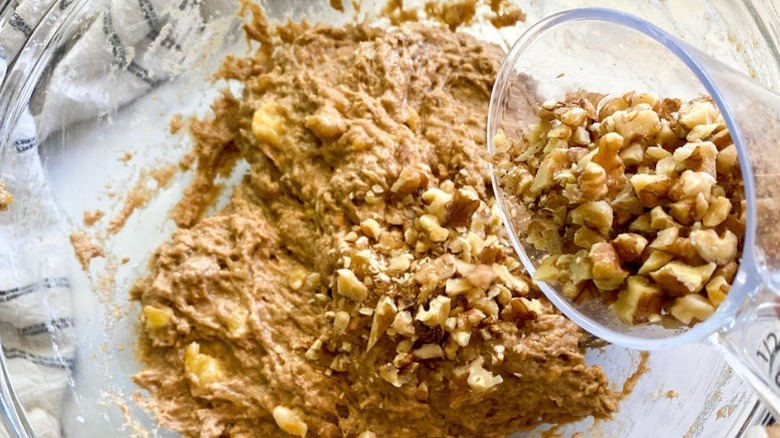 Miriam Hahn/Health Digest
Peel and mash those bananas — the ones with brown spots on the skin will be easier to mash, which is why banana bread is the official food of zero-waste kitchens. Once your bananas are looking smooth, stir in the sugar, applesauce, vanilla, and vinegary milk. Combine the dry ingredients, these being the flour, baking soda, and spices, then mix them with the banana stuff. If you're using the nuts, stir those in last.
Bake the banana bread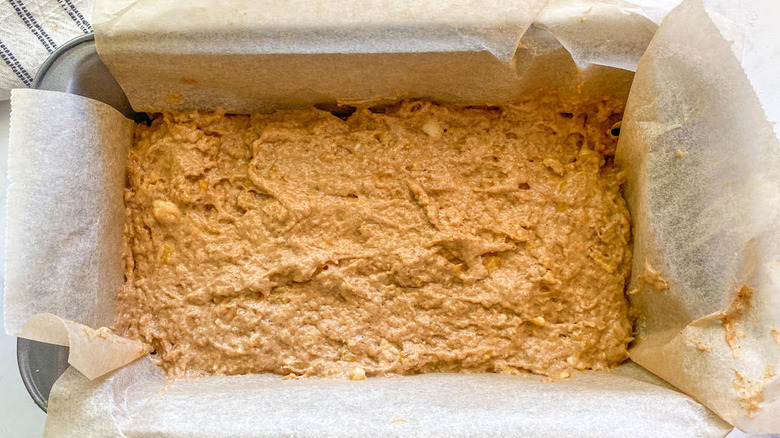 Miriam Hahn/Health Digest
Pour the batter into your greased or lined pan and bake it for 50 to 60 minutes. When the banana bread is done, you should be able to stick a toothpick into the middle and have it come out clean. Hahn does warn, though, that as the bread bakes, "It is really important to keep checking it so you don't overcook [it].
While Hahn says that "this bread is great on its own," you can also butter it or top it with honey. Hahn calls the banana bread "very versatile," as it can work well for breakfast with a side of fruit, but can also serve as dessert, perhaps with a scoop of ice cream.
Healthy Banana Bread Recipe
This healthy banana bread will keep you feeling nourished, without that heavy feeling from excess sugar, oil, or eggs.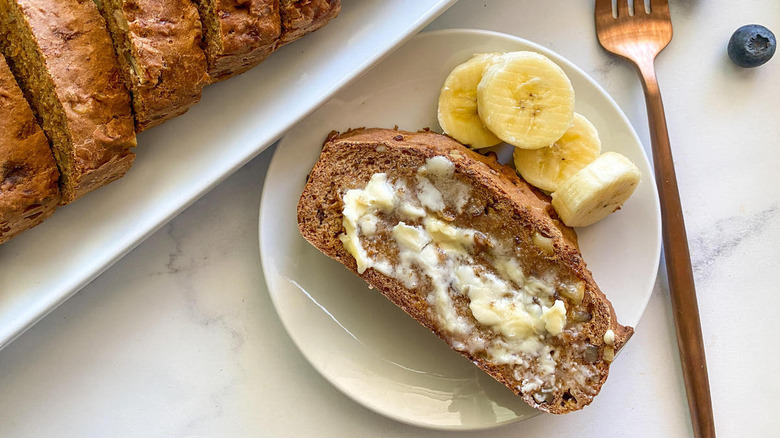 Ingredients
¼ cup almond or soy milk
1 teaspoon apple cider vinegar
3 ripe bananas (1 cup mashed)
½ cup coconut sugar
½ cup unsweetened applesauce
2 teaspoons vanilla
2 cups all-purpose flour
1 teaspoon cinnamon
½ teaspoon baking soda
½ teaspoon salt
¼ teaspoon allspice
½ cup walnuts, chopped
Directions
Preheat the oven to 350 F.
Line a loaf pan with parchment paper or spray it with cooking spray.
Combine the milk and vinegar and let the mixture sit for 5 minutes.
Mash the bananas until smooth.
Add the sugar, applesauce, vanilla, and milk/vinegar mixture to the bananas.
Combine the flour, baking soda, cinnamon, and allspice.
Mix the banana mixture into the dry ingredients, then stir in the nuts.
Pour the banana bread batter into the prepared pan and bake it for 50 to 60 minutes, or until a toothpick comes out clean when inserted into the center of the loaf.
Serve the banana bread warm and enjoy.
Nutrition
| | |
| --- | --- |
| Calories per Serving | 207 |
| Total Fat | 4.2 g |
| Saturated Fat | 0.4 g |
| Trans Fat | 0.0 g |
| Cholesterol | 0.0 mg |
| | |
| --- | --- |
| Total Carbohydrates | 39.6 g |
| Dietary Fiber | 2.3 g |
| Total Sugars | 15.5 g |
| Sodium | 187.6 mg |
| Protein | 4.0 g |