The Important Step You're Probably Missing When Doing At Home COVID-19 Tests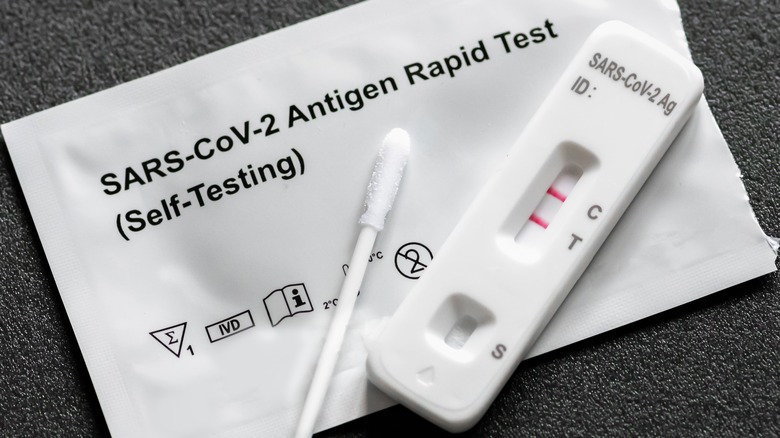 Michele Ursi/Shutterstock
You've washed your hands, inserted the cotton swab three-quarters of an inch into each nostril, and now you're eyeing the clock waiting to read the results indicated on your at-home COVID-19 test strip (via UC Davis Health). With at-home testing kits now available to all households across the country, it's important to follow the user instructions specific to each brand of test. While instructions may vary slightly, there is one step that applies across the board for all rapid antigen tests that can be easily overlooked.
Upon receiving a positive test result, it's important to notify your primary care physician as well as your state's health department, reports CNN. By doing so, health officials are better able to calculate prevalence rates in different areas of the country, which helps in determining the likelihood of future surges of new emerging variants. Executive director of the American Public Health Association Dr. Georges Benjamin explains to CNN how accurate tracking also allows medical professionals to get ahead of the needs of the public, stating, "Presence of disease is an earlier indicator than the hospitalizations and can help us predict workforce needs, [and] staffing needs for hospitals."
How to report at-home COVID-19 test results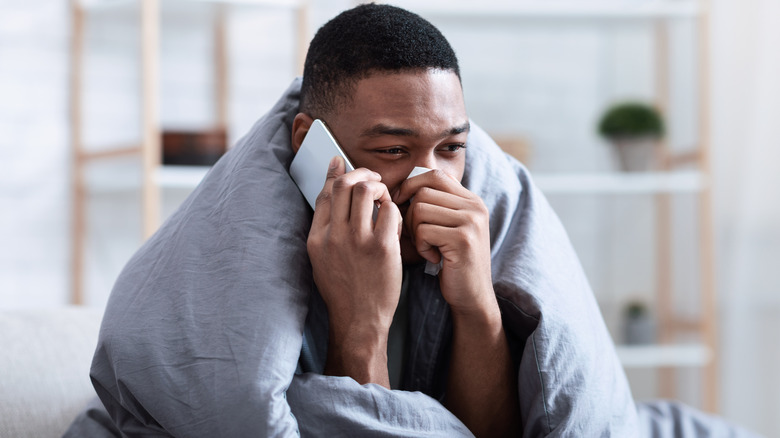 Prostock-studio/Shutterstock
Reporting a positive at-home test result to your doctor can also benefit you directly, as your physician may be able to treat symptoms early on through the use of monoclonal antibodies or antiviral medications, if appropriate (via CNN). Even if your at-home kit shows a negative test result, it's still a good idea to report negative results to your primary care physician if you're experiencing symptoms, in which case they may suggest following up with a PCR test.
Additionally, informing your local health officials of a positive test result allows experts to better track the efficacy of current vaccines against the presence of new variants. So what's the best way to go about reporting your COVID-19 positive status?
Experts at CNN suggest reaching out to your primary care physician safely and securely through phone or email exchange. Have answers prepared to the following questions: What type of test was taken? When was it taken? When did symptoms begin? What is your vaccination status and have you received any booster doses? If so, when? You will also want to have contact information on hand for people you've recently been in close contact with. Some doctors will report results on your behalf to state health officials. If not, check the website of your local health department, as some offer self-reporting options online.