How To Read A CBD Oil Bottle To Make Sure It Actually Works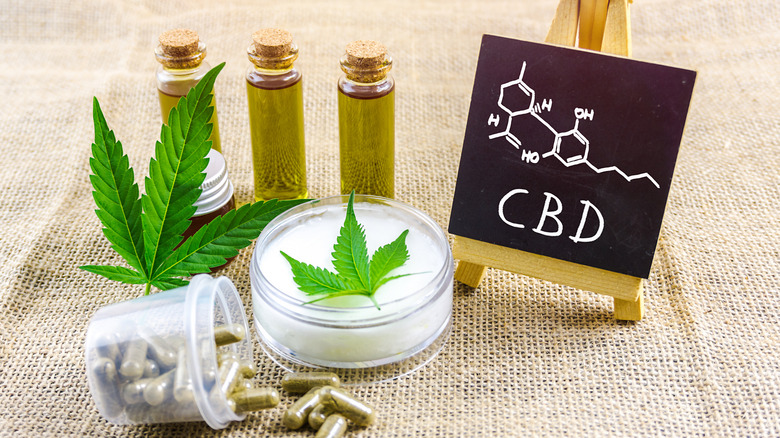 Creativan/Shutterstock
CBD, which is short for cannabidiol, is gaining traction where it's legal. Since its claim to fame as a wellness product, CBD has been infused into lollipops, skin lotions, pain creams, tinctures, oil, and more (per Health). Because there are so many CBD products on the market in various forms, there's still some confusion about how to read CBD labels, especially with the oils. If you're planning on buying CBD oil, here's what you need to know.
Before making a product purchase, examine the bottle thoroughly. Ideally, the bottle should be darkly colored or amber, as this shields it from the elements of heat, light, and air (via MindBodyGreen). Similar to other supplements, a bottle of CBD oil should contain a label. On the back, you should find warnings, disclaimers, and possible results from third-party lab testing (via Health). Third-party lab testing is particularly important because it certifies the accuracy of the product (via Health). In fact, one study found labeling inaccuracy to be a main concern in the manufacturing process of CBD extracts.
Know what type of CBD oil you're buying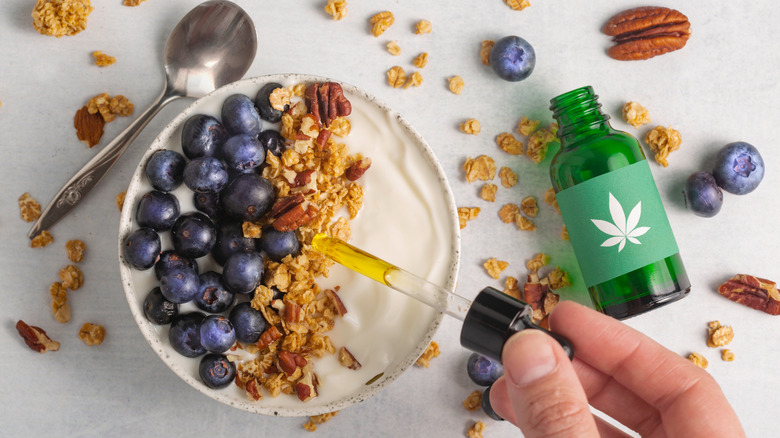 Spender1/Shutterstock
CBD oil and hemp seed oil often get tossed around together because both products are extracted from the hemp plant, but they have important distinctions. If you're looking for the oil with greater potential health benefits, CBD oil is the way to go. According to Health, the label should specify "CBD," "cannabidiol," or "full-spectrum hemp extract" if you want to receive CBD oil benefits from the product.
When you're shopping for CBD oil, you'll have a choice of three types: CBD isolate, full-spectrum, and broad-spectrum. CBD isolate is the pure form of CBD, while full-spectrum CBD is an extract containing additional compounds of the cannabis plant, including up to 0.3% THC, the main psychoactive compound in marijuana. Broad-spectrum CBD contains all the same cannabinoids as full-spectrum CBD, minus THC (via Healthline).
According to MindBodyGreen, buying full-spectrum CBD gives you the best bang for your buck because it includes phytocannabinoids. Medical physician and co-founder of the American Cannabinoid Clinics, Jessica Knox, tells MindBodyGreen, "We know that phytocannabinoids are more effective and better tolerated when taken together and in concert with their co-occurring terpenes, flavonoids, and other phytochemicals than when they are taken in isolation."
Lastly, you'll want to make sure your CBD oil contains valid hemp strains (per MindBodyGreen). Seeing that industrial hemp is relatively new to the U.S., registered dietitian Carl Germano recommends using the European Commission Plant database as a safe guideline for understanding validated hemp strains.