Healthy Overnight Oats Recipe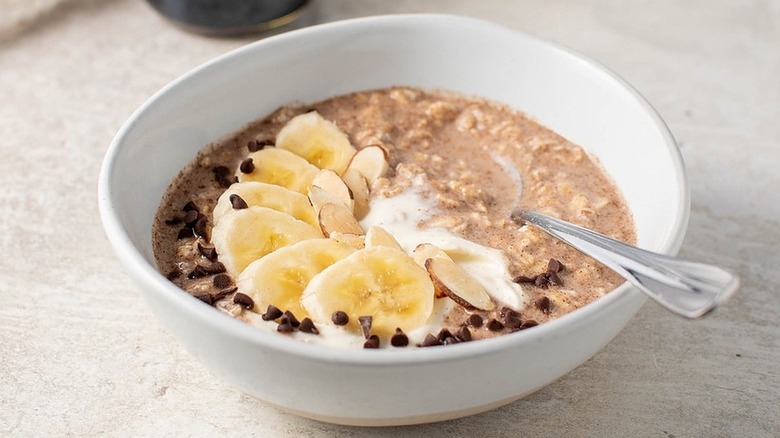 Michelle McGlinn/Health Digest
Oatmeal, overnight or otherwise, makes for one of the healthiest breakfast options you can choose. Recipe developer Michelle McGlinn praises oats for their many health benefits. "Oatmeal is a very, very healthy breakfast because oats are so high in fiber, healthy carbs, and protein," McGlinn explains. "Making oatmeal homemade is healthy because you avoid the processed sugars the pre-made oatmeals contain."
As this is a recipe for overnight oats, McGlinn says "you still get the ease of it being pre-made, but the benefits of making it from scratch." In addition, you can choose to top it with nuts and fruits and other good-for-you stuff to make it into what she calls "a powerhouse breakfast." She likes to make her oats with the addition of yet another healthy ingredient: yogurt. While McGlinn uses Greek yogurt, she says you can use the non-Greek kind since any kind of yogurt will add some extra creaminess as well as calcium and protein. Better yet, you can top off your oats with just about anything, from fresh fruit to nuts to chocolate chips!
Gather the ingredients for healthy overnight oats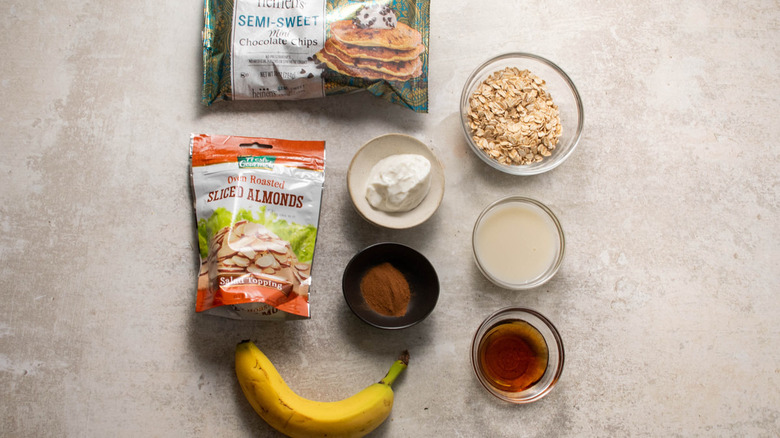 Michelle McGlinn/Health Digest
This overnight oatmeal is made from the old-fashioned or rolled type of oats as opposed to the quick or instant kind. You'll also need some milk, and McGlinn doubles-down by using oat milk. She also likes to add cinnamon for flavor, and for a sweetener, she favors maple syrup for its "nice caramel-y flavor [that] brings out the cinnamon." Any type of sweetener will work, however.
For extra-creamy oats you'll also need some yogurt, Greek or otherwise, flavored or plain. While McGlinn likes "using vanilla for some added sweetness," you can use any flavor you prefer. You could also stick with plain if the syrup (or honey) make it sweet enough for you. If you want to embellish your oatmeal, McGlinn suggests toppings such as sliced bananas, chocolate chips, almonds, and extra yogurt, although you can sub in any fruits or nuts you happen to like.
Combine the ingredients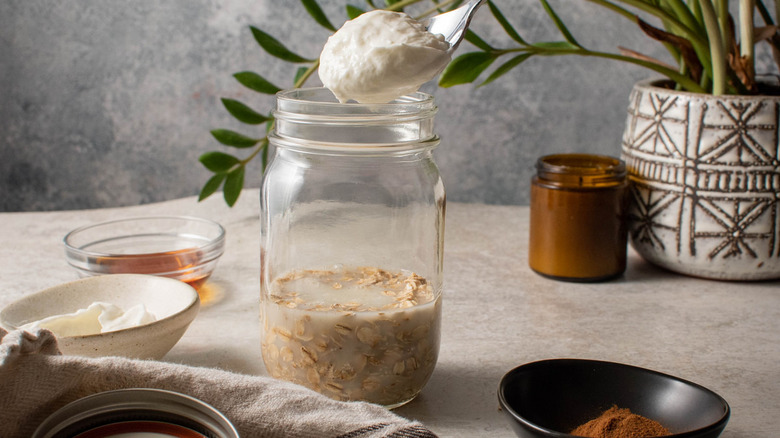 Michelle McGlinn/Health Digest
Mix the oats and the milk in a jar with a lid of some sort — McGlinn cautions, though, that "the oatmeal will expand slightly overnight," so be sure to use a container that allows for ½-inch expansion. Stir in the yogurt, then add the cinnamon and maple syrup and stir those in, too. Alternatively, shake the oats to combine.
Refrigerate the oats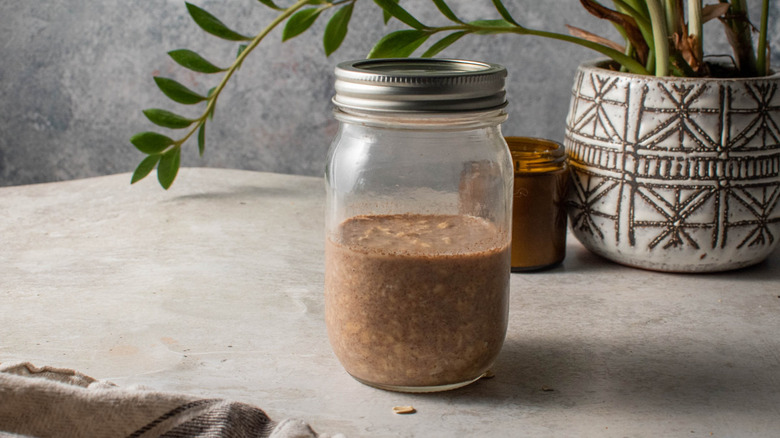 Michelle McGlinn/Health Digest
Put the lid on the jar, then stick the jar of oatmeal into the refrigerator. It needs to chill for at least 2 hours before it's ready, but of course you can leave the oats in the fridge overnight, as their name implies. In fact, the longer amount of time is preferable, as McGlinn explains, "Oatmeal will soften after 2 hours, but will be thickest and creamiest after the full 8 hours." This recipe is perfect for prepping right before bed!
Eat the oatmeal hot or cold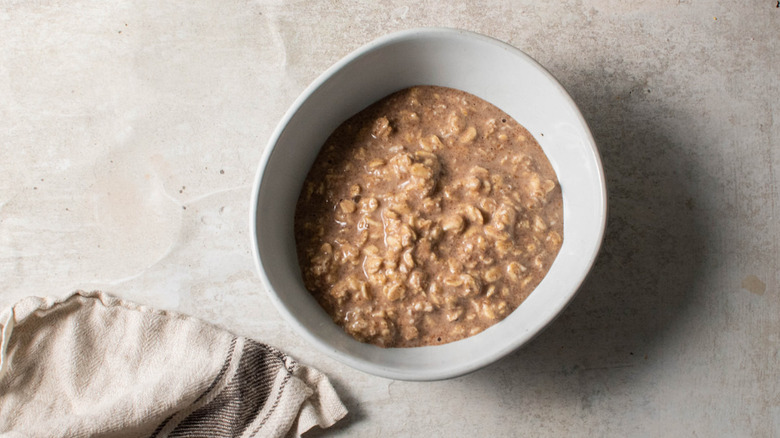 Michelle McGlinn/Health Digest
Once your oats have softened enough to eat, you have a choice: hot or cold? McGlinn prefers them cold, but if you're not such a fan of cold oatmeal, you can heat it up in a microwave too — probably best to put the oats in a bowl first. Once your oats are hot (or not), you can deck them out with your desired toppings.
While you can eat this oatmeal by itself, McGlinn suggests that you could serve it with other breakfast dishes like pancakes or waffles, saying, "It makes a really good side dish to the breakfast heavy-hitters."
Healthy Overnight Oats Recipe
This healthy overnight oats recipe takes just 5 minutes to prep, and by morning, you'll have a hearty and nutritious breakfast waiting for you!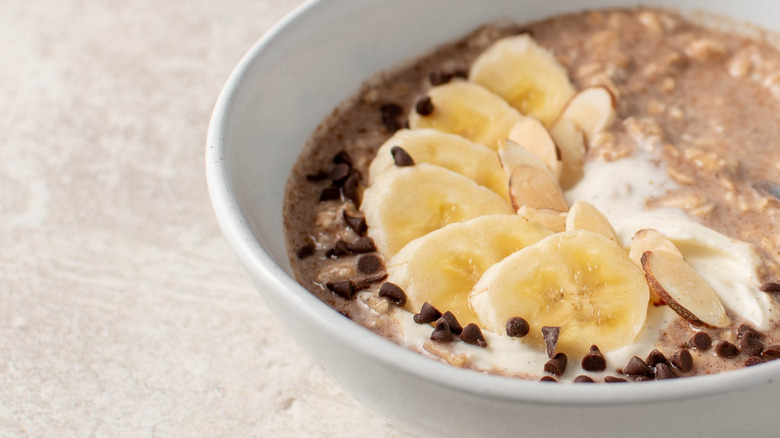 Ingredients
½ cup old-fashioned oats
½ cup milk
¼ cup Greek yogurt
2 tablespoons maple syrup
1 tablespoon cinnamon
Optional Ingredients
sliced banana, for topping
mini chocolate chips, for topping
sliced almonds, for topping
Directions
Combine the oats and milk in a lidded jar.
Stir the yogurt into the oats.
Add maple syrup and cinnamon to the oats, stirring or shaking to mix.
Place the oatmeal in the refrigerator for 2 to 8 hours, preferably overnight.
Heat in the microwave or eat cold with your chosen toppings.
Nutrition
| | |
| --- | --- |
| Calories per Serving | 408 |
| Total Fat | 10.6 g |
| Saturated Fat | 5.1 g |
| Trans Fat | 0.0 g |
| Cholesterol | 21.8 mg |
| | |
| --- | --- |
| Total Carbohydrates | 68.6 g |
| Dietary Fiber | 7.9 g |
| Total Sugars | 33.5 g |
| Sodium | 92.8 mg |
| Protein | 14.9 g |