What Are The Common Signs Of Hepatitis In Kids?
Fizkes/Shutterstock
Since the World Health Organization (WHO) first reported on the widespread outbreak of acute hepatitis in children back in April 2022, cases have continued to rise across the globe. Member of the WHO, Tarik Jasarevic, updated the public regarding the current number of cases in a briefing. "As of May 1, at least 228 probable cases were reported to WHO from 20 countries with over 50 additional cases under investigation," Jasarevic said via Reuters. The United States is among those 20 countries, with identified cases found across 24 states, reports TODAY. In over 100 of these cases, the majority of children were hospitalized, with eight requiring liver transplantation, and five deaths were reported.
Hepatitis — characterized by liver inflammation — is often contracted through viral transfer from an infected individual (via Healthline). However, the viral strains commonly associated with hepatitis have not been detected in child cases thus far (via TODAY). Additionally, there have not been connections drawn between particular regions, travel, or food or beverage consumption. Rather, the only commonality identified has been traces of the adenovirus found in a number of cases — the virus responsible for the common cold.
Reassuring the public, experts stress that instances of infection are still few and far between (via Healthline). Nonetheless, caregivers will want to be on the lookout for hepatitis-related symptoms in children.
Hepatitis symptoms often start out mild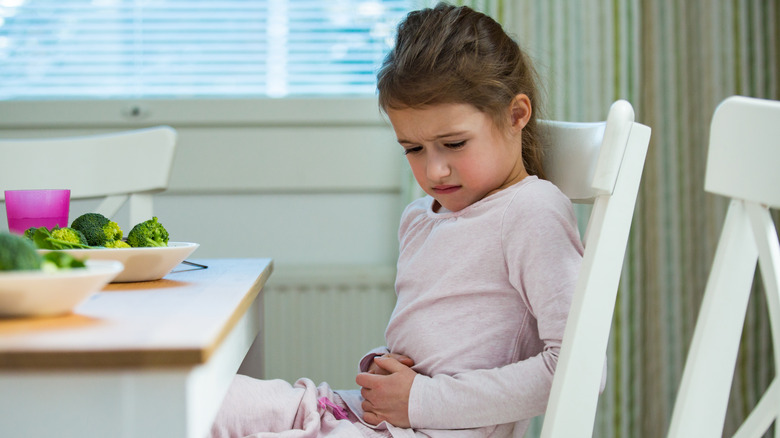 Aleksandra Suzi/Shutterstock
Hepatitis symptoms can first resemble those of more common illnesses. They include fever, loss of appetite, nausea, or vomiting, reports Healthline. However, symptoms can worsen over time. In more moderate cases, parents may observe their child's urine has become dark in color or bowel movements that are light in color. "As this inflammation of the liver becomes more prominent, then you get the most distinctive symptoms, like the whites of the eyes turn yellow and a yellowish cast on the skin," Dr. William Schaffner, professor in the Division of Infectious Diseases at the Vanderbilt University Medical Center, told Healthline.
The challenge facing many families is that symptoms are often "vague until it gets more serious," states Dr. Schaffner via Healthline. In the event that the adenovirus is discovered as the cause of the outbreak, experts stress that preventative measures, such as frequent hand washing and avoiding those who may be sick, are among the best ways to protect oneself from infection. In addition, parents will want to remain vigilant for the presence of even minor symptoms in children.
Should your child exude difficulty keeping down fluids, severe hepatitis symptoms, or symptoms that do not improve, seek consultation from your child's doctor.