Do Hyaluronic Acid Supplements Actually Work?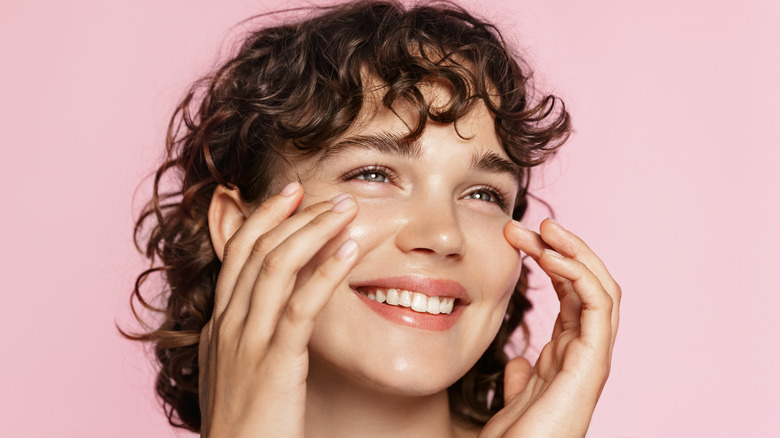 Lyubov Levitskaya/Shutterstock
You've likely heard of hyaluronic acid serum for plumping skin and reducing the appearance of wrinkles, but do you know the other benefits that hyaluronic acid can provide? Hyaluronic acid is a sugar molecule that occurs naturally in our skin and other areas of our body, including tissue and joints, as reported by The Healthy. Its purpose is to lubricate parts of our body that require moisture to properly function. Hyaluronic acid has become popular in the world of skincare because of its ability to moisturize our skin and the second layer below the surface, called the dermis.
Hyaluronic acid's benefits aren't isolated to skin, though. According to VeryWell Health, the benefits of hyaluronic acid are extended to keeping various tissues within our bodies moisturized and even maintaining lubrication in our eyes. While hyaluronic acid is a naturally occurring substance within our bodies, as we age, the levels of hyaluronic acid in our bodies decrease. Environmental factors, including air pollution and smoking, can also cause our hyaluronic acid levels to vary (per Everyday Health). Without hyaluronic acid, we risk developing stiff and painful joints, dry eyes, and dehydrated skin.
The benefits of hyaluronic acid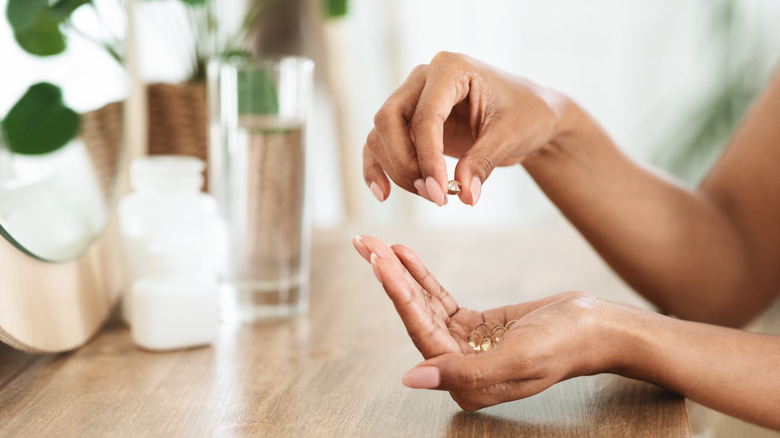 Prostock-studio/Shutterstock
If you suffer from chronic pain, especially in your joints, or other conditions like dry eyes and itchy skin, hyaluronic acid supplements may be beneficial in providing relief. Board-certified dermatologist Dr. Shari Marchbein tells Everyday Health that, "Hyaluronic acid attracts and binds to water molecules and increases the water content of the skin." Through binding with water molecules, hyaluronic acid provides your body with the ability to retain its water content and moisture.
Hyaluronic acid is popularly marketed as a topical skin serum, and it is included in many over-the-counter moisturizers (via The Healthy). It's also available in the form of dermal fillers and injectable solutions that can be performed by a qualified healthcare provider. 
But what about hyaluronic acid supplements? Are there benefits to hyaluronic acid working from the inside out? The answer is yes, according to VeryWell Health. Benefits of taking hyaluronic acid supplements include relief from arthritis pain, dry eyes, eczema, and fibromyalgia. Because hyaluronic acid provides moisturizing results, it can also be used to alleviate vaginal dryness, osteoporosis, and lead to the faster healing of wounds. Insomnia and chronic fatigue syndrome may also be relieved with hyaluronic acid supplements.
When hyaluronic acid supplements can be harmful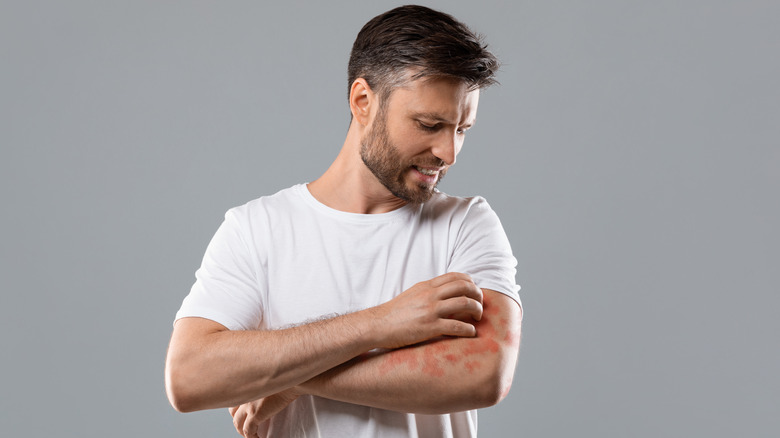 Prostock-studio/Shutterstock
According to Verywell Health, there are no known notable side effects of consuming hyaluronic acid supplements. However, that doesn't mean that hyaluronic acid supplements are right for everyone. For instance, if you have a history of cancer, these supplements may cause adverse effects since they encourage cell growth, potentially leading to recurrence.
Hyaluronic acid used in supplements is sometimes made from roosters' combs, so if you are allergic or sensitive to chicken eggs, feathers, protein, or any other association with poultry, you'll want to check the ingredients in your hyaluronic acid supplements (via Verywell Health). Women who are pregnant or breastfeeding, as well as children, should be cautious when it comes to taking hyaluronic acid supplements as safety has yet to be established.
WebMD reports that general allergic reactions from oral consumption of hyaluronic acid are rare, but not impossible. It's important that you consult with your healthcare provider before adding any supplement to your health routine.