Everything We Know About John Driskell Hopkins' ALS Diagnosis
R. Diamond/Getty Images
In a YouTube video posted Friday, May 20, musician and songwriter John Driskell Hopkins ("Hop") of the Grammy-winning Zac Brown Band publicly announced his diagnosis with amyotrophic lateral sclerosis (ALS), reports People.
Hopkins shared details regarding the gradual onset of symptoms he experienced, stating in the video, "Over the past several years, I've noticed some balance issues and some stiffness in my hands. After careful analysis by some of the country's top neurologists, I have been diagnosed with ALS."
Describing his symptoms as "slow progressing," the 51-year-old bassist is committed to continuing to make music with his bandmates, who are all currently on tour through mid-November (per People).
Concluding the video, lead singer Zac Brown thanked fans for their continued support. The band encouraged viewers to make a donation to Hopkins' foundation Hop on a Cure, which is dedicated to funding ALS research and providing a community to those affected by the disease.
What is ALS?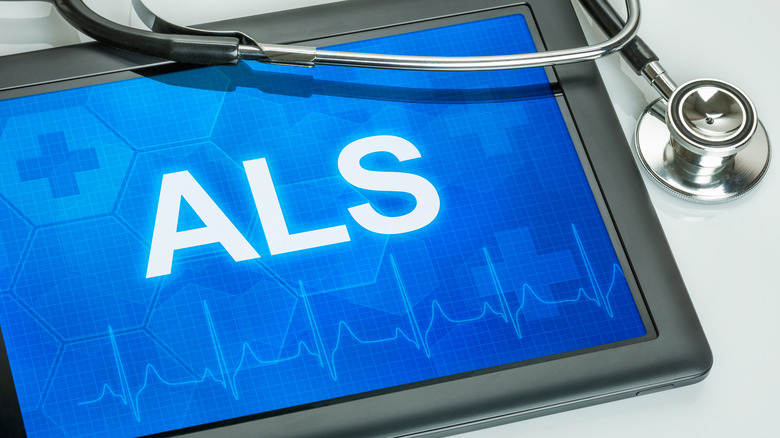 Zerbor/Shutterstock
Amyotrophic lateral sclerosis (ALS) is a neurodegenerative condition in which the motor neurons that facilitate communication between the brain, spinal cord, and muscles progressively die off (via ALS Association). When this occurs, voluntary muscle movement is impacted and those with the disease can experience difficulties with speech, breathing, and eating.
According to the ALS Association, while genetics can play a role in the development of the disease, roughly 90% of cases do not involve a genetic influence or family medical history. Those who may be more prone to the condition include older adults, members of the military, and those who have been exposed to certain chemicals, reports the Mayo Clinic.
Care is available through support groups, ALS clinics, and the use of ALS treatment drugs designed to help alleviate symptoms in patients (per ALS Association). Although research continues to advance, there is currently no cure for the disease.