Can A CBD Gummy Before Bed Actually Help You Work The Next Day?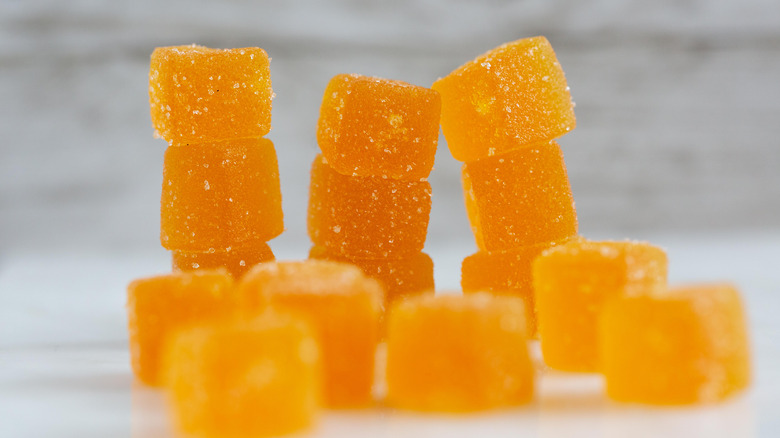 Karen Culp/Shutterstock
Wouldn't it be great to find a way to be more productive, better rested, and more energetic? This goal might seem unattainable, but there may be a possible solution in taking a CBD gummy before you tuck in for the night. You've probably heard a lot about CBD in recent years, and maybe you've tried a product or two. According to WebMD, cannabidiol (CBD) is a component found in hemp, a type of Cannabis sativa plant. Unlike marijuana, CBD products do not include tetrahydrocannabinol (THC) the chemical that can produce a high.
CBD products have been found to have a multitude of benefits, including pain relief, anxiety, stress, and some symptoms of cancer treatments like nausea and vomiting (via Healthline). One benefit of CBD that can have a positive waterfall effect on productivity is sleep. Taking a CBD gummy can help you sleep better, which can then lead to increased cognitive function the next day and therefore better productivity. Who doesn't want to be more productive and get better sleep at the same time?
CBD can improve sleep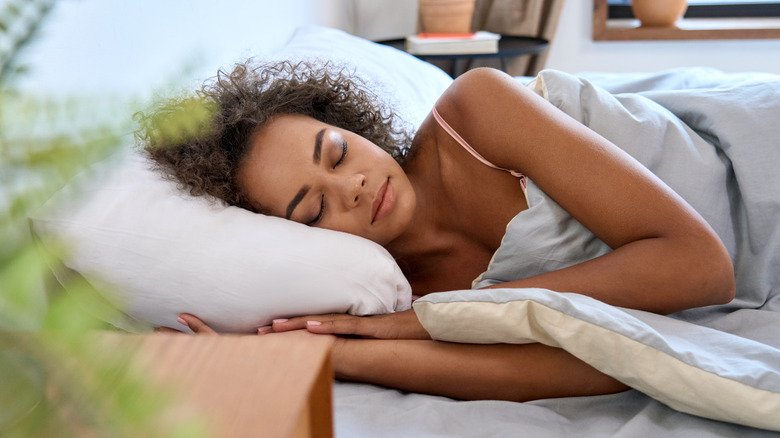 insta_photos/Shutterstock
Sleep can be magical in that it is one of the best things we can do to improve our health, energy levels, and productivity. Though studies are preliminary, CBD has been found to improve sleep when it comes to experiencing chronic pain, anxiety, and sleep disorders like insomnia, REM Sleep Behavior Disorder, and Excessive Daytime Sleepiness Disorder (per Sleep Foundation). Because CBD relaxes the body, you'll be able to fall asleep sooner and sleep better throughout the night. To get a restful eight hours of sleep, Mayo Clinic recommends sticking to a consistent sleep routine that includes limiting screen time and caffeine before bedtime, being consistent about what time you go to bed each night, and doing relaxing activities like listening to calming music or reading a book before you go to sleep. Being able to achieve a relaxed state is vital in achieving quality sleep.
The U.S. Department of Health and Human Services recommends getting sufficient sleep to lessen your chances of becoming sick and developing health conditions like heart disease and diabetes, manage your weight, reduce stress, and to improve cognitive clarity. With increased cognitive functioning, you can improve performance at work. There is an important correlation between stress reduction, getting quality sleep, and having cognitive clarity that leads to increased productivity and performance. Taking a CBD gummy before bed can help you relax, feel less stressed, and thus get better sleep to reap the benefits the next day.
The benefits of downtime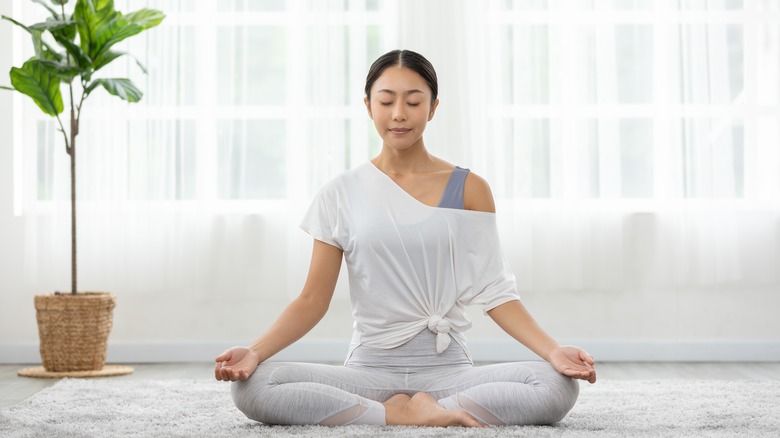 220 Selfmade studio/Shutterstock
It may seem counterintuitive, but downtime is a must for increasing productivity. According to MBGLifestyle, having a wind-down routine that includes self care and actions to reduce your stress before bed is key to feeling refreshed and being productive the next day. One way to achieve this is by taking a CBD gummy or other CBD product before bed, or earlier in the evening, to enjoy relaxation at the end of your day. Taking a CBD gummy to aid in relaxation at night can lead to a beneficial routine of sleep hygiene and self care. Meditation, mindfulness, a healthy diet, and exercise earlier in the day are additional ways you can relax and wind down (per Woman's Day).
Rolling Stone reports that CBD can have a calming effect on the body that can help you relax without experiencing the high of THC or the sedation effects of medication. CBD is something that can be added to your self care routine if you are looking to lessen anxiety. In addition to alleviating anxious behaviors, CBD can help regulate your mood, appetite, memory, and, perhaps most pertinent, your sleep. However, it's important to pay attention to the ingredients in the CBD products you purchase to ensure that you are consuming true CBD, especially since there is little regulation over CBD manufacturing at this time. You should consult with your healthcare provider to ensure that you are consuming proper dosage of CBD products to achieve your desired health results.