What You Need To Know About Smithfield's Bacon Recall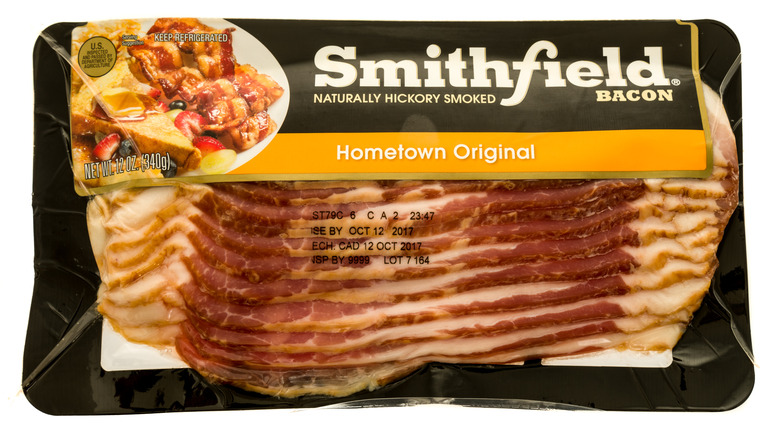 Keith Homan/Shutterstock
Bacon lovers beware: one of the country's leading bacon producers just issued a recall and wants you to toss or return your package of pre-cooked bacon. Sioux Center, Iowa, company Smithfield Packaged Meats Corp., issued a statement on May 20 voluntarily recalling over 185,000 pounds of its pre-cooked bacon (via WebMD). The recall was put in place after a customer contacted the company, complaining that they had found metal in the product. The products had already been shipped to distributors and retailers around the country, including Sam's Club.
The recalled products are all five-pound packages of precooked bacon topping or crumbles, produced between Feb. 21-23 and March 3-5. Each package has "EST. 27384" marked on its U.S. Department of Agriculture (USDA) mark of inspection. There could also be other products produced containing the bacon, and the USDA's Food Safety and Inspection Service (FSIS) "urges consumers to check back frequently to view updated lists and labels" (via USA Today).
Smithfield voluntarily recalled its precooked bacon products
Bloomberg/Getty Images
There have been no confirmed reports of illness or injuries so far due to eating the bacon products, and FSIS advises anyone who is concerned about sickness or injury to contact their own healthcare provider.
In our industrial age, a huge amount of our food supply is produced in factories where equipment failure is bound to happen from time to time. That being said, this situation is rare, but it is not an isolated incident (via TIME). Smithfield believes the problem was a result of mechanical failure. "Based on our investigation, we believe a very small volume of the total product recalled is potentially affected ... While it represents only a minuscule percentage of the billions of pounds of products we produce annually, food safety is non-negotiable at Smithfield," the company said in a statement to USA Today. "We regret this incident and continue to strive for a perfect food safety track record."