Healthy Quiche Recipe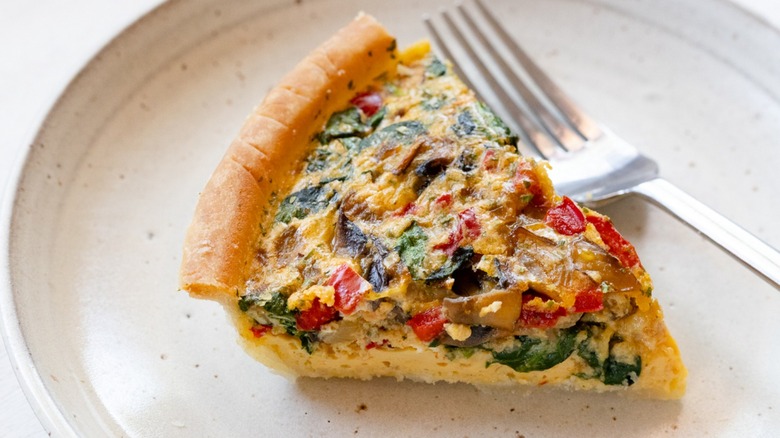 Sher Castellano/Health Digest
Quiche is a dish packed with eggs and cheese and is known more for being tasty than for any particular health benefits. Recipe developer Sher Castellano, however, has come up with a more nutritious version — one she tells us is "packed with vegetables, [which have] minerals and nutrients." It's also pretty easy to make, with Castellano calling it "a simplified version that can be thrown together [and] popped in the oven [for] a set it and forget it situation."
One thing that makes this quiche recipe healthier than a traditional one is that it has less fat. Castellano tells us that while "most quiche recipes use heavy cream or full fat milk, this quiche was designed to use a little more egg." She also incorporates baking powder to help it rise and uses a small amount of unsweetened almond milk to provide some of the moisture you'd get from traditional milk or cream. You'll still get your dairy fix, though, with cheese. It wouldn't be a quiche without it!
Assemble the ingredients for this healthy quiche
Sher Castellano/Health Digest
To make this quick and easy quiche, you'll be using a pre-made pie crust. The one she's using here is gluten-free, though you could of course use a standard one.
For the filling, you'll need eggs plus a bunch of vegetables: an onion, a red bell pepper, mushrooms, and spinach, plus some olive oil to cook them in. For the cheese, Castellano uses Pecorino Romano, but Parmesan would also work. You'll also use a little milk (almond or otherwise) to add some moisture, while the egg filling is flavored with dried parsley, garlic powder, salt, and pepper. A tiny bit of baking powder also gives the quiche a bit of a rise.
Prep the pie crust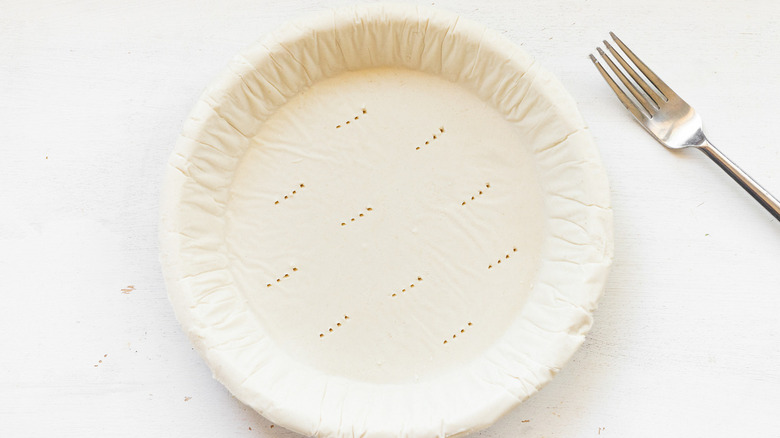 Sher Castellano/Health Digest
First, preheat the oven to 350 F so it can get up to the proper temperature as you prepare the quiche. Next, open up your store-bought pie crust and use a fork to poke some holes in it. Once the oven reaches 350 F, bake the crust for 8 minutes. Don't worry if it doesn't look entirely done, as it will cook longer once it's filled.
Make the quiche filling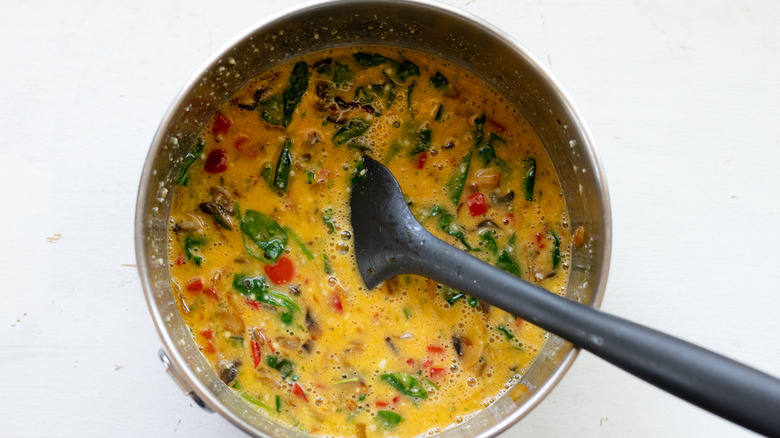 Sher Castellano/Health Digest
Heat a pan over medium-high, then add the oil and the chopped vegetables. Cook the vegetables for 5 minutes, at which point they should have softened a bit. Turn off the heat, then stir in the spinach until it wilts. Beat the eggs together with the almond milk, cheese, baking powder, and seasonings, then throw in the veggies.
Bake the quiche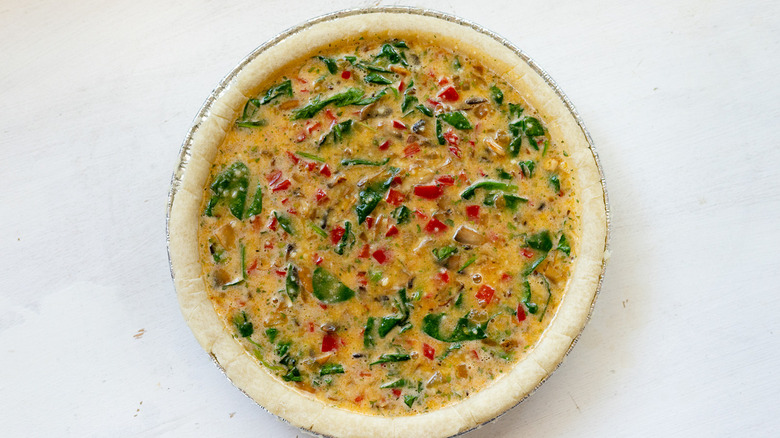 Sher Castellano/Health Digest
Pour the filling into the crust, then bake the quiche for 35 to 40 minutes. When it's done, the top will be light brown; when you stick a toothpick in the middle, it should come out clean. Let the quiche sit and cool down for at least 5 minutes before you slice into it. Don't worry if it looks puffy at first; according to Castellano, the "quiche will rise while baking, but should settle back down once you remove it from the oven."
One good thing about quiche is that it can be eaten warm or cold. It should stay good for a few days in the fridge, but leftovers can be frozen if you're not likely to consume them in a timely fashion.
Healthy Quiche Recipe
Don't worry: This quiche is still eggy and cheesy. But it's also a healthier alternative to the standard version, thanks in part to an assortment of veggies.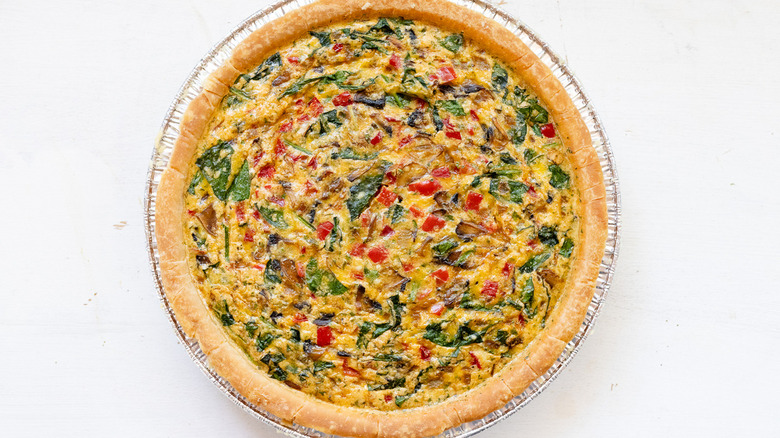 Ingredients
1 pre-made pie crust
1 tablespoon olive oil
½ cup finely diced yellow onion
1 cup finely diced red bell pepper
1 cup white mushrooms, diced
1 cup (packed) baby spinach, roughly chopped
5 eggs
¼ cup unsweetened almond milk
¼ cup grated Pecorino Romano
½ teaspoon baking powder
½ teaspoon dried parsley
¼ teaspoon garlic powder
¼ teaspoon fine sea salt
¼ teaspoon black pepper
Directions
Preheat the oven to 350 F.
Poke a few holes in the bottom of the pie crust with a fork, then bake it in the preheated oven for 8 minutes.
Meanwhile, heat a pan over medium-high heat, then add the oil, onions, peppers, and mushroom. Sauté for 5 minutes.
Turn the heat off and stir in the spinach.
In a separate bowl, combine the eggs, almond milk, cheese, baking powder, and seasonings.
Add the cooked vegetables to the egg mixture, then pour the filling into the pie crust.
Bake the quiche for 35 to 40 minutes, until the top is lightly browned and a toothpick inserted in the center comes out clean.
Let the quiche set for at least 5 minutes before slicing.
Nutrition
| | |
| --- | --- |
| Calories per Serving | 211 |
| Total Fat | 12.8 g |
| Saturated Fat | 4.6 g |
| Trans Fat | 0.0 g |
| Cholesterol | 104.3 mg |
| | |
| --- | --- |
| Total Carbohydrates | 17.7 g |
| Dietary Fiber | 1.3 g |
| Total Sugars | 1.5 g |
| Sodium | 251.0 mg |
| Protein | 6.2 g |