Healthy Oat Waffles Recipe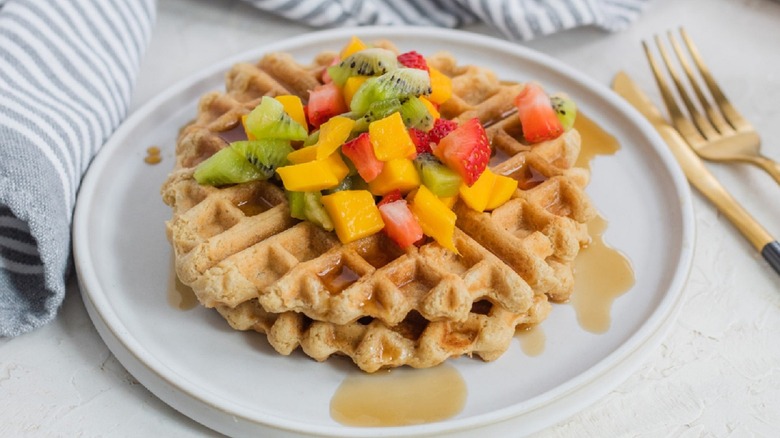 Jaime Shelbert/Health Digest
Waffles are a time-honored staple of a hearty breakfast in many parts of the world, especially the United States. Unfortunately, waffles don't have a reputation for being very healthy, especially since most people prepare them with pre-made batters and douse them in syrup. Luckily, recipe creator Jaime Shelbert of Wholly Nourished has come up with a healthier alternative to standard waffles.
"These waffles are gluten- and dairy-free (so long as the oat flour is certified gluten-free), as well as refined sugar-free." Shelbert explains. Utilizing oat flour also improves the nutrient profile over standard waffles."
So apart from the obvious (it's made from oats!), what makes oat flour different from all-purpose flour? "Oat flour is a whole grain flour," Shelbert explains, "whereas all-purpose is refined, and therefore most of the nutrients have been stripped from the wheat." More nutrients, and a delightful and subtle nutty flavor? Don't mind if we do!
Buy the ingredients for your healthy oat waffles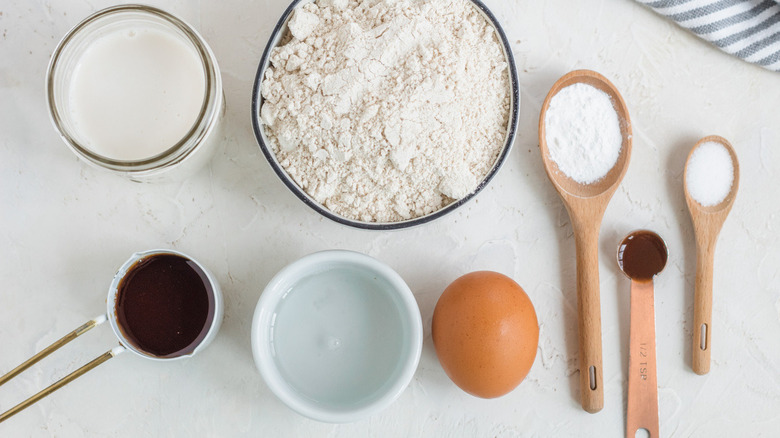 Jaime Shelbert/Health Digest
Instead of using a pre-made batter mix, this recipe has you making waffles from scratch. Start with a carton of unsweetened almond milk — or really any plant-based milk of your choice; the goal is simply to avoid dairy in this recipe. You'll also need an egg, some maple syrup, coconut oil, vanilla extract, baking power, salt, and oat flour. "Oat flour provides the fiber and protein that all-purpose flour lacks," says Shelbert. "Oat flour also contains vitamins and minerals such as iron, calcium, thiamin, and riboflavin. Overall, oat flour is a far better choice than all-purpose."
Now you're ready to make your oat pancakes. One extra note from Shelbert, though: "If you do not have oat flour on hand, it is simple enough to make your own. Just add oats to a food processor or a high-speed blender. Blend or process until you achieve a flour consistency."
Begin making the batter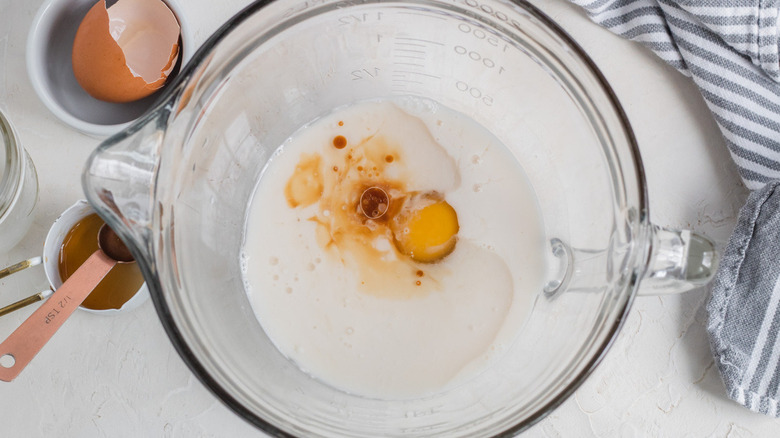 Jaime Shelbert/Health Digest
Most of the prep in this recipe is making the batter, so start with that. Specifically, add the milk, egg, maple syrup, and melted coconut oil to a medium mixing bowl. Throw in some vanilla and whisk everything until well-combined.
Finish the batter with the dry ingredients
Jaime Shelbert/Health Digest
Here come the dry ingredients. Add the flour, baking powder, and salt to the wet mixture. This time, stir (instead of whisking) until the ingredients are fully combined. "You can stir with a simple spoon; I actually like to use a fork to create space for air in the batter while mixing," says Shelbert.
This should culminate in a homogeneous batter of just the right thickness. Let this batter sit for about 5 to 10 minutes at room temperature, which will give the oats time to absorb the wet ingredients. "If you plan to make these ahead, it is perfectly fine to let the batter sit in the fridge," Shelbert assures.
Cook your waffles and serve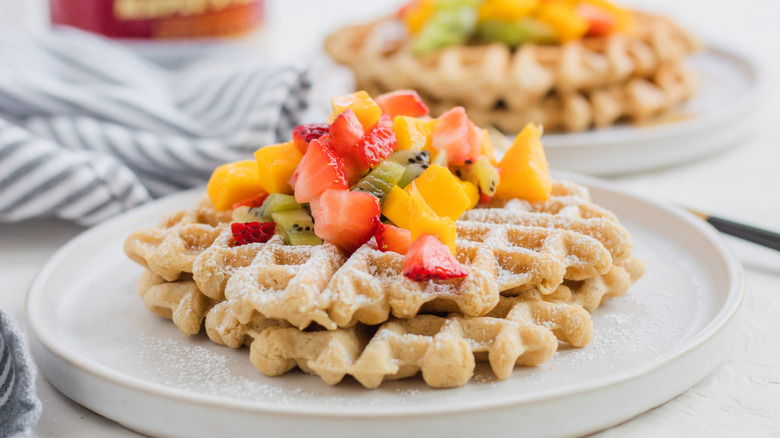 Jaime Shelbert/Health Digest
Turn on and heat up your waffle maker. Once it's ready, add a half cup of the waffle batter to make the first waffle. Cook until it's golden brown, or at the level of doneness you're looking for. Repeat until all the batter is used up (you should end up with 4 waffles). Now serve them with whatever toppings you want.
"There are so many topping ideas here," Shelbert gushes. "A fruit compote or baked apples with coconut whip would be delicious. You can use nut butter or chocolate hazelnut spread with fruit and maple syrup. Or you can dollop with Greek yogurt, some berries, and honey. A simple sprinkle of powdered sugar and berries works as well."
Healthy Oat Waffles Recipe
Waffles are a satisfying breakfast, but perhaps not the healthiest choice. This recipe remedies that with the inclusion of oat flour and no refined sugar.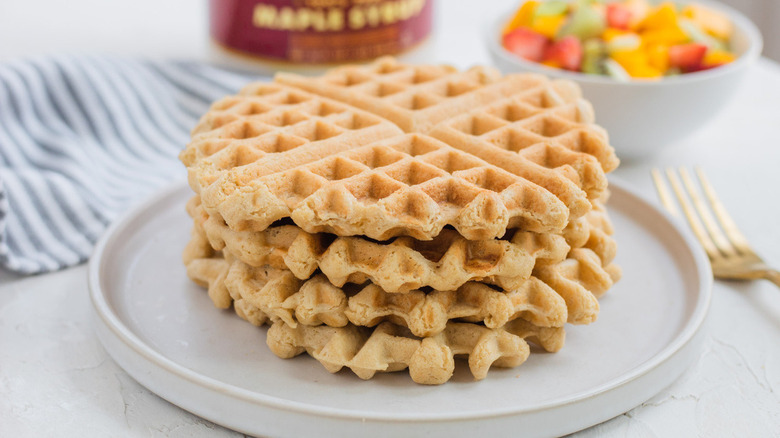 Ingredients
¾ cup plain, unsweetened almond milk
1 large egg
2 tablespoons maple syrup
3 tablespoons coconut oil, melted
1 teaspoon vanilla
1 ½ cups oat flour
2 teaspoons baking powder
¼ teaspoon salt
Optional Ingredients
Desired toppings (fresh fruit, compote, Greek yogurt, honey, nut butter, etc)
Directions
Add the milk, egg, maple syrup, coconut oil, and vanilla to a medium mixing bowl. Whisk until combined.
Add the flour, baking powder, and salt. Stir, with a fork or spoon, until the ingredients are thoroughly combined and a smooth batter is formed.
Let the batter sit for 5 to 10 minutes. Meanwhile, preheat the waffle iron.
Add ½ cup of batter to the waffle maker and cook until golden brown. Continue with remaining batter.
Serve with desired toppings.
Nutrition
| | |
| --- | --- |
| Calories per Serving | 300 |
| Total Fat | 15.4 g |
| Saturated Fat | 10.0 g |
| Trans Fat | 0.0 g |
| Cholesterol | 46.5 mg |
| | |
| --- | --- |
| Total Carbohydrates | 33.6 g |
| Dietary Fiber | 2.8 g |
| Total Sugars | 6.5 g |
| Sodium | 279.2 mg |
| Protein | 7.6 g |